Rahul Gandhi has said that the bullet train proposed by the Prime Minister is just for him and his suit-boot friends. I have a surprise for him. I just travelled from Beijing to Shanghai by bullet train. It was crowded with ordinary Chinese families, children and elderly people. There is a station dedicated to bullet trains, of which many operate in China. Indeed, half of Chinese rail passenger traffic takes the bullet train.
The bullet train remark illustrates a basic problem with development thinking in the Congress and generally in India. It is assumed that anything new and modern can only benefit the rich. This includes all reform which makes business easier or more profitable. Politicians begin with the assumption that growth has to be restrained to protect the less well-off. Workers may lose their jobs if productivity improves or a merger takes pace (as in the case of SBI consolidation). So protect the currently employed and discourage growth.
India wasted 30 years after Independence not pursuing growth but self-sufficiency, import substitution and an elite brand of socialism. China also wasted 30 years after 1949 while Mao indulged in his fantasy development policy. In the late Seventies, India and China had the same per capita income.
In China, luckily, Deng Xiaoping realised the transformative role of rapid growth and pursued it with a single-mindedness that made China the only country ever to enjoy three decades of sustained high growth. In 2008, China displayed its achievements at its Olympics, while also launching its bullet trains which span the vast country, ensuring fast travel.
India wasted the Eighties with liberalisation of imports but no structural reform. Too much borrowing crashed the economy in 1991. It was Narasimha Rao and Manmohan Singh who saved the country by undertaking drastic reforms. But they lost their élan before their term was over. Thereafter, reforms became halting, beleaguered and half-hearted. There was no reform of labour laws, no revival of manufacturing and no attempt to give farmers sustainable livelihoods away from land. During the UPA-II years, there was retrogression with environmental restraints throttling development. Then the Singur strategy of destroying manufacturing initiatives became policy in the 2013 Land Acquisition Act.
Now, at last, we have the GST on the law books. It has taken 15 years of futile debate to get it on the books. Is it safe to assume that this will now reinvigorate the growth trajectory of the Modi government? Even more, will the passage of GST convince the rest of the political parties that rapid growth is a win-win strategy and the only way India can move from mere entitlements to decent incomes?
The problem remains that politicians do not believe in growth. They prefer low growth which then allows them to grant reservations and subsidies. This is what the UPA-II did best.
It is not that China is a dictatorship and India a democracy. It is just that even with the BJP/ NDA government, people would rather debate cow protection than ways of eradicating poverty.
Much remains to be done. The Ganga has to be cleaned up. Swachh Bharat would boost health. The Railways have to be transformed with bullet trains carrying the poor.
Now is the time to get on with the job.
For all the latest Opinion News, download Indian Express App
More From Meghnad Desai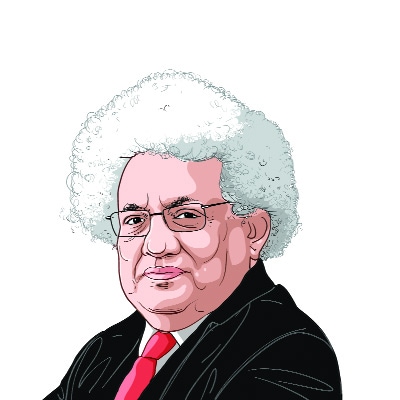 Avoid ideology

Narendra Modi devised an inclusive strategy in 2014. He reached out to the Dalit voters. He downplayed anti-Muslim sentiments. He modernised the BJP by remaking…

Chanakya 2018

Pranab Mukherjee rewrote history on Friday. He washed away all the sins of the RSS. From now on, no stigma attaches to the RSS even…

Out of my mind: About time

The elections last week make one thing clear. It is time the Election Commission rethought the way in which voters are treated...