Written by
Meghnad Desai
|
Updated: December 28, 2014 12:00:37 am
During the post-War years, trade unions were very powerful in Britain. They could dictate policy to governments, especially Labour governments. It was during the Sixties when Harold Wilson was PM that he famously said to a trade union leader, "Get your tanks off my front lawn". His desperation was due to the fact that his sensible anti-inflation policy was being undermined by the unions.
Wilson's heartfelt plea reflected the dilemma of a party leader faced with a militant rank and file he was unable to control. But the arrogance of the trade unions, which were friends of the Labour Party, finally led to multiple defeats for the party and the unions once Margaret Thatcher took them on.
Prime Minister Narendra Modi must share Wilson's desperation. He came to power promising inclusive development and a major plank of his promise was social harmony. But his "friends" have other ideas. They care not a whit about "sabka vikas", let alone "sabka saath". Swachh Bharat is irrelevant to them. "Make in India" for them means making all minorities in India Hindu. They are in a hurry to complete their agenda. So "make mayhem while the lotus rules" seems to be their message to the PM.
With friends like these, Modi will not need enemies. Indeed, the Opposition has had an early Christmas. It has disrupted Parliament again and again.
It is one thing for the PM to keep his Cabinet in line by instilling awe for his authority. It is his backbenchers who pose problems. It was his charisma and Amit Shah's electoral genius that got most of them a seat in the Lok Sabha. They've never had such a platform before. They were peddling their agenda, but no one was paying any attention. Now they can cause disruption in Parliament.
All political parties have a problem with their ideological fringes. These people work hard for the party to realise its core agenda. The leaders know that to get a majority, the ideological fringe has to be kept quiet since it does not command acceptance. A political party needs to win power and retain power to accomplish the changes it feels will improve the conditions of the voters and their families. This requires a constant renewal of trust and building of consensus by accomplishing concrete tasks which make a difference. This is a long-term game; a marathon, not a sprint.
But the ideologues do not care about practical matters. They have stars in their eyes. They are in a hurry. Bijli, sadak, shiksha, makaan can wait. Religious conversion of minorities to Hinduism and prevention of reverse conversion are urgent for them. Infrastructure or bullet trains can wait; the Ram Mandir must get priority. "Sabka saath" is out of the question; getting rid of the Muslims is what they have been dreaming for years.
The BJP has a complex problem. It has just won a convincing majority in May. In state elections, it continues to consolidate its dominance. It can become the hegemonic party of government like the Congress used to be if it can discipline its troops to keep their eyes on this big chance. But the BJP is not its own master. As in any Hindu joint family, it may be the breadwinner but that does not mean it can lay down the law. The elders and the distant relations hanging around want to have their own way. The Parivar is the problem. It has a cultural agenda which it wants to take to the streets. The surprise is not in its agenda but in its impatience, not to say its total lack of respect for the law.
Narendra Modi wants 10 years to realise his dream for India. There is no Opposition as of now that can do more than rushing to the well in Parliament. As he wins state after state, he will advance his control over the Rajya Sabha. Yet in the results for Jammu and Kashmir, the BJP has missed the top spot by three seats. Could it be that the Sadhvi cost the party those seats by speaking during the election? Any more of this and the Rajya Sabha majority may remain a dream.
For all the latest Opinion News, download Indian Express App
More From Meghnad Desai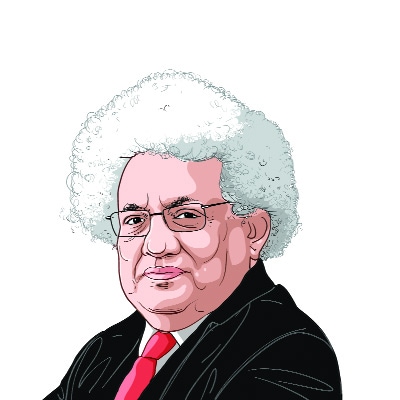 Groundhog state

A referendum in the Indian part of J&K should ask the people a simple question: Do you wish to stay in India or not?..

Avoid ideology

Narendra Modi devised an inclusive strategy in 2014. He reached out to the Dalit voters. He downplayed anti-Muslim sentiments. He modernised the BJP by remaking…

Chanakya 2018

Pranab Mukherjee rewrote history on Friday. He washed away all the sins of the RSS. From now on, no stigma attaches to the RSS even…