Written by
Meghnad Desai
| New Delhi |
Updated: October 26, 2014 12:21:14 am
A London friend of mine was irritated by his bank manager telling him to clear his debts. So he stormed into his office and said 'If you don't stop writing me such rude letters, I shall take my overdraft elsewhere'. It seems to me that the Shiv Sena is in this situation. They first tried to play Big Brother to the BJP and wanted Uddhav Thackeray to be the chief minister-designate. Then they broke the alliance. Now having been shown as the weaker partner, they are still expecting the BJP to come and beg. This is not just misreading the situation, but being deluded.
But what the Congress has shown is that Dynasty does not work. It took three generations for the Congress to run out of talent. With the Shiv Sena, the memory of Balasaheb is the only asset. Raj Thackeray has done even worse. There is no point even in the two parties merging now. They will only destroy one another.
With the double victory in Maharashtra and Haryana, Narendra Modi has confirmed that his victory in May was no flash in the pan. Voters like his aspirational message. They admire his energy and they trust him to work hard for them. The Marathi manoos has been patronised by the Shiv Sena, who think that setting up a pav bhaji stall should be the limit of his ambition. It is the relative deprivation of the Marathas which gives the Shiv Sena the edge in its rhetoric against all outsiders. But now the Marathi manoos has seen that the BJP offers a better alternative. He doesn't have to be backward forever. Just as the Congress wanted to preserve its BPL families with infinite care lest they escape poverty, the Shiv Sena wants its clients to remain bitter failures. This politics lost out last Sunday.
Once again, the contrast in the style of the BJP and Congress was striking. The BJP immediately began organising for the next cycle of elections and deciding who would be in charge. The Congress has not yet managed to analyse its May defeat, much less the October one.
Sonia Gandhi and Rahul gave up on Maharashtra by keeping their presence at a minimum. The inevitability of decline is starkly obvious to Congress leaders. What they lack is an exit plan. Ideally, the family should give up the party completely and bid goodbye. This may yet give the Congress some hope of reconstructing itself as a  modern democratic party. But perhaps that is asking too much. Their sense of destiny and family ownership will prevent a decent exit and we shall see pursuit of mirages such as Priyanka Gandhi as leader.
We have only one national party left — the BJP. You can see this by the way the NCP is behaving. Sharad Pawar is the most senior leader with Congress credentials still left in the fray after Pranab Mukherjee's move away from politics. He knows not to ask or put conditions. He also knows that the Congress is a sunk ship. If the NCP is to survive, it has to hitch its wagon to the BJP. In five years, the Congress itself may be taken over by the NCP. Pawar plays a long game.
The hero of the saga is already busy securing his next conquests. Modi is a master of coded messages. Ever since he became Prime Minister, he has been keen to impress that Kashmir is just as normal a part of India as Gujarat is. He has been there frequently. He was there for Diwali.
Until now, even as parties asserted that Jammu and Kashmir was an integral part of India, it was treated as though a foreign place. Remember the fanfare when an all-party delegation went there. Any politician of any party could have gone to Jammu and Kashmir  at any time if he/she wished. Modi has taken the drama out of Kashmir's position.
So the next surprise is to strike the voters of Jammu and Kashmir. Instead of treating them with forceps and gloves, their hands will be held and shaken. They will be talked to in modern aspirational language rather than one of  minorities. And who knows? They may even begin to like being Indian.
For all the latest Opinion News, download Indian Express App
More From Meghnad Desai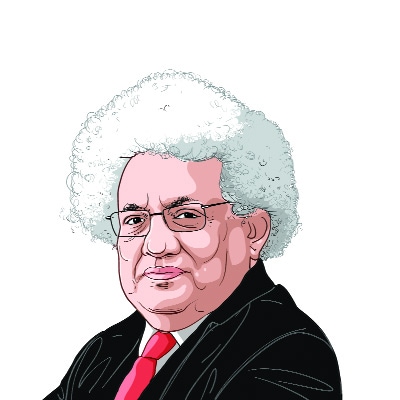 Groundhog state

A referendum in the Indian part of J&K should ask the people a simple question: Do you wish to stay in India or not?..

Avoid ideology

Narendra Modi devised an inclusive strategy in 2014. He reached out to the Dalit voters. He downplayed anti-Muslim sentiments. He modernised the BJP by remaking…

Chanakya 2018

Pranab Mukherjee rewrote history on Friday. He washed away all the sins of the RSS. From now on, no stigma attaches to the RSS even…