Mahadev Desai reports a conversation between Gandhiji and Sardar Patel when they were together in jail. Sardar says Hindus don't eat meat. Gandhiji corrects him and says some Hindus don't but many do. Being a Gujarati, Sardar was unfamiliar with meat-eating Hindus. Gandhiji had seen much more in South Africa as well as across India.
Brahmins are most often vegetarians and many lower castes give up meat-eating when they 'Sanskritise'. But for the rest, depending on the region, lamb and chicken and fish and pork are welcome. Many lower castes also eat meat of cows or buffaloes.
All this is prefatory to asking about the priorities of Yogi Adityanath. Forget the fuss about the saffron robes worn by the Chief Minister of Uttar Pradesh. If he could sit for five terms in the Lok Sabha wearing saffron, why should he change when CM? Some people were asserting that India being secular, no office holder can wear religious clothes. This is as ignorant as it is prejudiced.
What matters is his performance as CM, not his dress. Indeed his performance may yet determine the BJP's fortunes in 2019. Those 71 seats won in 2014 cannot be taken for granted. If the CM fails to deliver or gets his political priorities wrong, his party will be punished. He may shut any number of "illegal" slaughterhouses (illegal only means they did not bribe the inspectors). There are more meat eaters than just Muslims whom he will make unhappy. Incumbency is as much a handicap as an opportunity.
Do not let his outfit fool you. No person gets into Parliament (unless through dynastic blessings) at 26 and gets re-elected four times. That alone puts him in a minority of not more than 20 per cent of all MPs in all Parliaments. That he has cases pending against him (and, given Indian judicial delays, will remain pending) shows he is a normal UP politician.
He will be watched by the media for every move he makes. That will benefit Narendra Modi because the heat will be off him. There is an iron law of Indian liberal media. There has to be one Hitler figure to panic about. In 1996, it was Atal Bihari Vajpayee when the BJP emerged as the largest-single party. The usual politicos scrambled to stitch up the UDF/LDF governments, perhaps the worst in Indian history. Vajpayee, the media said, was a mukhauta, a mask behind which lurked Hitler. Then he became a Nehruvian statesman and Advani became the Hitler figure.
Alas, he was displaced by Modi in 2013, with a senior politician (no name, to protect the guilty) appealing to Advani's 'secular fundamentals' in the face of the new danger. Modi can now be honoured as the new secular frontier beyond which lurks the saffron-clad Yogi.
Let Adityanath not be fooled by praise or scrutiny. He has to deliver sabka vikas. Modi figured out a while ago that the Hindutva platform is not sufficient to deliver a majority. Hindus are not a united or uniting sort of people. With seven thousand jatis and 33 crore deities, there is no hope. Some eat meat, others don't. But bijli, sadak, paani and roti-kapda-makaan are in everyone's daily prayer. So deliver.
For all the latest Opinion News, download Indian Express App
More From Meghnad Desai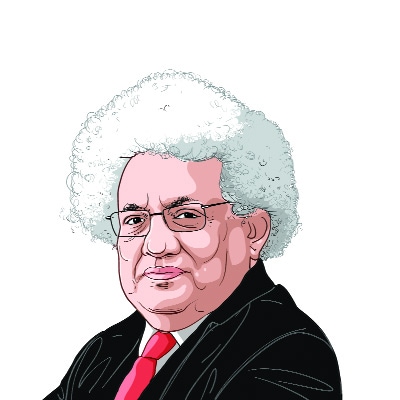 Avoid ideology

Narendra Modi devised an inclusive strategy in 2014. He reached out to the Dalit voters. He downplayed anti-Muslim sentiments. He modernised the BJP by remaking…

Chanakya 2018

Pranab Mukherjee rewrote history on Friday. He washed away all the sins of the RSS. From now on, no stigma attaches to the RSS even…

Out of my mind: About time

The elections last week make one thing clear. It is time the Election Commission rethought the way in which voters are treated...