Not even a fortnight has gone by since the spectacular swearing-in ceremony of Narendra Modi, which was a celebration of Indian democracy. Now we have the Badaun tragedy. This reminds us that no matter how far India may have come as a democracy, there are miles to go before it becomes a good society. It is not that rape cases are unknown in India. They are becoming more openly discussed and remedy is being sought by the women and all who sympathise with them (but yet not all Indians). We have had tragedies in the Nirbhaya case, then in Mumbai and now in Badaun. It is not just rural India or caste-bound 'backward' India, but India as such which stands on trial. Why do women get such a dirty deal in India?
Of course, modernisation will be blamed. Pornography, or social media or the way women dress or speak. Indeed, anything which shifts the blame on to the victim rather than the predator. But just look at the stories women suffer in the ancient epics. Sita is an abandoned baby found in a field while a plough is being used by Janaka in a ceremony. She gets abducted, rejected and then exiled while pregnant, till she is fed up and disappears (commits suicide) at the final rejection by her godly husband. Draupadi is molested and almost raped while dressed in a simple single garment while her elders and betters watch silently. Shurpanakha is molested and disfigured. One could go on. Has Bharat been misogynistic from the beginning?
Maybe, but what has happened in Badaun raises fundamental questions about the history of India since Independence. Here is Uttar Pradesh, not only the largest state but one that played an iconic role during the Independence struggle. It has supplied several prime ministers and is the homestead of the Nehru-Gandhi family. It is the heart of North India and the seat of some of the holiest cities of Hinduism, and the place where the first modern Muslim university as well as the first Hindu university were founded just a hundred years ago. So how and when did things go wrong?
Once we had BIMARU states. Now the other three have escaped the pejorative label. Madhya Pradesh has thrived under Shivraj Singh Chouhan. Bihar has been transformed by Nitish Kumar into a model development state and Rajasthan has progressed under governments of both major parties. Why then is Uttar Pradesh still the sick state of India? Why is it that both national parties and the two regional parties have all managed to misgovern Uttar Pradesh so spectacularly?
The Congress had charge of Uttar Pradesh in the first 42 years. It managed to govern through its Brahmin leadership which stitched together a coalition with their Dalit farm labourers and Muslims. But the elite took care to keep the population, especially women, illiterate and insecure. Control over Uttar Pradesh meant so much to the Congress that it rejected the recommendation of the States Reorganisation Commission in the mid-Fifties to split the state into two. When the Congress lost control thanks to V P Singh and then Babri Masjid, the succession of BJP and then Samajwadi Party and Bahujan Samaj Party ruled the state alone or in tandem. Yet, no party improved the social condition of the people beyond bribing their favourite vote banks. No party did what Nitish Kumar has done in Bihar and established law and order. Criminals are pillars of the political system in Uttar Pradesh like nowhere else.
Uttar Pradesh is a deeply divided state. No chief minister has won two, let alone three, successive terms in office. It is, by some historical accident, the mirror of the severely divided and hierarchical Hindu society as well as the residual location of the communal problems inherited since Partition. Neither the followers of Gandhiji, nor of Ambedkar or of Jayaprakash Narayan and Lohia have seen fit to pay any attention to the poor of Uttar Pradesh.
Uttar Pradesh needs drastic surgery. It is too late to split it into just two states. Perhaps four or even six smaller states may finally bring good governance to the poor and unhappy people of Uttar Pradesh. What chance it may happen?
For all the latest Opinion News, download Indian Express App
More From Meghnad Desai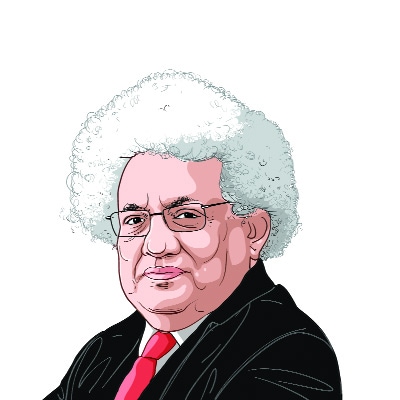 Out of my mind: Brexit decisions

Political divisions on this issue run through both the ruling party and the Opposition. The process of leaving has a time limit, which ends on…

Out of My Mind: IOU, RITA, TINA

In Malaga, there was a conference where they discussed topics such as the Index of Opposition Unity (IOU). Don't believe There is No Alternative (TINA)…

Out of my mind: Cross dressing

The Opposition has the one-item agenda of hating Modi. As in 1971, when the cry of the Old Congress was 'Indira Hatao', now it is…