It has been quite a hectic election campaign. I presume we date its beginning to December 2012 when Narendra Modi won Gujarat for the third time. The very next month at Jaipur, Rahul Gandhi said his mother had handed him a "poisoned chalice". The lines were laid down then. The Congress members had their most fervent demand granted. Rahul had been inducted formally as vice-president of the party, and hence the heir apparent and the next prime minister designate. BJP leaders had little choice but to submit to their rank and file.
We went through much of 2013 engaged in a phoney war, with the BJP declaring Modi as its candidate for PM. Then came the first bout of irrelevant noise. "In our system," the hegemonic party said, "we don't have a PM designate. We let the parliamentary committee select. Or we tell the parliamentary committee whom to accept as we did with Rajiv Gandhi, Narasimha Rao and Manmohan Singh. That is our democratic practice. Yours is strange, but then you are the Great Unwashed compared to us."
Alas, delusions have the power to lull the best people. The Congress believed that no one could take Modi seriously. They only had to chant 2002 several times and the ogre would melt away. By December 2013, it was clear that the ogre was expanding in size. So the incantation of denial was "there is no Modi wave". Not in the four state elections, nor in the opinion polls. Not even in the large crowds at Modi's rallies.
Friends abroad were recruited to sound the alarm in the foreign press about the danger India was facing. Come back, East India Company.
The cacophony has got louder since then. Both sides are saying things which are pure noise since we know what the hidden agenda is behind each insult and counter-insult. We appeal to the mosque because we are secular. You appeal to temples because you are communal. Your model is flawed since you sacrifice the poor for the sake of growth, but we sacrifice growth for the poor. If inclusive growth has been pursued by the Congress for 50 of the last 67 years, why is India so low down in the Human Development Index — barely above Pakistan and below even Bangladesh and Sri Lanka?
But let that be. The noise just got louder with each side getting personal. Jashodaben became an innocent victim of the phoney war as did 'poor' Robert Vadra. How dare they attack a private citizen, especially one whose name adorns the list of VVIPs at every airport? In retaliation, we move to Gautam Adani and the land given away for industrial development at throwaway prices by Modi. So Adani cancels out Vadra. But then just the other day while Congress ministers were busy elsewhere, a government website declared Gujarat to have best practice in terms of land allotments. The government promptly disowned itself and its activities. Accenture would probably not be paid for having caused such an embarrassment. Why did the hiring clause not include a condition that no merit must be found in Gujarat of any kind?
The Election Commission is a respected referee, but as it often happens in English football, the manager of the team hoping to win accuses him of awarding unfair penalties. So accusations of unequal  punishment fly on both sides. Amit Shah against Azam Khan, Giriraj Singh versus Beni Prasad Verma. Now at the last phase we are in the phase of Ram Teri Ganga Maili. I cannot wait for the cacophony  to subside.
It has been a long campaign. In terms of what happens in other democracies, India is just about to catch up with grown-up behaviour.
Campaigns have to be vicious, abusive and harsh because real things are at stake. No politesse, no noblesse oblige can be expected. All families are the same, whether they are Priyanka Vadra or Jashodaben. To be part of politics is to lose one's private life. As Harry Truman said. "If you don't like the heat, get out of the kitchen."
So please, EC, a shorter span of time in which all polling is done next time?
For all the latest Opinion News, download Indian Express App
More From Meghnad Desai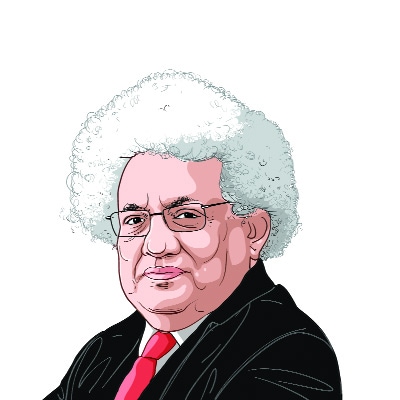 Out of my mind: Brexit decisions

Political divisions on this issue run through both the ruling party and the Opposition. The process of leaving has a time limit, which ends on…

Out of My Mind: IOU, RITA, TINA

In Malaga, there was a conference where they discussed topics such as the Index of Opposition Unity (IOU). Don't believe There is No Alternative (TINA)…

Out of my mind: Cross dressing

The Opposition has the one-item agenda of hating Modi. As in 1971, when the cry of the Old Congress was 'Indira Hatao', now it is…