There has been an outrage in the Capital. It has to be highlighted before it becomes routine to repeat such shocking events. The Swedish Embassy was to celebrate World Press Freedom Day. The programme was a discussion on Women's Participation in the Online Public Space. Maneka Gandhi, a minister in the BJP/NDA government, was one of the invitees, as was Barkha Dutt, our leading TV journalist, and Swati Chaturvedi, author of the book I Am a Troll.
The Swedish Embassy came under attack from Twitter trolls. They disapproved of Barkha Dutt and Swati Chaturvedi being given a platform. I presume it was an event where people would have come by invitation, not open to the general public. The trolls threatened to make a list of Swedish goods being imported into India and threatened to boycott them. It is not clear what purpose was served by linking Swedish commerce to the event.
Alas, the threat of loss of import revenue trumped any love of freedom of the press or of women's rights to free speech. The event was cancelled. It must be one of the most humiliating defeats for Freedom of Speech on Swedish soil (which the Swedish Embassy must represent) as much as in India.
Social media are a challenge to democracy everywhere. One cannot deny the Twitterati their freedom to tweet or to troll. There are always new technologies of communication which we all have to adapt to. The puzzle is that if the reports are true, the Swedish Embassy has not been trained to deal with this new phenomenon .
To cancel an event which has been publicised because of threats to boycott the Swedish products amounts to submitting to virtual blackmail. Nothing had happened except threats issued by trolls. They had not threatened anyone with any physical harm as far as we know. No list of Swedish products imported into India had been made public (Bofors guns?). Not a single Swedish exporter had complained. Why then cancel a harmless but important flagship event?
This is more important than just one embassy and one cancellation. It is not something which one can combat by passing laws. In any case, even if passing a law was the right thing, it would take forever in Indian courts to get justice.
This is something which people who value free speech must voluntarily resist. The only thing for evil to flourish is that good people do not do anything to stop it. There has to be a social movement of resistance to trolling which threatens our democratic rights. By any count, trolls represent a tiny minority. The technology allows a few people to generate hundreds of tweets. These tweets are either anonymous or have names which cannot be checked for authenticity. They are going to increase, especially if it becomes known that even foreign embassies succumb to their threats.
In the old days, there would be demonstrations, and crowds would march to the Embassy shouting slogans and, if they got near the destination, throw stones. The police would no doubt be deployed to stop any trouble. But now the crowd is in the cloud and nowhere to be seen or heard. Yet powerful. But only if you internalise the fear they wish to generate.
The Embassy should reschedule the event.
For all the latest Opinion News, download Indian Express App
More From Meghnad Desai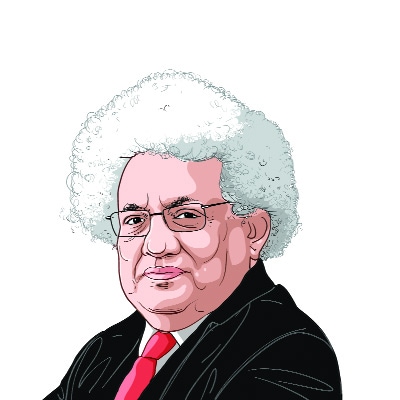 Out of my mind: Beware of friends

Even the destruction of the Babri Masjid happened 26 years ago. What is the urgency now? When the Supreme Court scheduled the hearing in January…

Out of My Mind: The leadership principle

The successes in 1937 and 1946 elections established the hegemony of the Congress, which Jawaharlal Nehru was able to strengthen by winning the first three…

Out of my Mind: Lawless lawmen

The most encouraging aspect of the Khashoggi story is that a single honest journalist was seen as a threat by the Saudi regime. ..