For a people who procreate as prolifically as we do, our cultural discomfort with the mating game is unfortunate. Marriage is India's favourite ritual, and the big fat Indian wedding is now a thing the world over. But the prospect of single people dating, or worse, living together "in sin" is enough to leave most Indians in cold sweat or self-righteous rage. The many wondrous and calamitous experiments with romance and sex that, with a bit of luck, lead to better-informed decisions about who we will mate with in perpetuity, make us deeply uncomfortable.
It's one thing for us to come away from the movies feeling warm and fuzzy about film stars getting cosy as boyfriend and girlfriend. It's quite another for the vast majority of Indians to even imagine the possibility of their children or anyone in their community committing such sacrilege.
In most of India, marriage is still seen as the coming together of families. Even though rapid urbanisation and nuclearisation of the family is challenging this paradigm, the idea that parents of daughters are bride-givers, with a liability to be discarded, has deep roots. Love and sex outside this framework — where single women exercise their freedom to date partners of their choice — severely threatens a patriarchal status quo. Ambiguous consensual relationships between adults, motivated by foolish things like love, are unacceptable in most of India ("what will people say"). However, once a relationship has the stamp of socio-legal approval, then no matter if it is the source of all kinds of violence, subservience, loneliness and misery — we couldn't be less bothered. Just don't even think about divorce, because, you know, "what will people say".
Our oppressively conformist society is geared towards denying young people the chance to cultivate healthy, mutually respectful romantic relationships. Popular culture fails miserably in offering sane templates for courtship. A random sampling of our movies would suggest that stalking and sexual harassment are appropriate courtship
rituals. "Love marriages" might have aspirational value, but outside of India's biggest cities, gender segregation is ubiquitous and punishments for attempting unions, especially those that cross caste and religious lines, are terrifying. Contraceptive sales peak around Navratri and other festive occasions where social disapproval of gender interaction eases slightly. Physical experimentation without a strong emotional foundation or mutual respect often ends up being the sum total of the "romantic" experience.
Consumer culture can rightly be accused of fuelling many excesses, but giving people an annual occasion to safely express emotions linked to romantic love is not one of them. For the vast majority of young Indians (outside elite enclaves in the metros), Valentine's Day is a valuable enabler — one that offers a rare opportunity and vocabulary through which to respectfully (if awkwardly) express feelings of affection and attraction.
Valentine's Day has been made the scapegoat for our disturbingly regressive attitudes towards consensual adult relationships outside narrow social permissibility. By repeatedly attacking a ritual that promotes an individualistic, mutually respectful approach to romance, our self-appointed moral guardians protect a status quo that has normalised an unequal relationship between the sexes.
From weddings rituals such as kanyadaan, to post-marriage expectations of pativrata, our cultural software around love and marriage is designed to perpetuate hopelessly lopsided gender equations and an internalisation of female subordination.
All too often, manufacturers react with contrition in the face of politically motivated bullying backed by specious moralistic  arguments. The frequency with which Hindi movie producers fall in line when facing such intimidation is depressingly familiar. But despite attacks, the popularity of Valentine's Day in India shows no sign of abating. A young population enchanted by consumer culture is often seen as being manipulated, but not in this case. Not when what is at stake is a ritual that facilitates healthier, respectful approaches to romance. Our malignant cultural software around romance is the problem. Valentine's Day is part of the solution.
The writer is a consumer researcher and part of the founding team at Junoon Theatre.
For all the latest Opinion News, download Indian Express App
More From Satyam Viswanathan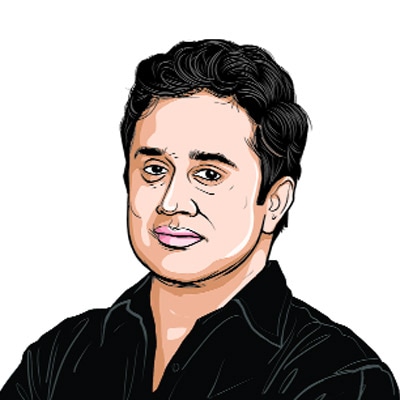 All Our Inner Battles

Simona Halep, Anthony Bourdain exemplify the complexity of 'mental strength'..

Why we love to love Federer

Federer and Nadal appear to have cracked the code for the modern-day human ideal because they have found a rare equilibrium — between sophistication and…

A Crisis Of Male Identity

Communal and gender violence in India points to the same backlash...