Written by
Coomi Kapoor
|
Published: September 29, 2013 3:59:51 am
O Solo Namo
Most BJP posters in the past decade have featured the triumvirate of Atal Bihari Vajpayee,L K Advani and the party president of the time. Accordingly,Rajnath Singh recently replaced Nitin Gadkari in the party posters. However,poster designers now face the question of how to include prime ministerial candidate Narendra Modi in this line-up. If Modi gets top billing,do the other three get reduced to postage-stamp size? Or do the other three figures disappear altogether? So far the BJP does not seem to have made up its mind on how to project the stable of party leaders for the 2014 poll campaign. The wall outside the Ashoka Road party headquarters is an indicator of this dilemma. Two standard blow-ups of Vajpayee,Advani and Rajnath continue to dominate,but several paper posters of Modi addressing a gathering solo have also appeared. However,so far there is nothing official about the Modi posters.
Emergency plans
Three officials from the PMO coordinated with Prime Minister Manmohan Singh on the terrorist attack in Jammu. With the PM on a plane flying to Washington at the time,satellite phones were used to provide updates. Before his departure,Singh had left a note with Cabinet Secretary Ajit Seth that in case of an emergency he should coordinate with A K Antony,P Chidambaram and Sushil Kumar Shinde. However,Seth himself was out of the country in Manila and neither Antony nor Shinde is a pro-active minister.
Inadequate input
Rahul Gandhi is assisted by a team of young men with fancy degrees from top universities. Although Rahul writes his English speeches himself,his aides provide the inputs. All the same,in some speeches,very obvious goof-ups creep in. For instance,Rahul claimed Gujarat was bigger than the United Kingdom in an old speech,when the state is much smaller. He asserted at the same event that India was larger than both the US and Europe put together when India is,in fact,smaller than either of the two taken separately. Also,shouldn't Rahul's team have alerted him that industrialists at a CII meet would not appreciate being addressed by the informal "boss".
Competitive play
Meira Kumar appears keen to project that the Lok Sabha Speaker's post is almost on par with that of the vice-president and president. There is an element of competitiveness between the three positions. Last month Discovery Channel telecast a feature on Rashtrapati Bhavan and Kumar has now ensured that the foreign TV network makes a documentary on the history of Parliament House. Discovery Channel has,meanwhile,gained a little insight into how things are done in India. For instance,after a preview of the Rashtrapati Bhavan film,President Pranab Mukherjee asked that a quote from his wife be included in the documentary. A revised version of the film accommodated Mrs Mukherjee. Perhaps this time an interview with Meira Kumar's spouse will be taken in advance.
Non-Gandhian way
The Ministry of Culture has ordered a review of the alleged misappropriation of funds at the Gandhi Smriti and Darshan Samiti. It seems there have been complaints that money to be spent on functions to honour the Mahatma has been utilised elsewhere with a not-so-Gandhian sense of austerity.
Mellowing Advani
L K Advani appears to have thrown in the towel and accepted Narendra Modi's ascendance. He does not even want to put up a fight against a tie-up between B S Yeddyurappa and the BJP. Earlier,Advani had spearheaded the move to remove Yeddyurappa from the BJP arguing that the corruption charges against him were giving the party a bad name. A close associate of Yeddyurappa,Lehar Singh,called on Advani recently to discuss mending of fences.
Embassy land
When India became a republic back in 1950,huge chunks of land in exclusive Chanakyapuri were handed out at throwaway prices to foreign embassies to build their offices and residences. But newly independent nations who came to New Delhi later were not so fortunate. They have been searching for years for suitable land for embassies. Some suggested that they be granted land on a reciprocal basis,but the Ministry of External Affairs was not swayed since land prices in the Capital are much higher than elsewhere. The ministry has now developed 39 plots in Dwarka for sale to embassies. The plots are being sold at prevailing prices which are steep,even though Dwarka is hardly the best address in town.
For all the latest Opinion News, download Indian Express App
More From Coomi Kapoor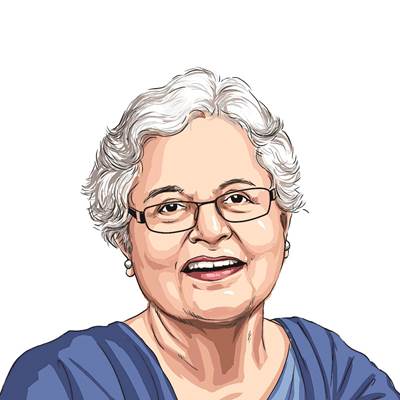 Inside Track: Party before govt?

There are enough straws in the wind to indicate that former BJP president and Union minister Nitin Gadkari is feeling the chill even though, officially,…

Inside Track: Vanishing line

The BJP high command and the PMO have been pressing the chief ministers of BJP- ruled states to furnish statistics of the beneficiaries of different…

Inside track: The 'outsider'

Manipur's Governor Najma Heptulla, who is unlikely to clear the Bill in a hurry, rushed to Delhi last week to apprise Prime Minister Narendra Modi of…