Written by
Khaled Ahmed
|
Updated: April 6, 2014 11:05:23 pm
Carlotta Gall's book will be met by the same denialism that has gripped Pakistan for many years.
Pakistan, where over 80 per cent of people hate America, is greatly upset over the yet-to-be-published book by reporter Carlotta Gall — a woman and a Jew — who has written in The New York Times that Pakistan was keeping Osama bin Laden in a safehouse in Abbottabad; and that it actually faked shock followed by populist rage at "discovering" him there after America's dastardly attack to kill him on Pakistani soil.
We say her lies are myriad, typical of a Jewish hater of Pakistan and Islam. She says "the madrasas in Quetta are a cover, a camouflage. Behind the curtain, hidden in the shadows, lurks the ISI. The Pakistani government, under President Pervez Musharraf and his intelligence chief, Lt Gen Ashfaq Parvez Kayani, was maintaining and protecting the Taliban, both to control the many groups of militants now lodged in the country and to use them as a proxy force to gain leverage over and eventually dominate Afghanistan."
She goes on to indict Pakistan further as an abettor of terrorism through proxy warriors it pretends not to know and claims to be helpless to curb. It pretends to "apparently" cooperate with America but covertly trains militants through its dreaded ISI to go to Afghanistan and kill Americans. She says Americans knew what its great ally was doing but refused to face up to it "for fear of setting off a greater confrontation with a powerful Muslim nation".
She quotes a former chief of the ISI, Ziauddin Butt — a simple soldier, if you run into him at the Lahore Gymkhana, you will see him stuffing the heads of rich shopkeepers with stories of great derring-do against enemy America — as saying that "he thought Musharraf had arranged to hide bin Laden in Abbottabad".
Of course, Butt has quickly denied what he said to Gall but he had already told a lot of foreign reporters about how Musharraf and the ISI's Brigadier Ijaz Shah and ISI chief Shuja Pasha had actually placed him in Abbottabad.
Then Gall turns to the 2007 Lal Masjid affair in Islamabad when Musharraf ordered the attack on this al-Qaeda-linked mosque — and thus dug his grave by daring to go against the hardcore establishment within the army and represented in the ISI. She quotes a cabinet minister on the affair: "One hundred per cent they knew what was happening. The ISI allowed the militants to do what they wanted out of sympathy. The state is not as incompetent as people believe."
More dangerously, she states: "In 2007, a former senior intelligence official who worked on tracking members of al-Qaeda after September 11 told me that while one part of the ISI was engaged in hunting down militants, another part continued to work with them." We say officers who don't have the stomach to play double often spill dangerous beans to foreign journalists. If it weren't for these cowards, Pakistan would be floating on the mists of a utopia at whose gates America and India — the latter with its hands clasped together in supplication — would beg entry.
We say Butt is a military genius because he was the first head of the army's Strategic Plans Division, which controls nuclear weapons, and that Nawaz Sharif made him director general of the ISI in 1997, and promoted him to army chief in 1999. (Whisper: Sharif was overthrown by the army after this.)
Pakistani journalist Amir Mir, who is not yet convinced that terrorism in Pakistan is carried out by America and India working in tandem, has revealed more juice: "It was in December 2011 that General Ziauddin Butt was quoted by the Western media for the first time saying that Osama was kept in an Intelligence Bureau safehouse in Abbottabad and Musharraf knew about it. He was quoted in an article on the well-known Jamestown Foundation website, saying: 'General Ziauddin Butt said Osama bin Laden was kept in Abbottabad under the instructions of IB Director Brigadier Ijaz Shah'."
Ijaz Shah is the same brave man who clairvoyant Benazir Bhutto predicted would be instrumental in killing her. Shah was also "responsible" for hiding Omar Saeed Sheikh, who had killed American journalist Daniel Pearl. General Butt stated that "former prime minister Nawaz Sharif had set up a 90-man commando team to track and kill Osama bin Laden but it was disbanded after he was ousted in a military coup."
The American diplomats in Islamabad were sending a lot of dastardly information back home. WikiLeaks claimed, while citing secret documents seized from the Abbottabad compound of bin Laden, that the al-Qaeda chief was in routine contact with up to 12 ISI officials. We say, all lies! As the chief priest of Makka said, it is an international conspiracy to make Muslims fight each other.
Late prime minister Benazir Bhutto, in her book Reconciliation, mistakenly linked the deep state with terrorism and feared she would be eliminated through this dark nexus. According to her, Pakistan's establishment comprised the army, the intelligence agencies, religious leaders piously building political muscle through proxy warriors and those brainwashed with textbook nationalism favouring the Islamic state.
She was attacked in Karachi by one of the three assassination squads she had listed in her book. No special security was provided to her. Her book referred to Saifullah Akhtar, a specially favoured jihadi leader in Pakistan who, together with General Zaheerul Islam Abbasi, nearly toppled the Bhutto government in 1995. But all these "facts" are in abeyance, so to speak, while the case of Bhutto's assassination is being investigated. And India must have arranged the murder of the man who was investigating it, senior police officer Chaudhry Zulfiqar Ali, who was gunned down in a street in Islamabad in broad daylight.
Assistant secretary general at the United Nations, Chilean diplomat Heraldo Munoz, who headed a UN inquiry commission on Bhutto's assassination, writes: "Akhtar had joined hands with Major General Zaheerul Islam Abbasi, a former intelligence officer, not only in an attempted coup against Benazir Bhutto in 1995 but also in an attempt to remove the army leadership. After Akhtar spent five months in jail, he was released from detention. Years later, arrested in the United Arab Emirates for plotting to murder Musharraf, he was handed over to Pakistan; but after being held in jail for a couple of years, he was quietly released by the government after the Supreme Court inquired as to his whereabouts."
Who did Bhutto name as her potential killers in her book? In a letter sent to then president Musharraf, she named former ISI director general Hamid Gul, the Intelligence Bureau's retired chief, Brigadier Ijaz Shah, and the then-chief minister of Punjab, Pervaiz Elahi, plus former Sindh chief minister Arbab Ghulam Rahim. Surely, she was brainwashed by the enemies, you know who, of Pakistan; therefore the letter was ignored.
Major General Zaheerul Islam Abbasi, who attempted a coup in 1995, was a soldier of Islam. Now dead, as Brigadier Abbasi, he was once Pakistan's military attaché in New Delhi and believed that "India will soon be destroyed because of its obscene movies," as he told me once when I was visiting Delhi. He got thrashed by RAW in a sting operation and was repatriated, only to be promoted and sent to Gilgit to challenge India on the Siachen. As Allah willed it, he got a large number of troops killed by mounting an unauthorised operation.
We hold that obscene movies will be the end of India. Good riddance. Dastardly America is dying anyway.
The writer is consulting editor, 'Newsweek Pakistan'
For all the latest Opinion News, download Indian Express App
More From Khaled Ahmed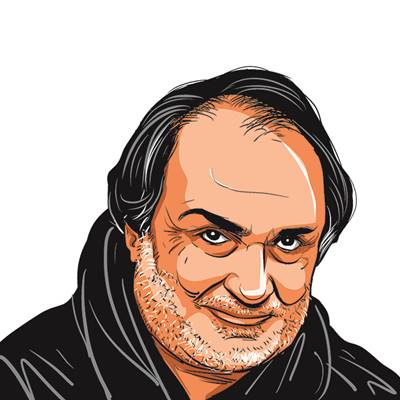 Consensual enslavement

Islamic feminism has pushed back the women's rights movement in Pakistan and reversed the movement for secularisation in the country..

Hindu Pakistan? Not Quite

Fanaticism has grown in India, but not been sanctified in its constitution, penal code ..

Pakistan's new captain

PML-N's clash with Pak establishment, a media revolution, played a role in Imran Khan's victory ..