Written by
Coomi Kapoor
|
Published: February 22, 2009 1:23:37 am
Former BCCI chairperson and NCP President Sharad Pawar spoke to Rajasthan Chief Minister Ashok Gehlot on behalf of IPL chairperson Lalit Modi. Gehlot was firm about proceeding with the criminal cases against Modi and pointed out that the Congress election manifesto in Rajasthan had devoted two pages to Modi's illegal actions. The CM accused the cricket administrator of aligning totally with Vasundhara Raje's regime. Even senior BJP leaders like Bhairon Singh Shekhawat had demanded that stern action be taken against the IPL boss,Gehlot claimed.
If Modi goes down,he could splatter mud in other directions. Recently at an IPL governing council meeting,when he was asked why TV rights for the IPL games had been given to a particular channel,Modi let slip that the son-in-law of a top politician was on the TV company's board.
Cow and calf re-united
During Lalu Yadav's visit to south India two months ago,he was gifted a calf in a village near Rameshwaram. Lalu,who has a cowshed in his Tughlaq Road bungalow in Delhi,was upset to learn from his manager that the calf was not eating its feed as it was pining for its mother. The railway minister promptly directed that the calf's mother be rushed to Delhi. The operation to bring the cow from Tamil Nadu was complicated. An attendant,a vet and Minister of State for Home Radhika Selvi escorted the animal to Delhi.
Allied for a greater cause
Apart from Digvijay Singh,Ahmed Patel is also on Amar Singh's hit list. In a recent interview Singh referred disparagingly to a Congress functionary who had also given grief to Ambika Soni,an obvious reference to Patel. With the SP refusing to concede more than 15 of UP's 80 parliamentary constituencies,the two parties are bound to end up in so called "friendly" contests in half a dozen seats,including Fatehpur Sikri,from where Raj Babbar is keen to contest on a Congress ticket. Although the Congress benefits little from its alliance with the SP in UP,it is reluctant to break ties because its internal surveys indicate that if the two do not fight together,Mayawati will bag the lion's share of seats. If she wins over 45 seats,the Congress fears,she will not support a Congress government at the Centre but seek the PM's position for herself.
Doubly significant date
The General Election may start on April 20—ironically,the date when Chief Election Commissioner N. Gopalaswami will retire,as he turns 65. According to the tentative schedule drawn up by the deputy election commissioners,a four-phase election is contemplated and the likely dates are April 20 and 26,and May 5 and 10. However,the polling dates will be finalised only after the three-member commission clears the proposed schedule. The official dates are expected to be announced in the first week of March when the code of conduct will come into effect. Till then the central ministers and state chief ministers will be free to inaugurate projects and lay foundation stones. The name of the next CEC is to be announced after Parliament ends on February 26. In all probability Navin Chawla will get the coveted job.
Domain squatting
Last week this column reported that Congress secretary Tom Vadakkan had opened a website seeking votes and donations even before he had secured his party nomination for the Trichur parliamentary seat. It seems that the website was started without Vadakkan's permission by a Kerala-based company which has set up 26 sites for politicians and parties,including for L.K. Advani and Rahul Gandhi. The ostensible purpose of such domain squatting is to try and eventually sell the site to the politician in whose name it was created. Vadakkan suspects this particular domain was mischievously created by his rivals to try and stymie his chances of securing the Congress ticket.
For all the latest Opinion News, download Indian Express App
More From Coomi Kapoor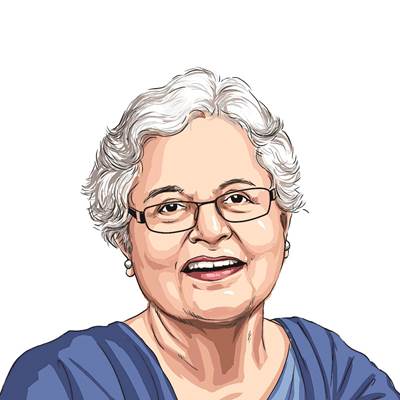 Inside Track: One for All

The Congress war room is working on a strategy that an anti-BJP alliance should field joint candidates for 403 seats in 15 states in the…

Inside Track: Age-old problem

Both Shatrughan Sinha and Yashwant Sinha have for all practical purposes left the party. If the elderly are back in the BJP, it may face…

Inside Track: Not overshadowed

During the recent inauguration of Phase 1 of the Delhi-Meerut Expressway (DME) and Eastern Peripheral Expressway (EPE), Gadkari was in an open car alongside the…