Written by
Coomi Kapoor
|
Published: June 23, 2013 5:24:19 am
More time for politics
Her sharp political instincts have been compared to those of her grandmother,but Priyanka Gandhi has never given her full attention to politics because of family commitments. It seems Priyanka may now get more time away from her domestic responsibilities. Son Rehan has got admission to Doon School,his grandfather's alma mater,and daughter Miraya has passed the entrance test for Welham Girls' School,also in Dehra Dun. Incidentally,an attractive,solo poster of Priyanka was recently seen in the office of one of the Congress's general secretaries.
Look who's talking
Bihar Chief Minister Nitish Kumar has been chiding the BJP for not showing an elder statesman like L K Advani due deference. But M Venkaiah Naidu pointed out that Nitish should be the last one to talk about concern for the elderly,considering the way he eased out George Fernandes from all important posts in the party and the NDA,even while Fernandes was still hale and hearty. In April 2006,Fernandes was not allowed to stand for re-election as JD(U) president. In December 2009,Nitish put pressure on Fernandes to step down from his post as convenor of the NDA. The unkindest cut was opposing his one-time mentor from re-contesting from his old constituency of Muzaffarpur. While Nitish talks about Narendra Modi's authoritarianism,the Bihar CM has been ruthless in cutting his opponents down to size. It was not just Fernandes,but also JD(U) MP Rajiv Ranjan Singh 'Lalan' and the late Digvijay Singh who publicly dubbed Nitish "a dictator".
Quick-change artiste
Actress Smriti Irani was not a favourite of Narendra Modi when she joined the BJP. In 2004,she issued a statement calling for Modi to resign as CM. Irani changed her tune after the party ordered her to withdraw her protest. In 2011,when Irani was chosen for a Rajya Sabha ticket,it was with Nitin Gadkari's support. Modi had wanted Nirmala Sitharaman in the Rajya Sabha. But since then,the relationship between Modi and Irani has undergone a sea change. At the BJP's Goa meeting,Irani was constantly at Modi's side,even when he was busy talking with other party leaders.
Back to party
Earlier,when both Ambika Soni and Ahmed Patel were political secretaries to Congress president Sonia Gandhi,Patel had gained the upper hand and Soni was eased out of her post. But with Soni's new appointment as "in charge of the Congress president's office'',Congress members are wondering where this puts her in the pecking order. After all,in her new position,Soni is in charge of the office where Patel also sits. Soni will presumably coordinate Gandhi's tours and programmes. There may be no immediate danger to Patel's authority,but time will tell.
A Kao-boy's secrets
When B Raman's memoirs,The Kao-boys of RAW: Down Memory Lane,were first published,another former sleuth V K Singh protested that while his book had been proscribed for reasons of national security,Raman had been permitted to publish his reminiscences. But Raman was a spy who knew how to keep a secret and not compromise national security. The super sleuth,who was personally selected to join the agency by RAW founder R N Kao,played many roles in RAW,including acting as a liaison man for the agency. In the bargain,he developed warm friendships with senior politicians from many of our neighbouring countries,including Pakistan,when they were out of office. He also managed to infiltrate madrasas and enlist jehadis as his sources long after his retirement. He visited Thailand more than 40 times and is believed to have met his secret sources in Bangkok pubs. As he lay dying of cancer in a Chennai hospital,there were messages of concern from across the globe. Even President Pranab Mukherjee sent a moving letter.
Different strokes
Both the Congress and BJP have put a Gujarati in charge of Uttar Pradesh,electorally the most important state in the country. But the temperament of the two Gujaratis who have been given the responsibility of handling the state—Amit Shah from the BJP and Madhusudan Mistry from the Congress—are very different. There was a large gathering of BJP workers waiting to receive Shah when he arrived in Lucknow. Among Shah's first engagements in UP was a puja at the Ganga ghat in Varanasi. He then travelled to Ayodhya for a darshan of "Ram Lalla". Mistry has studiously avoided making himself conspicuous,though he played a key role in the selection of candidates in Karnataka. He has also been travelling frequently,preparing a panel of suitable candidates for Lok Sabha constituencies from all over the country.
For all the latest Opinion News, download Indian Express App
More From Coomi Kapoor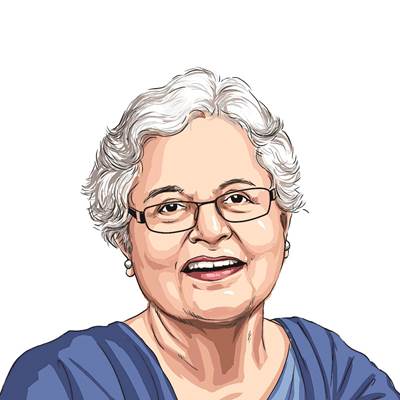 Inside Track: Car seva

TMC chief Mamata Banerjee is a seasoned political player. Her recent meeting with Congress leader Ahmed Patel is seen as an attempt to compensate for…

Don't Stop Press

A nuanced, critical take of the lndian media landscape from the perspective of an insider..

Inside Track: One for All

The Congress war room is working on a strategy that an anti-BJP alliance should field joint candidates for 403 seats in 15 states in the…