Written by
Coomi Kapoor
|
Published: October 13, 2013 1:06:33 am
Singhvi and Yadav took part in the discussions without realising that the youth group is basically a Modi outfit
Modified outfit
Abhishek Manu Singhvi (of the Congress),Dinesh Trivedi (Trinamool Congress) and Yogendra Yadav (Aam Aadmi Party) were three unsuspecting politicians who attended a function organised at the Thyagaraj Stadium,Delhi,by the youth group Citizens for Accountable Governance (CAG) on October 2. Singhvi and Yadav took part in the discussions without realising that the youth group is basically a Modi outfit headed by one of Gujarat Chief Minister Narendra Modi's key strategists,Prashant Kishor,a former United Nations mission chief in Africa. Trivedi,alerted by the presence of Modi on the sofa throughout the deliberations,excused himself and left. The CAG claims to be a pro-Right organisation not linked to any party. But publicising Modi seems to be one of its main objectives. Many in the BJP believe the Gujarat CM will use the group extensively in his poll campaign,giving less importance to the BJP's own youth bodies. In Gujarat,Modi has already built an infrastructure that bypasses the BJP and its affiliated associations.
Getting away
Prime Minister Manmohan Singh seems more comfortable out of the country than in India,where he has to contend with a hectoring Opposition,a critical media,Rahul Gandhi,who countermands his Cabinet decisions,and ministers who ignore his advice. This month Singh has scheduled a number of foreign trips. He visited the US from September 25 to October 1. He is in Brunei and Indonesia from October 9 to 12. He will be in Russia on October 20 and in China on October 23 and 24. There is obviously peace and quiet away from domestic chores.
Who said it first?
Minister for Rural Development Jairam Ramesh accused Narendra Modi of being a copycat,saying he stole his quote about toilets being more important than temples. Modi made his remark on October 2 this year while Ramesh expressed the same sentiment back in October 2012,when he held charge of Drinking Water and Sanitation. At that time,a number of BJP leaders had criticised Ramesh. "Modi has woken up 22 years later (a reference to the 1992 Babri Masjid demolition)," Ramesh crowed. Actually,Modi had made the same remark even before Ramesh,in Amreli,Gujarat,in 2010. Addressing a large gathering,in order to emphasise the importance of development,Modi had stated that building of toilets must precede temple construction. Amit Shah,then Modi's MoS,Home,who was present,had not taken kindly to his leader's remarks since he felt they offended Hindutva sentiment. He had staged a walkout in protest.
No glasnost in DD
Prasar Bharati's experiment with outsourcing the Newsnight programme to media professionals from outside Doordarshan has fizzled out within 10 months. Former BBC journalist Sanjeev Srivastava who was hired to produce the show has put in his papers. Srivastava found it impossible to continue since Doordarshan starved the show of funds necessary for hiring more manpower. The show was surviving on a skeletal staff. Six months earlier,the other outside editor hired by Doordarshan,Ajay Shukla,had quit reportedly because of DD's objection to basic objectivity. The programme will now be brought out in house,by an additional director general,news.
No paper trail
The Election Commission last year backtracked on its original position before the Supreme Court that its electronic voting machines are tamper-proof and that there was no need for a paper trail to ensure a foolproof ballot system. EVMs with a paper trail,so that voters can check that their vote has been correctly registered,were used successfully in the Noksen Assembly seat in Nagaland. But though the EC has now agreed to introduce EVMs with a paper trail,the machines will not be ready in time for the next general elections. The commission estimates that 13 lakh EVMs are required throughout the country and it costs Rs 16,000 for each machine to be upgraded. The commission claims that the two Indian companies which manufacture the machines,the Electronics Corporation of India and Bharat Electronics Ltd,are not in a position to refit more than 20,000 machines in the near future.
For all the latest Opinion News, download Indian Express App
More From Coomi Kapoor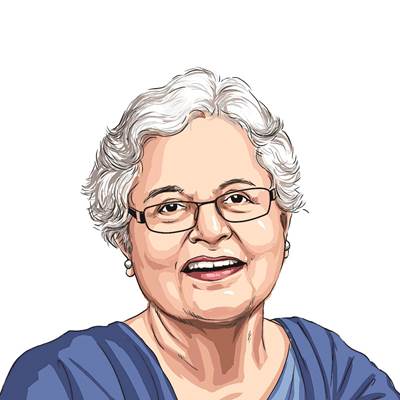 Will Prashant Kishore run Modi's 2019 campaign too?

Kishor took credit for Narendra Modi's success in the 2014 general election and Nitish Kumar's victory in Bihar in 2015. However, he had to eat humble…

Inside Track: Line of division

Clearly, Sushma Swaraj is not on the same side as the majority in the party, who feel she tweets for personal PR and not for…

Inside Track: Not so tweet

Sushma Swaraj was crudely and unfairly trolled by the Hindutva brigade because a Lucknow passport officer was summarily transferred on the basis of a tweet…