Last night I listened to two tracks of the Tyagaraja composition, "Nagumomu Ganaleni", in the raga Abheri. The first rendering was by a pre-Indian independence period star vocalist who made this particular composition timeless, Musiri Subramania Iyer (1899-1975). The second one was by Mangalampalli Balamuralikrishna. Some years ago, when I got an opportunity to interview Balamuralikrishna, I had asked him why he deviated from the way Musiri had sung and made the kriti immortal. A smile playing on the corner of his lips, he said: "It was Musiri who deviated; I sing the way an ailing Saint Tyagaraja most likely might have sung in the 19th century."
Such confidence that bordered on arrogance defined the modernist moment Balamuralikrishna came to define in Carnatic music. But he was a loner in history, with no predecessor or follower. Can a loner represent a modern moment? Balamuralikrishna had many students, but few can claim to represent his music. Balamuralikrishna's music was unique and impossible to replicate; he could not be the beginning of a parampara or a school. Yet, I think he signifies a departure from the tradition because he modernised the way we listen to Carnatic music. Modernity in art refers to a relationship to time, one represented by a discontinuity, opening to a new and unique aesthetic sensibility. One can see it in its ideal form in Balamuralikrishna's music.
When I met the maestro in his modest house in Chennai in the summer of 2012, he looked radiant in a yellow silk shirt and appeared to be in a buoyant mood. I asked him: "Are you not tired of your constant rebellion with the orthodoxy?". His response was compelling: "I sympathise with them, they don't listen to music." The conservative core of the Carnatic music audience continues to have a disconnect with the maestro. As Pablo Picasso was called a show-off by many of his contemporary traditionalists, Balamuralikrishna was accused of singing for the galleries. Let me be honest, as someone who listens to both Hindustani and Carnatic classical music almost daily, Balamuralikrishna is not an any-time-musician for me, as Kesarbai Kerkar or Semmangudi Sreenivasa Iyer are. When people describe Kumar Gandharva's emergence as a modern moment in the Hindustani vocal tradition, seasoned listeners do not feel any discomfort. But many in the Carnatic circle disagree when a similar observation is made about Balamuralikrishna. This is because the Carnatic maestro had moved away from the prevailing notion of classicism in the south.
Once a disciple of Kishori Amonkar, of a gharana known for its precise adherence to sruti, told me that she always asks him to listen to Balamuralikrishna's music to understand the right sruti and voice-culture. The advice goes with Balamuralikrishna's unique acceptance among Hindustani music lovers. No other Carnatic vocalist, perhaps with the exception of M.S. Subbulakshmi in the past and T.M. Krishna now, could attract non-Carnatic Indian music lovers. His voice culture, limited use of gamakas and the unique aalap style of ragas made it possible to bridge the two traditions.
I remember how he discouraged me from continuing my questions regarding his views about his seniors and peers like Ariyakudi Ramanuja Iyengar, Madurai Mani Iyer and G.N. Balasubramaniam. He, an artiste with high self-esteem, was tenacious enough to tell me "please don't compare with me with my contemporaries… if you must compare me with someone, please do it with the Trinity (Tyagaraja, Muthuswami Dikshitar and Syama Sastri, who constitute the 18th century trinity of composer-musicians)".
He shifted from Andhra Pradesh to Chennai when he was in his 30s. It was while living in Chennai that he challenged many of the foundations of musical traditions that the city's elite had been proud of for more than eight decades. I asked Balamuralikrishna whether he felt out of place in Chennai. His response was, "I live in music, geographical locations don't bother me." But a keen ear can observe an underlying Andhra school in his music that refuses to disappear in his "modern" constructs.
I remember a concert in the winter of 1998, when the maestro performed at Delhi's Nehru Park. It was part of the early morning concert series. He took on the time-theory concept in the Hindustani tradition and told the audience that he was going to sing a night raga that morning. He explained that a true artiste would be able to create the sense of night in the morning.
With Balamuralikrishna passing at the age of 86, one more "incurable romantic" has left the scene. If Ravi Shankar could be called the Pandit Nehru of sitar, considering the many aspects of his music, Balamuralikrishna could be described as the Carnatic Nehru — easily the most popular, democratic, secular aesthete.
The writer, a columnist in Malayalam, is presently head of content, Radio Mango, Dubai
For all the latest Opinion News, download Indian Express App
More From S Gopalakrishnan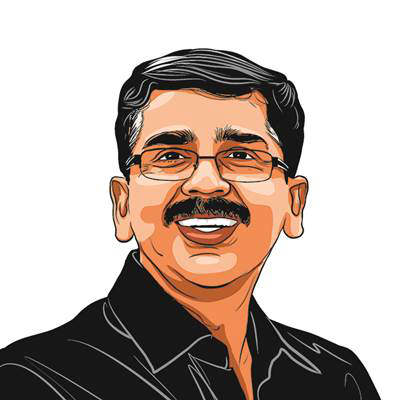 A Mahatma In An Imam

Before starting for Naokhali, Gandhi wrote an aesthetically beautiful line on his perspective on the art of dying: "As it is, all die, but one…

When you are old and grey

Government must honour practitioners of classical art forms in their prime...

A Channel For All Ragas

AIR's decision to share its rich archives through an online radio station is welcome...