Written by
Khaled Ahmed
|
Updated: December 27, 2014 12:00:18 am
We all know the South Asian Association for Regional Cooperation (Saarc) died long ago, and if you visit its official website today, the stench is quite overpowering. Pakistan said cooperation is no use if disputes stay unresolved. India remained uninterested because it was inward-looking as a state and was OK with the not-OK status quo. Was Saarc  born before time? Was it too futuristic, because South Asia was too decrepit to wake up to the reality of economic regionalism?
In the last week of November, the 18th Saarc summit ended with another whimper. We know the numbers: 1.6 billion South Asians live below the poverty line, the region produces 3 per cent of global output and 2 per cent of world exports, intra-regional trade is only 5 per cent of total trade "compared to 66 per cent in the EU, 53 per cent in Nafta, 32 per cent in the Pan Pacific region and 25 per cent in Asean".
There was a lot of handshaking among leaders. Nawaz Sharif was first seen not keen to shake with Narendra Modi, but when the two actually shook and lingered over it, a retired Pakistani air force officer fond of "analysing" on TV blew a fuse and reprimanded Sharif for letting Modi score at Pakistan's expense. The take in Pakistan is the army doesn't want Sharif to get too cosy with India while Modi is making life miserable for Pakistan on the LoC and is determined to deprive Kashmiris of their rights.
I know most Pakistanis think nothing of Saarc. The diplomats are on record saying awful things about it in the media because India can frontload trade and connectivity through it to make the region forget about Indo-Pak disputes. Pakistani doves who advocate trade and connectivity "without giving up on Kashmir" are shunned, if not threatened. I think Pakistan approaches Saarc the wrong way. Is there an Indian who is critical of India the same way?
One commentator I respect a lot is M.K. Bhadrakumar, whose opinion I follow. He has the following critique of how Modi has handled the latest summit: one, Modi didn't make any big unilateral concession on connectivity; two, he shied away from any move of "increased market access or transit regimes" so that the neighbours can trade through India; three, Modi didn't rescue India from the label of "control freak"; four, he didn't allow China to join Saarc as the region's big trading partner; and five, he didn't lead the region in making Saarc meaningful.
Saarc is important and India, being the big state, will have to lead it to realise the economic benefit it deserves because of its size. If Pakistan is an impediment because of Kashmir, the process of trade and connectivity will make Kashmir irrelevant with the passage of time. Pakistan has a national consensus on free trade with India, with only certain farming and manufacturing lobbies fearing competition in opposition. All that can be taken care of within the free trade arrangement agreed between India and Pakistan. As for the "deep state" roadblocks in Pakistan, they will go as economic challenges become more emphatic, as they just did, triggering the anti-Taliban military operation in the tribal areas.
I am quoting here an optimistic report by Ali K. Chishti in the Friday Times (December 28) titled "The Raheel Doctrine": "During the tenure of former army chief, General Ashfaq Parvez Kayani, as the IG Training and Evaluation, General Raheel Sharif 'vociferously recommended moving away from the traditional rivalry with India and to deal with internal threats within Pakistan first,' says security expert Maj-Gen (retired) Muhammad Ali. A change in policy is apparent since he — General Sharif — took over as the military chief." (Chishti has been thrashed once for his writings by what looked like the police.)
It is within Saarc that India will attain its rightful vision of becoming the big power it is expected to be by the world. Prime Minister Modi is the man to do it because he is least tainted with protectionist ideology. He can sign a deal with Bangladesh over the Teesta waters; he can restart the peace talks with Pakistan and switch off the LoC crossfire, knowing Pakistan is threatened on its western border. Prime Minister Sharif is game and doesn't really care what the hawks say.
If Modi's "look east" programme is aimed at reviving a "trading bloc" comprising India's Northeast, Bangladesh and Myanmar, India's northwest too awaits his attention. On both sides, China is entering the region with trade, investment and infrastructure development. Pakistan and Afghanistan deserve the advantage of being "median" states and need investment in their infrastructure and segments of the economy where Indian investors may reap higher profits because of low-cost manpower, as in computer software development.
Energy is the big topic of discussion in the region. A gas pipeline is supposed to start from Turkmenistan, cross Afghanistan and Pakistan, and reach India in what may be the most symbolic development in the Saarc region. India has to look west to reach its economic potential and "soften up" an already willing Pakistan with helpful gestures. The paradox is that Pakistan has become "willing" after being internally troubled; and it became internally troubled during the phase of being "unwilling". Prime Minister Sharif and General Sharif are both more realistic and, therefore, more flexible about India than leaders in the past. Realpolitik works if economics is prioritised and trade frontloaded.
India needs Saarc more than the other regional states. I believe pretending that it does not could be a policy to disarm the neighbourly fear about Indian "hegemony". Yet, the regional states have signed a charter that can be fulfilled only if India is the big economic powerhouse, sustaining its neighbouring economies and using connectivity with them to top-up its energy reserves. The entire world believes this and whoever, clinging to nationalism, badmouths Saarc as a dead organisation, isolates himself.
Asean may be showcased today to make us feel bad, but there is trouble in the South China Sea that may yet divide the member states. India has reached out to Iran in the west, but sanctions against Tehran block further advance. China is entering a willing Pakistan after becoming an associate member of Saarc. The rest of the world, led by America, favours India expanding its market westward, which may ultimately mean linking up with China through Pakistan after getting into Afghanistan and Central Asia. Pakistan benefits by being tamed as a warrior state, as its population gets busy living off the new infrastructure of roads.
How can we "normalise" a troubled South Asia except through trade and connectivity? If the nation-state cannot live without going to war, what indirect means can we use to wean it from nationalism — the textbook mythology that creates external enemies to achieve internal cohesion? You can't forswear this mythology, but you can lean on regional economic cooperation to draw its sting. Only the "indirection" of trade and connectivity can detox the nation-state. So far, nationalism and isolationism have given us gradual impoverishment and budgets that can hardly protect our populations from deprivation. The new leaders are not generals and civilian demagogues but economists found prescribing the unpleasant new recipes of free trade and cross-border movement of capital and people.
The writer is consulting editor, 'Newsweek Pakistan'
For all the latest Opinion News, download Indian Express App
More From Khaled Ahmed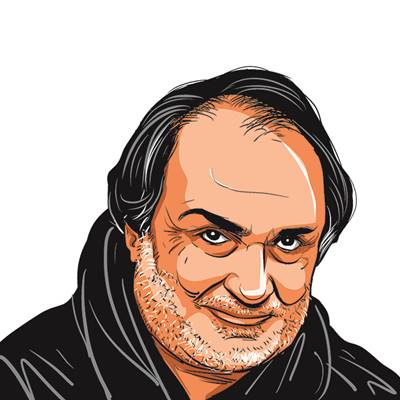 Jinn Politics

Unsavoury acts with a connection to Imran Khan's pious wife are coming to light...

The Ungoverned Land

Islamabad's writ has disappeared from 60 per cent of Pakistan's territory...

Clashing With Kabul

Pakistan is finding it difficult to engage with Afghanistan on the lines it is familiar with..