The Prime Minister used the most important speech he makes annually to announce a reversal of his Kashmir strategy last week. At the end of a year of jihadist terrorism and violence perpetrated by stone-pelting mobs, Narendra Modi tells us that the way forward is to embrace our Kashmiri brothers and not inflict upon them more bullets and abuse. This is a sweet, compassionate idea but who is it we should be hugging? Stone-pelting children? Masked jihadists? Women veiled to the teeth in black Wahabbi fashion? Or those old frauds who comprise the Hurriyat Conference, whose financial links with Pakistan stand revealed? As someone who has covered political change and secessionism in the Valley since our current Kashmir problem began in the early Eighties, I found the Prime Minister's statement worrying. It indicates an absence of policy and a misunderstanding of history.
Farooq Abdullah said last week that neither Pakistan nor China could be blamed for what has gone wrong in Kashmir and this caused mass hysteria on our shrill 'patriotic' TV channels. So nobody noticed that he was right. Our present Kashmir problem has nothing to do with the historical Kashmir problem that ended when Sheikh Abdullah signed his peace pact with Indira Gandhi in 1975. By then, the average Kashmiri was in any case disenchanted with Pakistan because of what happened in Bangladesh. And, when Zulfikar Ali Bhutto was hanged four years later, the disenchantment deepened.
Our current Kashmir problem was created by two mistakes made by Indira Gandhi and Rajiv. Mrs Gandhi made the mistake of wrongly toppling Farooq's government in 1984 and replacing him with a cipher. This revived memories of old betrayals. Rajiv made a bad situation worse by forcing an alliance between the Congress and the National Conference before the next election. By 1989, when Yasin Malik kidnapped Mehbooba Mufti's sister, an armed insurgency had begun. It took Pakistan by surprise and it was only later that the insurgents began to receive 'moral support' from our friendly neighbourhood Islamic Republic.
These facts appear to have been forgotten not just by TV anchors who routinely invite Pakistani military men to their shows and hurl abuse at them. More worrying is that they seem to have been forgotten by those who are making Kashmir policy on Raisina Hill. Worse still, there seems to be nobody on the exalted heights of that Hill who has noticed that the nature of the secessionist movement has changed. As Burhan Wani and his comrades have pointed out more than once, the fight is now a jihad in the name of Allah. Islam, in their view, considers nationalism contained within the borders of nation-states an abomination. So the men who killed innocent tourists in Spain last week are brothers-in-jihad with those who kill our soldiers and paramilitaries in Kashmir.
The only way to deal with them is to do what Pervez Musharraf said he would do again to end secessionism in Baluchistan. I crushed them last time, he bragged last week in his fake Punjabi Urdu accent, and I will do it once more if I get the chance. Of all the Pakistani leaders I have met over the years, I find him the most despicable because he exudes rabid hatred of India, but he came closer to finding a permanent solution in Kashmir than anyone else. He and Dr Manmohan Singh had agreed that everyone needed to give up the rigidity of their positions if a solution were to be found. Before he could do anything about this though, he landed himself in serious domestic trouble and had to relinquish power.
Now because successive governments in Delhi have been unable to rectify the mistakes made in the Eighties, and because the violence in the Valley has taken an ugly jihadist turn, new solutions will need to be found. There is little international support for radical Islam so the Kashmiris are unlikely to arouse worldwide sympathy for their jihad, but Pakistan and possibly China will continue to meddle in our troubled Valley. What does our Prime Minister plan to do to stop them? What are his plans to restore peace in the Valley? Who exactly does he suggest we embrace? Is there a strategy to boost tourism and investment in untroubled parts of the state like Ladakh and Jammu? If not, then why not?
None of these questions can be addressed without a clear Kashmir policy that does not veer wildly from the jackboot to hugs. So it really is time that we heard what the Modi government's Kashmir policy is. May I suggest that a good beginning would be to try and convince ordinary Kashmiri supporters and stone-pelters that they can have as many hugs as they need and as much balm for their wounds as long as they remember that India will not be broken once more.
Follow Tavleen Singh on Twitter@ tavleen_singh
For all the latest Opinion News, download Indian Express App
More From Tavleen Singh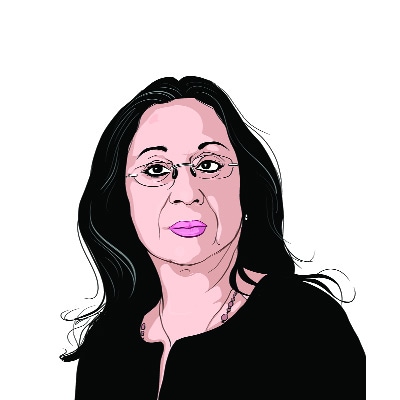 Towards a Hindu Pakistan?

If the BJP does manage to win a second term, the Prime Minister would do well to ask himself why we have violent Hindutva instead…

Back to old times?

For those Indians who gave Modi a full majority it was because the words 'parivartan' and 'vikas' came as music to their ears...

Fifth Column: What can Modi do now?

So can Modi do anything in the next few months that would restore the lustre that once made him seem undefeatable? There are those who…