Written by
Coomi Kapoor
|
Updated: July 27, 2014 12:38:51 am
Modi believes that there will be unnecessary delays if objections are put as file notings, as these files shuttle back and forth.
Zero Hour
Prime Minister Narendra Modi deliberately comes to Cabinet meetings half an hour late. This is so that his ministers can first discuss pending proposals with implications for more than one ministry. Modi believes that there will be unnecessary delays if objections are put as file notings, as these files shuttle back and forth. It is much better to thrash out the obstacles verbally, in person. This was the model Modi adopted successfully in Gujarat and has now replicated in Delhi. Modi asked a minister who sent her clearance for a proposal without first discussing it with her Cabinet colleagues to re-submit the proposal after first taking it up at what has come to be known as the Zero Hour of Cabinet meeting.
Poster boy
Narendra Modi graduated from chaiwallah to Prime Minister. Amit Shah, the BJP president, proudly declares that he began his political career pasting posters for his party. Shah has taken his new duties very seriously. When he came to the BJP party office, there was a long line of visitors from all parts of the country waiting to speak to him. Shah believes his main duties as party president are to propagate the good work being done by the government, act as a buffer between the PM and the party and also between Modi and the RSS. Shah hopes that by the end of his term as president, he will have built a dedicated party cadre.
Second opinion
Attorney General Mukul Rohatgi has overruled CBI Director Ranjit Sinha's opinion in the Aircel-Maxis case. Sinha had given the Maran brothers — former DMK minister Dayanidhi Maran and his brother Kalanithi — a clean chit even though the CBI had filed an FIR in the case in 2011. In a 200-page document, the CBI Director (Prosecutions) had held that  C Sivasankaran, founder of Aircel, had been coerced into selling his stake in the telecom company to T Ananda Krishnan, owner of Maxis in Malaysia, at the say-so of Dayanidhi Maran. Maxis had, in turn, bought Rs 650 crore worth of shares in the Maran-owned Sun TV at a hugely inflated price. Despite this evidence collected by his own bureau, Sinha wrote in an eight-page note that no case was made out against the brothers and thus stalled the filing of a chargesheet. Because of the differing CBI viewpoints, the case was referred to the AG.
Gang follows Modi
PM Narendra Modi refused to take anyone but the official media with him to Brazil for the BRICS summit. He was taken aback when he arrived at Fortaleza, Brazil, to see half-a-dozen Indian journalists waving to him outside his hotel, while the MEA kept them at arm's length. When he met the Indian media in the lobby the next day, he remarked: "What! The tolee (gang) has turned up here too.'' After some persuasion, the MEA provided the journalists a media room and conveyance for the conference. It even arranged a press briefing.
Dual policy
Mamata Banerjee may be targeting the BJP in West Bengal, but she has reached a truce of sorts with the BJP at the Centre. Banerjee has learnt her lesson from the experience of the Marxists in dealing with the Vajpayee government, when an openly hostile Jyoti Basu had got no concessions from the Centre. His successor, Buddhadeb Bhattacharjee, was more successful in securing New Delhi's cooperation by assiduously wooing then deputy prime minister L K Advani. Recently, Mamata chided MP Saugata Roy for opposing the government's TRAI amendment Bill. Banerjee has directed TMC MPs Kalyan Banerjee and Sultan Ahmed, who have been making a lot of noise in Parliament, to stop being obstructionist.
Elephantine scare
When President Pranab Mukherjee recently visited the Padmanabhaswamy temple in Thiruvananthapuram, his security insisted that he could not get a traditional welcome — an elephant blessing him by placing his trunk on his head — as they didn't want to take any risk of the elephant going rogue. The Thiruvananthapuram ASI director accompanied Mukherjee, but could hardly get in a word as local MP Shashi Tharoor insisted on doing all the talking.
Parallel tracks
TMC MP Dinesh Trivedi and Railway Minister D V Sadananda Gowda's lives seem to run on parallel tracks. Both were MPs in the 15th Lok Sabha and neighbours in South Avenue. Both were suddenly elevated to high office. Trivedi was appointed railway minister and Gowda became chief minister of Karnataka. Both lost their positions after short stints. Now both have been elected to the 16th Lok Sabha and Gowda has taken over Trivedi's old position as railway minister.
For all the latest Opinion News, download Indian Express App
More From Coomi Kapoor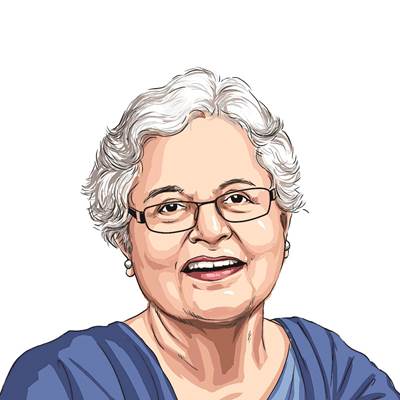 Inside Track: One for All

The Congress war room is working on a strategy that an anti-BJP alliance should field joint candidates for 403 seats in 15 states in the…

Inside Track: Age-old problem

Both Shatrughan Sinha and Yashwant Sinha have for all practical purposes left the party. If the elderly are back in the BJP, it may face…

Inside Track: Not overshadowed

During the recent inauguration of Phase 1 of the Delhi-Meerut Expressway (DME) and Eastern Peripheral Expressway (EPE), Gadkari was in an open car alongside the…