Written by
Coomi Kapoor
|
Updated: April 17, 2016 10:33:21 am
A lady who found herself seated by Delhi Chief Minister Arvind Kejriwal at one of the capital's five-star hotels, for a play produced by Aamir Raza Husain, was so thrilled that she took a selfie with the CM and put it up on Facebook. A day later, she opened her Facebook account to the horror of hackers having removed the photograph of the CM attending the English-language play and all the comments.
Mani quips
The 75th birthday celebrations of the irrepressible Mani Shankar Aiyar were characteristically a colourful affair. Remarking that Aiyar was his own worst friend and best enemy, Anandabazar Patrika owner-editor Aveek Sarkar said the senior Congress leader had created a cult of acidic one-liners, sometimes inappropriate but often brilliant. Sarkar also disclosed a secret from the past: It was Aiyar who persuaded Rajiv Gandhi, then prime minister, not to introduce a tougher defamation law. A senior Congress leader from the south, rooting for the law, had argued that newspapers had a vested interest in opposing the proposed amendment and recalled that the zamindari abolition legislation would never have been passed had the party listened to zamindars. Aiyar silenced him, saying the press was an estate on which democracy rests, and that Nehru's grandson should not be seen to be abetting the process of stifling it. Meanwhile, Aiyar was to move out of Lutyens Delhi five days after his birthday as his term as MP has ended. Asked whether he hoped to return, he remarked wistfully that it depended on whether Sonia Gandhi remembered him.
Missing kin
The who's who of the Congress party, including Sonia Gandhi and Manmohan Singh, attended the first Arjun Singh Memorial Lecture at which President Pranab Mukherjee was the chief guest. But missing from the audience were the late Arjun Singh's sons, Abhimanyu and Ajay Singh, the latter a five-time MLA who was considered Singh's political heir. The reason for the exclusion was that the event was held by the Arjun Singh Sadbhavna Foundation, a body set up this February and controlled by Singh's daughter Veena, who has a long-standing feud with her brothers. Ironically, the organiser of the function was Vivek Tankha, once the CBI lawyer in the Churhat lottery case in which Arjun Singh was the main suspect.
Bright chances
Among the large number of Congress MPs whose Rajya Sabha term expires this year, two who are very hopeful of getting re-nominated are Ambika Soni, from Punjab, and Jairam Ramesh, from Karnataka. Both are keeping a low profile of late. Ramesh is no longer a member of the Rakab Ganj war-room deliberations but he still provides valuable inputs for the speeches of both Sonia and Rahul Gandhi. Soni, who was in charge of Uttarakhand, may have been clueless about the rebellion brewing against former Uttarakhand chief minister Harish Rawat, but she is a trusted personal companion of the Congress president.
Brit lessons
The Duke and Duchess of Cambridge kept guests at a garden party, held at the British High Commission to mark the Queen's 90th birthday, waiting for almost an hour. But when they did show up, they were graciousness personified. Kate and William shook every outstretched hand and made polite conversation with any guest who accosted them, even as some of the pushy invitees impertinently asked personal questions. They did not show royal disapproval at guests clicking away on their cellphones, though the invitation specifically said photographs were not permitted. In fact, our security could learn a lesson from the Brits in being less cumbersome and intrusive. Unlike the Rashtrapati Bhavan garden parties, there was no frisking, confiscation of bags and cellphones. Guests could interact with the VVIPs, who were not cordoned off in a special enclosure.
Toothless Opposition
If the alleged corruption charges against Anar Patel, daughter of Gujarat Chief Minister Anandiben Patel, have not created a major flutter in the state, it is because the CM's political foes in the Congress have not tried to gain mileage from them, barring senior Congress Arjun Modhwadia. State Congress president Bharat Solanki is unwell and confined mostly to his home at Borsad or in hospital. Leader of Opposition in the Gujarat Assembly, Shankersinh Vaghela, reportedly always has a back channel with the CM.
For all the latest Opinion News, download Indian Express App
More From Coomi Kapoor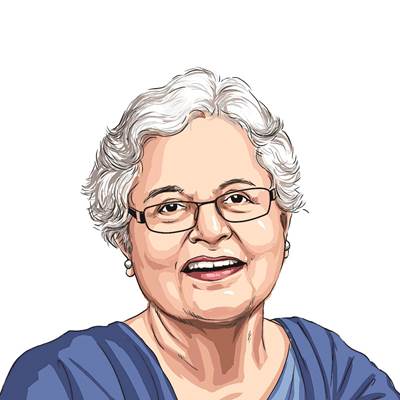 Inside Track: Car seva

TMC chief Mamata Banerjee is a seasoned political player. Her recent meeting with Congress leader Ahmed Patel is seen as an attempt to compensate for…

Don't Stop Press

A nuanced, critical take of the lndian media landscape from the perspective of an insider..

Inside Track: One for All

The Congress war room is working on a strategy that an anti-BJP alliance should field joint candidates for 403 seats in 15 states in the…