Written by
Coomi Kapoor
|
Published: November 24, 2013 1:23:27 am
Teething problems
Narendra Modi referred to Sonia Gandhi's ill health in one of his public rallies,but the 63-year-old Gujarat Chief Minister has some health issues of his own. He has serious dental problems,and doctors believe that Modi may eventually need dentures. However,Modi has postponed all major procedures till after the polls. He has also developed backache due to his hectic campaign schedule.
A different bug
Maharashtra Sadan is a popular guest-house for people from the state visiting the national capital,though it is meant only for state government officials and elected representatives. But recently the demand for the rooms has declined,with guests complaining of bedbugs in mattresses. A pesticide company was hired but the problem remained unresolved. Now the entire sadan has been closed for major renovations,with all guests referred to the state's new complex. A guest-house employee insisted that the shutdown was for routine upgradation and not because of any pest problem.
IIC hopefuls
After several years,the prestigious India International Centre is opening its doors to new members. The club,meant for scholars and foreign policy experts,is charging Rs 500 per application form. There is a mad scramble to apply though there are only a few hundred vacancies. Already over 20,000 forms have been sold,which means that the IIC will earn more than Rs 1 crore on forms alone. Considering the VIPs in the queue include judges,secretaries to the government of India,ambassadors and prominent scribes,ordinary applicants don't have much chance. Nevertheless,thousands are applying. Some old-timers are already grumbling about the "non-intellectual","non-professional" background of some members admitted in recent years.
Remembering WW I
Starting next year India will take part in the four-year centenary celebrations of World War I. India's major participation in WW I has generally been ignored. In fact,there were 1.1 million Indian volunteers,of whom 47,746 died and 13,000 received gallantry medals. India contributed the single largest voluntary force to the war. Indian regiments that fought major campaigns during the war will send their representatives to battle sites on the respective anniversaries. The first of the events is being held on Bastille Day in France in July 2014. Memorials are to be erected in the villages of winners of the Victoria Cross. The project is in partnership with Britain. The Centre for Armed Forces Historical Research also plans to release a series of books on the war.
Checking Modi
The Indian Institute of Management,Ahmedabad,used to conduct a refresher course for senior IAS officers. Narendra Modi made a practice of inviting the IAS batches to his residence for lunch. He followed this with a lengthy interaction with them,taking extensive notes. He also supplied the officers material outlining his views on national issues. Many of the officers returned as Modi fans. The Government of India has now decided to cancel the joint venture with the IIM,presumably because it felt Modi was unduly influencing the bureaucracy.
The son and the heir
Jyotiraditya Scindia is generally assumed to be the Congress's chief ministerial candidate for Madhya Pradesh. But clearly not everyone in the party is willing to accept that. Arjun Singh's son Ajay Singh,Leader of the Opposition in the Assembly,feels that the post of CM designate rightfully belongs to him judging from an invitation he issued recently to journalists — "We invite you for special chopper rides to Khajuraho… with Shri Ajay Singh,Leader of Opposition and the CM candidate from the state. You will get to visit constituencies and interact with Shri Singh during the ride". Incidentally,some time back,Scindia had telephoned Ajay Singh and addressed him merely as Ajay.The latter was miffed as he is senior in age. He retaliated by calling Scindia by his first name though he is accustomed to being addressed as Maharaj.
Chief minister sahib
There is little doubt as to who is the "saheb" whom Amit Shah is referring to in his taped conversation with a police officer,in which he seeks that watch be kept on a woman. Narendra Modi is generally referred to as "sahib" by his staff. In fact in recent press notes in Gujarati, the state BJP unit has also started referring to Modi as "Chief Minister Sahib".
For all the latest Opinion News, download Indian Express App
More From Coomi Kapoor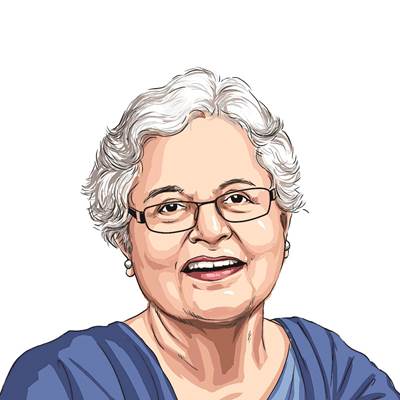 Inside Track: Hunk's Bunk

The title of Khan's book is The Big Mistakes of My Life. But the real mistake Khan seems to have made is the timing of…

Inside Track: Ensuring a view of Mr Modi

Maneka Gandhi's frontal and public Twitter attack on Maharashtra Forest Minister Sudhir Mungantiwar, over the killing of man-eater tigress Avni in Yavatmal, has angered some…

Inside Track: CBI's RAW deal

The R&AW angle proved to be the last straw. Earlier the government, though extremely unhappy with Verma, planned to let him complete his two-year tenure,…