Written by
Coomi Kapoor
|
Updated: November 22, 2015 8:47:59 am
It is not just the BJP's four veterans who have targeted Narendra Modi and Amit Shah following the Bihar debacle. An old adversary of Modi, Sanjay Joshi, is also beginning to flex his muscles. Joshi, an RSS pracharak, was once a power to reckon with in the party, but was eased out of the BJP in 2005 thanks to Modi. Joshi stays at the North Avenue residence of a BJP MP and receives some 200 visitors daily. Several have complaints about Shah's rude behavior and autocratic style. Others come seeking favours from the government. Joshi is often in a position to oblige because of his close links with some ministers with Sangh affiliations.
Modi continues to be bitterly opposed to Joshi. In fact, he ensured disciplinary action was taken against those who put up posters celebrating Joshi's birthday this April. Nevertheless, Joshi still commands considerable support in the Sangh. And in the wake of the party's defeat in Bihar, he is finding relevance again. As a reminder of his presence in Delhi, he sent greetings to politicians and journalists this Diwali.
Bypassing protocol
Prime Minister Modi does not bother with protocol or the hurt feelings of government employees. At times he summons favoured officers for duty who are no longer posted in a particular position, causing embarrassment all around. At the India-Africa Forum Summit, Ruchira Kamboj was seen escorting the heads of state, although she is no longer chief of protocol but has moved to Paris to work at UNESCO. During the Prime Minister's recent trips to California and London, the deputy high commissioner of a neighbouring country was summoned to help out with press management, a job he had held earlier. Officials from Vietnam and Dubai missions were at Wembley Stadium helping out with the arrangements. Earlier, during Modi's visit to China, an officer now posted at the UN was flown down to handle the media.
Friendly with all
Sharad Pawar's 75th birthday celebrations on December 10 at Delhi's Vigyan Bhavan are set to be a gala affair, with leaders from the entire political spectrum paying tributes to him. The guests will include the President, Vice-President and Prime Minister. The NCP leader's birthday actually falls on December 12, but he will celebrate two days earlier, when Parliament will still be in session. Throughout his political career, Pawar has made friends cutting across ideological differences, from the Shiv Sena to the far Left. The organiser of the event, Praful Patel, also knows how to be friends with everyone.
Caught in crossfire
Minister of State for Finance Jayant Sinha got caught in the crossfire between four BJP veterans, including his father Yashwant Sinha, and the Modi-Amit Shah axis. Sinha had arranged a dinner on Friday, November 13, for several colleagues, including senior ministers. After L K Advani, Yashwant Sinha and others launched a broadside against Modi-Shah on Thursday, an embarrassed junior Sinha cancelled the dinner.
Low-key festivities
Shivraj Singh Chouhan was keen to celebrate 10 years of his tenure as Chief Minister of Madhya Pradesh on November 29 in a big way. He organised a training camp of MLAs and PM Modi was supposed to be present on the occasion. But Modi has now dropped out of the function and the training camp has been cancelled citing austerity in view of the plight of farmers. Celebrations are now planned on a low key, with Chouhan's detractors saying the anniversary should have been observed when the BJP completed 10 years in power in the state and not merely for Chauhan completing 10 years as CM. Uma Bharti and Babulal Gaur's tenures should have been taken into account, they say.
Still in favour
Congress general secretary Mohan Prakash has been long eyed with suspicion by a section of the party leadership who see the former socialist and Janata Dal member as an outsider. After the Congress's humiliating defeat in Maharashtra, where Prakash was the in-charge of the state for the party, his detractors were certain Prakash would meet his comeuppance. But Prakash remained a favourite of Rahul Gandhi. Now, being an outsider has turned out to be the general secretary's strength. An old associate of Nitish Kumar, Prakash played a key role in helping tie up the Mahagathbandhan alliance for the Bihar elections. He also persuaded Nitish to allow the Congress to contest 40 seats. Prakash's services will continue to be required by Rahul to coordinate with Nitish and to build a broader all-India alliance.
For all the latest Opinion News, download Indian Express App
More From Coomi Kapoor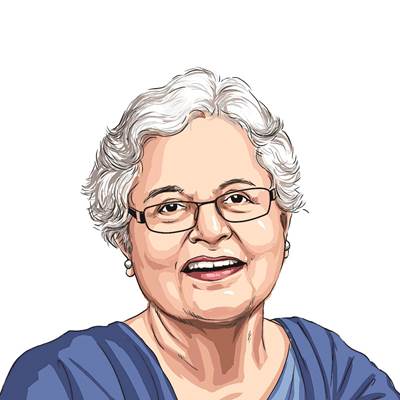 Inside Track: Party before govt?

There are enough straws in the wind to indicate that former BJP president and Union minister Nitin Gadkari is feeling the chill even though, officially,…

Inside Track: Vanishing line

The BJP high command and the PMO have been pressing the chief ministers of BJP- ruled states to furnish statistics of the beneficiaries of different…

Inside track: The 'outsider'

Manipur's Governor Najma Heptulla, who is unlikely to clear the Bill in a hurry, rushed to Delhi last week to apprise Prime Minister Narendra Modi of…