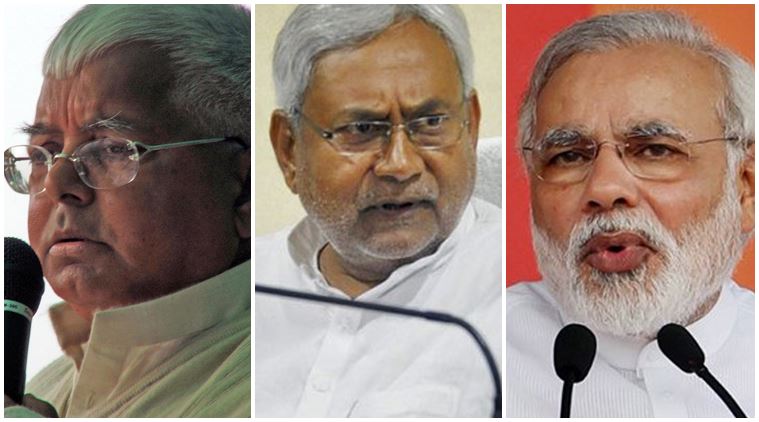 Bihar Chief Minister Nitish Kumar appears to be so confident of getting re-elected that after the poll dates were announced, he gave orders to the PWD to renovate 1, Anne Marg, the CM's residence. He has also asked for a boundary wall to be demolished so that the adjoining Vigilance Bureau building is within the CM's compound. The Vigilance Bureau building is reportedly to be converted into the CM's 'advisory council office' if Nitish returns as CM. If this comes about, it looks as if Prashant Kishor, who heads Kumar's campaign after switching from the Modi camp, would be in charge of the new body. Kishor has set up the campaign office at Exhibition Road in Patna and has about 100 techies assisting him. Kishor has the ear of Kumar and even stays at the CM's residence. He is in a position to overrule senior JD(U) leaders such as state party chief Vashistha Narayan Singh and Rajya Sabha MP K C Tyagi. He also decides which journalist gets to meet Kumar.
Turning to god
The founders and leaders of the DMK, including M Karunanidhi, are rationalists and atheists who do not believe in god, superstition or communal ideology. But Karunanidhi's son M K Stalin seems to have renounced his party's beliefs. He publicly proclaimed that 90 per cent of DMK cadres are Hindus. His statement has to be seen in the context of Stalin visiting a Vaishnavite temple last month and being felicitated by the priests with an angavasthram (stole) and a crown. Stalin assiduously followed all the temple rituals. He took the prasad and drank the 'holy' water. Stalin justified his action on Facebook, pointing out that his father, known for his anti-religious views, is writing the autobiography of Vaishnavite acharya Ramanujar. In fact, Karunanidhi has already written the script for a Tamil historical soap on Ramanujar that is now being telecast on Kalaignar TV. Either Stalin wants to reposition his party before the 2016 assembly polls or is keen to placate the BJP government at the Centre since there are several CBI cases against senior DMK leaders. The BJP state leadership has welcomed Stalin's statement.
Extravagant praise
If the Bihar election goes badly for the BJP, the knives will be out for Narendra Modi and Amit Shah in the party. The party president has become so important that at the Patna airport, his posters are placed alongside Modi's, rather than that of the party's local Bihar leaders. All of this has irked the PM's detractors in the party's central leadership. Recently, at a book release function at Rashtrapati Bhavan, President Pranab Mukherjee remarked that the core values of our democracy should be preserved. His remarks were seen as a word of caution to the Modi government after the Dadri lynching. Home Minister Rajnath Singh, who was present at the function, was not put off by the President's speech. He showered effusive praise on Mukherjee for taking up a broom to participate in the Swachh Abhiyan programme and described him as a Rashtra Pita, elevating him to the same status as Mahatma Gandhi.
Praying for victory
On October 14, in the middle of the Bihar campaign, Amit Shah left for Mansa, his native place in Gujarat. Many centuries ago, Shah's ancestors are said to have built a temple on the advice of a Shankacharya in Mansa. The temple is managed by the Shah family. Shah has religiously performed pujas at the temple every year during the Navratras, except for one year when he was in Sabarmati jail. That year, his son Jai performed the puja on his behalf. This time, Shah prayed for victory for his party in Bihar. His political future depends on a successful outcome. Many BJP leaders are secretly hoping that the party performs poorly so that Shah is cut to size.
The way forward?
When Parliament meets for the winter session, it will be a test case for Minister of Road Transport and Highways Nitin Gadkari. The minister has promised to launch his major initiative to provide green fuel for the country's transport system by presenting Lok Sabha Speaker Sumitra Mahajan with three battery-run buses for MPs to shuttle between their residences and Parliament. The buses will be powered by lithium ion batteries rather than petrol or diesel. Gadkari has been exploring various options to cut down on transport pollution. He asked the Indian Space Research Organisation to design a cost-effective lithium ion battery for vehicles. While ISRO promises to produce the batteries for buses for around Rs 5-7 lakh, imported batteries cost much more. The first batteries produced will be used for the Parliament House shuttle. If it clicks, the batteries will be tried next in 20 Delhi buses.