Written by
Coomi Kapoor
|
Updated: September 7, 2014 12:30:16 am
The audience was enchanted when, in an impromptu gesture, Prime Minister Narendra Modi picked up a pair of drum sticks and started playing the Taiko drums during a cultural event in Tokyo. He engaged in a jugalbandi with traditional Japanese drummers with ease. Earlier, he played the flute with a group of Japanese children. Modi is familiar with both musical instruments since RSS recruits as part of their training are taught to play the drums and flute. He is particularly adept at the drums because, for several years, he had led the RSS annual parade march as the "ghoshna boy (announcer)".
Continuing role
The NGO Citizens for Accountable Governance founded by Prashant Kishor played a significant role in popularising Narendra Modi and his achievements during the election campaign. Kishor put together an army of skilled professionals, including business management and IIT graduates, many of whom gave up their jobs to join the campaign. Kishor was also the brains behind the Chai pe Charcha programme. Hundred days after Modi came to power, CAG is still active, with wellwishers paying for its members. Kishor, who is stationed in Gujarat, is emphatic that his organisation will not join the government or work for the coming Assembly elections. Though he refuses to disclose his plans, Kishor seems to have had some discussion with the PM and offered his think-tank's services for monitoring government programmes.
New-age journalism
Narendra Modi's aversion for the media was very evident during his trip to Japan. The PM did not meet the media. Instead, the MEA simply prepared  a brief resume of the PM's daily activities in Japan and e-mailed it to correspondents. In an unusual step, the MEA also produced a propaganda video on Indo-Japanese  relations. In addition, Doordarshan and the official media put out several videos on the Internet of the PM at a tea ceremony, feeding fish, visiting the Akasaka Palace and so on. Modi changed his outfits several times a day, conscious that in this new age, visual impact can be more important than sound bytes.
Advani grounded
To compensate for being removed from the BJP parliamentary board, L K Advani was recently made a member of a powerless new body of elders, the Margdarshak Mandal (guiding group). Advani has garnered several sops thanks to his age and seniority. He has his own office at Parliament House. When the PM addresses party MPs, he sits on the dais next to Narendra Modi. He had a front row seat at the Independence Day function. However, the party drew the line at hiring a chartered flight for him when he made a request. He was politely informed that general instructions have been issued that, except in emergencies, all party leaders should travel by commercial flights. More importantly, Modi has made it clear that at 80-plus, there is no chance of any Constitutional position or government appointment for Advani. A proposal to make him chairperson of the Indian Council for Cultural Relations — Karan Singh's term ended in August — was turned down.
Privacy and mobile
Defence Minister Arun Jaitley explained that the reason mobile phones were not allowed in many ministerial offices was that these could be used to record conversations and pinpoint the location of an individual. He said he himself switched off his phone and kept it away from high-security areas of the Ministry. Attorney General Mukul Rohatgi too feels that the mobile phone is probably the single biggest deterrent to people's right to privacy. Both men were speaking last Sunday at the release of a book on privacy law authored by two law students, Sidhant Kumar and Rishika Taneja. Jaitley noted that updating antiquated laws on privacy might not be the answer to protecting a person's privacy rights since the law would have to keep abreast of constantly evolving Internet technology and the innovative use of social media.
Varanasi guide
During his visit to Japan, Narendra Modi had taken along 11 sets of a limited edition guide book on Varanasi released recently. Modi presented the book to the Japanese Prime Minister and the mayor of Kyoto. It was this book that contained a copy of a 150-year-old map of Varanasi's ghats painted by a folk artist and taken from the archives of the British library. The prominence that was given to the book came as a pleasant surprise to the publisher, Pramod Kapoor of Roli Books. Clearly, Modi takes more than a casual interest in anything connected with his constituency.
For all the latest Opinion News, download Indian Express App
More From Coomi Kapoor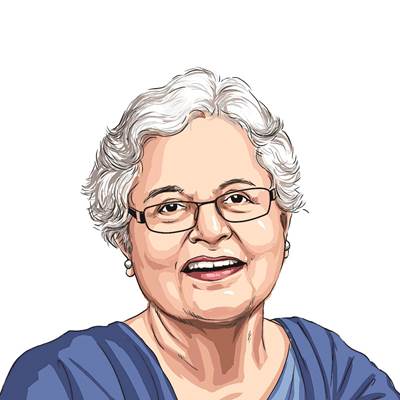 Inside Track: One for All

The Congress war room is working on a strategy that an anti-BJP alliance should field joint candidates for 403 seats in 15 states in the…

Inside Track: Age-old problem

Both Shatrughan Sinha and Yashwant Sinha have for all practical purposes left the party. If the elderly are back in the BJP, it may face…

Inside Track: Not overshadowed

During the recent inauguration of Phase 1 of the Delhi-Meerut Expressway (DME) and Eastern Peripheral Expressway (EPE), Gadkari was in an open car alongside the…