Civil communication between BJP and Congress MPs is becoming increasingly difficult due to sharp political differences in Parliament. For instance, last week Prime Minister Narendra Modi walked up to greet Anand Sharma who was recently re-elected to the Rajya Sabha from Himachal Pradesh. Sharma enquired politely about his health. Modi replied tartly that his health was fine thanks to being kept on his toes, fending off the weight of abuses poured on him by the Opposition. He left without any further ado. On another occasion, HRD Minister Smriti Irani, seeing a bandage on Jairam Ramesh's wrist, enquired solicitously about how he had got hurt. Ramesh responded flippantly that when dealing with people like her, this sort of thing happens. A red-faced Irani did not take the joke lightly and walked off.
Indira's soft side
There is a saying that no man is a hero to his own valet. But in the case of Dr K P Mathur, who was Indira Gandhi's personal physician throughout her prime ministership and saw her on a daily basis at close quarters, Gandhi is very much his heroine. Mathur, who has just written a book on the former prime minister, The Unseen Indira Gandhi, paints a very different picture from the ruthless iron lady whom everyone in the party and the government was terrified of. Mathur found Gandhi forgiving, pleasant, caring and well-mannered. She never shouted at the servants, had a sense of fun and enjoyed playing dumb charades. Despite her busy prime ministerial schedule, she also devoted time to her housewifely duties, the book says. She asked the cook to forward the daily menu to Sonia for clearance, but otherwise helped around the house. On the night after Pakistan announced war against India in 1971, Mathur found her personally spreading a sheet over a diwan. Always a perfectionist, she would adjust the furniture, pictures, wall hangings, re-arrange the carpets and peep into the kitchen. When out of power, she would pace up and down the few rooms in the house, which led her adversaries to spread rumours that she had lost her mental balance.
'Doodh' dynasty
If the BJP has its chaiwallah, the Congress had its doodhwallah, the late Rajesh Pilot. He started out by delivering milk with his elder brother to the bungalows of Lutyens Delhi, and now has a road named after him in the very locality where he used to make the rounds selling milk. Rajesh, who was known as Rajesh Prasad, changed his surname to Pilot when he took the plunge into politics and resigned from the Air Force where he was a Squadron Leader. This infuriated his father-in-law as he was the first Gujjar to join the IAF. All this is brought out in a moving film on the dynamic late Congress leader produced by his widow, Rama Pilot, who acts as commentator. It was Rama, in fact, who first entered politics by joining the Youth Congress. The film was released this Wednesday, but interestingly, the Pilot family did not invite members from political parties and media but just family friends for the screening. Sachin Pilot represents the savvy second generation of the doodhwallah dynasty and has already made a mark. At 38, he is the Congress party president in Rajasthan and has started to turn around the party's fortunes. Shrewdly, he has not made the mistake of playing caste politics. There are only four Gujjars in his new team of around 120 office-bearers.
Unexpected praise
A senior Cabinet minister was taken aback last month when Prime Minister Narendra Modi praised Minister for External Affairs Sushma Swaraj profusely. Modi admired Swaraj's skills as a minister. Clearly, Swaraj has mended her fences with Modi, who was deeply suspicious of her when he joined government. Swaraj was once a major detractor who opposed Modi's nomination as chairperson of the BJP campaign committee in Goa in 2013. In fact, in the last month, the PM has dined at the residences of three ministers who were once considered his adversaries.
Many Disappointed
The six nominations to the Rajya Sabha last week disappointed some in BJP president Amit Shah's core team. They had harboured ambitions as they were denied Lok Sabha tickets in 2014. BJP national secretary Shrikant Sharma had wanted to contest from Mathura, as had Arun Singh, in-charge of Shah's party office. Anil Jain had eyed a Delhi seat. Sidharth Nath Singh hoped to contest from Allahabad. Incidentally, the seventh nominee for the Rajya Sabha was to have been Dr Pranav Pandya of Haridwar Gayatri Ashram, but he declined the offer.
For all the latest Opinion News, download Indian Express App
More From Coomi Kapoor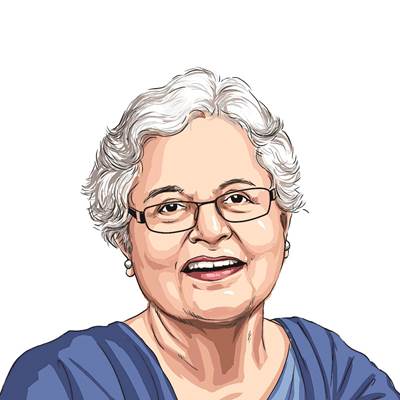 Will Prashant Kishore run Modi's 2019 campaign too?

Kishor took credit for Narendra Modi's success in the 2014 general election and Nitish Kumar's victory in Bihar in 2015. However, he had to eat humble…

Inside Track: Line of division

Clearly, Sushma Swaraj is not on the same side as the majority in the party, who feel she tweets for personal PR and not for…

Inside Track: Not so tweet

Sushma Swaraj was crudely and unfairly trolled by the Hindutva brigade because a Lucknow passport officer was summarily transferred on the basis of a tweet…