Written by
Coomi Kapoor
|
Published: July 6, 2014 12:08:09 am
The present regime has been avoiding private media and is instead focusing on Doordarshan. In fact, it seems to be a return to the old days when DD was the favoured one and sometimes the only news medium allowed at functions attended by the prime minister. These days, even ANI TV, DD's usual rival, is missing from the PM's programmes. When External Affairs Minister Sushma Swaraj visited Bangladesh recently, only official and semi-official media were part of the accompanying press party. Similarly, private media was not permitted to fly with Petroleum Minister Dharmendra Pradhan to Moscow for the World Petroleum Conference. Environment Minister Prakash Javadekar didn't take journalists with him to Nairobi for the World Climate Conference, reportedly on Prime Minister Narendra Modi's instructions. Modi did not invite journalists on his trip to Bhutan though his plane was flying half-empty. So far, the PMO has not asked the private media to fly with the Prime Minister to the BRICS summit in Brazil beginning July 14.
Mega park for Kashi
Modi has ambitious plans for his Varanasi constituency. He wants to set up a special amusement park. But this will be no Disneyland for children. Instead, it  will showcase the art and culture of the different states of India. Modi is paying special attention to not just his constituency but to the entire state of Uttar Pradesh which played a big role in his party's victory in the recent parliamentary election. P K Mishra, additional principal secretary in the PMO, has been designated as the point-person for all requests from MPs and MLAs for development projects in the state.
EC divided
The Election Commission presided over by CEC V S Sampath met earlier this week. One of the issues discussed was the culpability of former Maharashtra CM Ashok Chavan in the paid news scam. Chavan is accused of omitting from his declared election expenses the money he paid to certain newspapers for carrying flattering write-ups about himself during the last Assembly elections. But there was no unanimity in the Commission about whether Chavan, now an MP, could be disqualified for allegedly violating the law.
Blatant salesman
French Foreign Minister Laurent Fabius held a press conference for the Indian media during his visit last week. While winding up his conference, Fabius announced that he had a surprise for the journalists. He introduced a French businessman who had invented an iPhone app which, he said, would be of use to Indian tourists visiting France. The application translates Hindi into French, and has information on tourist sites and other useful data. The Ministry of External Affairs was taken aback that the French minister was blatantly plugging for a private corporation. In India, a minister speaking on behalf of a private entrepreneur would have immediately attracted a barrage of criticism.
Lucky strike rate  
With five BJP spokespersons being elevated as ministers — Ravi Shankar Prasad, Smriti Irani, Nirmala Sitharaman, Prakash Javadekar and Piyush Goyal — party members realise the spokesperson's job is the quickest route to greater glory. The other national party spokespersons — Shahnawaz Hussain, Sudhanshu Trivedi, Bhupendra Yadav and Meenakshi Lekhi — are hoping that some luck would rub off on them as well. In fact, Lekhi, MP from New Delhi, nurses ambitions of being projected as the party's chief ministerial candidate for Delhi. Trivedi, a close associate of Home Minister Rajnath Singh, has opted to continue as a spokesperson rather than becoming an aide to Singh in the ministry, a position he held the last time Singh was a minister in the Vajpayee regime.
Shahenshah Modi
The delay over the announcement of Amit Shah as BJP president is because a section in the RSS believes that if Shah leads the party, power will be concentrated in Narendra Modi's hands. The Sangh feels that an individual should not be more important than the organisation. There are several people in the BJP who secretly share the belief that Modi's writ will go completely unchallenged if his right-hand man is appointed head of the party. Though it is clear that Shah has the requisite organisational skills — as is evident from the party's victory in UP — and his rivals for the post are not as dynamic, there are a number of senior leaders in the BJP who are working behind the scenes against Shah. Rajnath Singh and Nitin Gadkari are part of the team which has to take a final call in the matter.
For all the latest Opinion News, download Indian Express App
More From Coomi Kapoor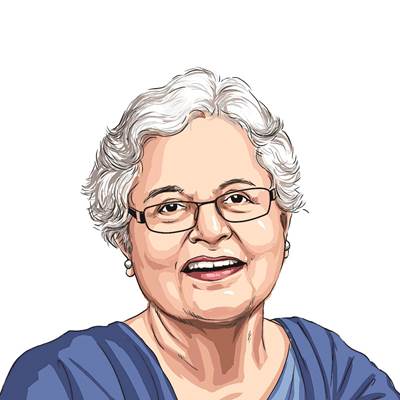 Inside Track: Ensuring a view of Mr Modi

Maneka Gandhi's frontal and public Twitter attack on Maharashtra Forest Minister Sudhir Mungantiwar, over the killing of man-eater tigress Avni in Yavatmal, has angered some…

Inside Track: CBI's RAW deal

The R&AW angle proved to be the last straw. Earlier the government, though extremely unhappy with Verma, planned to let him complete his two-year tenure,…

Inside Track: Who's with whom in this battle?

If the CBI is on the boil, the Enforcement Directorate (ED), where Director Karnal Singh's term has just ended, is simmering...