Written by
Coomi Kapoor
|
Updated: August 10, 2014 1:09:42 am
75 plus out
A cabinet expansion is likely after the Budget Session. But Prime Minister Narendra Modi has still not decided who should take over the Defence portfolio, which is held by Finance Minister Arun Jaitley as an additional charge. One potential candidate was Major General B C Khanduri, but he is over 75 and the government does not want to make an exception for those who have crossed this age limit. So rigid is the rule that none of the 10 BJP MPs over 75 was allotted time to speak on any major debate in Parliament. Murli Manohar Joshi has often opened the debate on the Budget or the finance Bill for years, but this time he was pointedly excluded. The 75-plus club is unlikely to be appointed to head any parliamentary committee either.
Latecomer pulled up
A minister of one of the NDA allies habitually reaches office late in the morning. Prime Minister Narendra Modi learnt of her tardiness. He telephoned the minister one day enquiring why she was not in the office although it was mid-morning. The minister explained that she had not been idle but was meeting people from early morning at her residence. But the PM was not satisfied with the explanation. He felt that she should ask her visitors to meet her at office, or she would be setting a very bad example for her staff.
What's in a name
Sonia Gandhi's biographers have pointed out that 'Sonia' is a pet name she acquired in later life. Her actual first name is Antonia. According to Natwar Singh, Sonia's first name is not actually Antonia, but Edvige. Her full maiden name being Edvige Antonia Albina Maino. Natwar presumably has seen Sonia's passport because of their many travels together.
Wrong company
Natwar Singh, whose book One Life is not Enough has the Congress up in arms because of the critical references to Sonia Gandhi, visited Parliament's Central Hall last week. Congress ally Sharad Pawar greeted him cordially and introduced him to his daughter Supriya Sule. Pawar was chatting with Singh and some other NCP members when Congress MP Kamal Nath came to say hello to Singh. He was seen conversing amiably with his former party colleague. Pawar joked that Nath would receive a telephone call from his party pulling him up for consorting with the enemy. There was laughter in the NCP camp. Nath did not seem concerned that he was the only Congressman to greet Singh. As a nine-time MP, Nath is the longest serving parliamentarian in the House and perhaps believes that his party has not given him his due. He was not made leader of the Congress in the Lok Sabha and, even as a minister in Manmohan Singh's Cabinet, he was not given plum portfolios. Incidentally, Singh's book, which is making waves, has virtually the same title as Hollywood actress Zsa Zsa Gabor's autobiography. Her tell-all life story of nine husbands and many famous lovers was titled 'One Lifetime is not Enough'.
Uncontrollable whip
Relations between Congress leader in the Lok Sabha Mallikarjun Kharge and Congress chief whip Jyotiraditya Scindia are not the most cordial. When Scindia moves into the well of the House in the Lok Sabha to protest, Kharge does not approve of his action. As the chief whip, Scindia is an officer of the Lok Sabha and should be setting an example, he believes. Besides, the two do not always see eye to eye on issues to be raised in the House since Kharge belongs to the south and Scindia the north. For instance, Scindia was exercised about allegations of an English bias in the UPSC's Civil Services Aptitude Test, but Kharge had no sympathy for the proponents of Hindi.
Lift not required
For the last 15 years, Air India has utilised a special lift for passengers to board the plane on most of the VIP flights for the Prime Minister. The lift was first needed because former PM Atal Bihari Vajpayee had a knee problem and could not climb the aircraft ramp. Manmohan Singh was able to climb the stairs to the aircraft but his wife Gursharan Kaur, who usually accompanied him, had a knee problem and used to board the aircraft with the aid of the special lift, which was placed at the rear side of the plane. In the present regime, the elevator is not required since Modi's knees are in good shape.
For all the latest Opinion News, download Indian Express App
More From Coomi Kapoor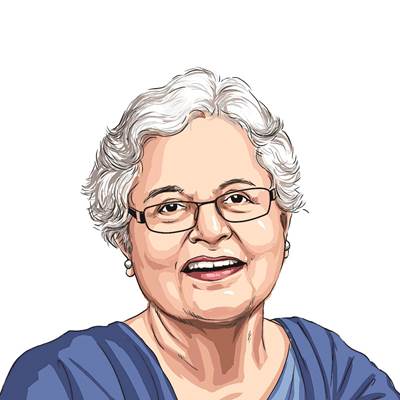 Inside Track: One for All

The Congress war room is working on a strategy that an anti-BJP alliance should field joint candidates for 403 seats in 15 states in the…

Inside Track: Age-old problem

Both Shatrughan Sinha and Yashwant Sinha have for all practical purposes left the party. If the elderly are back in the BJP, it may face…

Inside Track: Not overshadowed

During the recent inauguration of Phase 1 of the Delhi-Meerut Expressway (DME) and Eastern Peripheral Expressway (EPE), Gadkari was in an open car alongside the…