Written by
Rahul Mishra
|
Updated: August 13, 2016 12:33:45 am
Lack of infrastructure, poor intra-regional and regional connectivity and almost negligible amenities in urban spaces are some of the major challenges afflicting several countries of Asia. The Asian Infrastructure Investment Bank (AIIB) has been projected as an "Asian tool" to deal with such challenges that have stunted the growth prospects of several Asian economies.
Member countries have made some progress to expedite the funding of programmes. During the first-ever annual meeting of the board of governors of AIIB, held in late June this year in Beijing, representatives from 57 prospective founding member countries, including Finance Minister Arun Jaitley, attended the inaugural meeting and approved first four AIIB-funded projects. These projects are: Bangladesh's Power Distribution System Upgrade and Expansion Project; Indonesia's National Slum Upgrading Project (co-financed with the World Bank); Pakistan's National Motorway M-4 (Shorkot-Khanewal Section) Project (co-financed with the ADB) and; Tajikistan's Dushanbe-Uzbekistan Border Road Improvement Project (co-financed with the European Bank for Reconstruction and Development). Together, these projects are worth US$ 509 million.
It may be noted that AIIB will solely fund and monitor the Bangladesh project. It will fund a new energy grid providing electricity to about 12.5 million Bangladeshis. By approving the Bangladesh project, AIIB leadership has demonstrated its willingness to assume a pan-Asian approach that is not driven solely by the Chinese agenda. China does not seem to indicate that AIIB is entirely linked to its One Belt, One Road (OBOR) initiative and that China would only push for projects linking it to other countries as in the case of Pakistan and Tajik projects.
India is expected to gain directly if its investment proposals get approved. Focus on enhancing connectivity and infrastructure within the country and with countries in the neighbourhood is critical. Sub-regional projects such as Bangladesh-Bhutan-India-Nepal (BBIN) corridor and inter-regional projects such as India-ASEAN rail and road connectivity projects need huge funding. AIIB may prove instrumental in developing infrastructure in that context. India is seeking US$ 2-3 billion from AIIB for urban development, railways, and energy sectors.
India is striving to develop its north-eastern region, a goal which can be swiftly achieved through greater regional cooperation and the support of multilateral funding agencies. For this purpose, India may consider pushing BBIN and the Bay of Bengal Initiative for Multi-Sectoral, Technical and Economic Cooperation (BIMSTEC) corridors under its AIIB proposals. BIMSTEC countries are way below the global connectivity and infrastructure standards and are in need of huge and speedy investments. Linking India's eastern ports with south-east Asia has been long overdue. This can plug gaps in India's comprehensive maritime engagement with the east and south-east Asian countries under the Act East policy.
The chances that AIIB will approve projects put forth by India are high. China wants India to be a part of the OBOR. Most of the projects funded by AIIB are likely to be linked to OBOR in the long-run as stated by the Chinese vice-Premier Zhang Gaoli. Thus, AIIB cannot be seen in isolation. Though India is a member of AIIB, it has not shown a willingness to be a part of the OBOR. Apprehensions vis-à-vis the transparency of the OBOR agenda, challenges related to equitable benefits for all, the proposed China-Pakistan economic corridor which would pass through Pakistan-occupied Kashmir, and China's repeated incursions into Indian territory are major factors shaping India's stand on OBOR.
It is vital for China to prove to the other members that it will not attempt to dominate the AIIB and that AIIB will not follow China's "no strings attached" approach in funding projects. Given that China is the largest shareholder with 26.06 per cent voting shares, members' apprehensions are not baseless. India and Russia are the second and third largest shareholders with 7.5 and 5.92 percent voting shares respectively. The gap between the first and second shareholder might tempt China to use its veto power on a particular project. Clearly, the member countries have to adhere to the rigorous project selection criteria following international best practices and show caution in approving territorially sensitive projects.
India is likely to gain by being an active member of the AIIB. Its presence is not only crucial in making the bank a success but is also vital in improving infrastructure in the Indian subcontinent and beyond. In order to make full use of the opportunities provided by the AIIB, New Delhi needs to come up with realistic and economically viable projects.
The writer is a research fellow at the Indian Council of World Affairs 
📣 The Indian Express is now on Telegram. Click here to join our channel (@indianexpress) and stay updated with the latest headlines
For all the latest Opinion News, download Indian Express App.
More From Rahul Mishra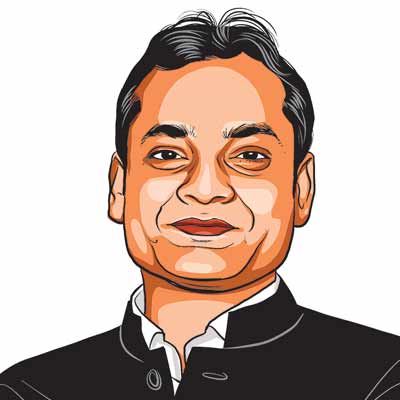 Mahathir's road ahead

Malaysia has the world's oldest prime minister, elected by the young. ..

ASEAN promises still to keep

India needs to raise its stakes in the region to meet goals of Delhi Declaration...

Her second choice

Taking hesitant but small positive steps over the last five years, Myanmar seems to have finally crossed the Rubicon. ..