Written by
Tavleen Singh
|
Published: February 22, 2009 1:20:14 am
My column last week infuriated those of Hindutva persuasion. Especially the Bharatiya Janata Party. Spokesmen for Shri L.K. Advani rang me to explain that the BJP and the RSS had long disowned Karnataka's Sri Rama Sena. It inspired the pink chaddi campaign on Valentine's Day and inspired me to ally with the Consortium of Pub-going,Loose and Forward Women. The BJP spokesmen said I should not have targetted Advani as Villain Number One. As for his advertisements in the Pakistani press they were only for Indians.
With pleasure I take on Hindutva again. Let's begin with the most recent development in the endeavour of the BJP government to turn Karnataka into a happy Hindutva hinterland. Last week in Bangalore,a minister in the Karnataka government got into a spat with artists because he tried to lecture them on Indian culture. Ramachandra Gowda,who clearly would not recognise Indian culture if it jumped up and bit him in the butt said,"I object to pseudo-intellectuals who have distorted the tradition and culture of this country. Modern art should not be used to distort heritage and culture."
This happened even as BJP spokesmen were trying to convince me that they disapproved of fanatical Hindutva of the Sri Rama Sene kind. The BJP is an old fashioned party. Its political and economic ideas are old so its leaders do not understand that in today's India duplicity does not work. It's not possible even to blame the media for 'misquoting' someone because usually there is a camera handy to provide audiovisual proof. The BJP leaders seem not to have noticed this so they continue to try and get away with doublespeak.
This they learned from the organisation that men like Advani call their 'alma mater'. The Rashtriya Swayamsewak Sangh. The RSS has since its inception talked in many voices. If you meet the old men who lead it they can sound reasonable when they tell you that they are only trying to preserve Hindu culture and religion from the continued assault by 'secularists'. A commendable cause if you keep in mind that Marxist historians have gone so far as to deny that a single temple was destroyed in Mughal times. And,if you keep in mind the Congress Party's 'secular' attempts since Independence to deny that there was an India called Bharat that produced a luminous civilisation long before foreigners brought their influence and long before India became a nation state.
The problem with the RSS is it confuses culture with politics and it creates organisations that spread hatred and violence and then disowns them. It cannot deny the Vishwa Hindu Parishad,the Bajrang Dal and fanatical organisations of similar ugliness when everyone knows that it spawned them. To deny them is as stupid as the BJP denying its links with the RSS when everyone knows that it is RSS workers who form the 'cadre' that helps the BJP candidates win elections. So powerful is the Sangh that chief ministers have been defeated if they have denied the RSS candidates of its choice.
It is because of the pernicious,powerful influence of the RSS that the BJP has not managed so far to become a modern political party. It is because of the RSS that men like Advani surround themselves with Hindutva 'thinkers' who come up with such supposedly brilliant ideas as the 'Islamisation' of Hinduism. If I had not personally heard suggestions of this kind,I would not have believed such absurdity possible. Islam is the antithesis of that nebulous idea of religion that we call the Sanatan Dharma. So alien is the idea of religion to the Hindu idea of belief that Sanskrit does not even have a word for it other than 'dharma',which does not really mean religion at all.
It is not possible to explain these things to the fools who make up the ranks of militant Hindutva's various armies but it should be possible for the leaders of the BJP to understand that you cannot have political people talking such nonsense.
When the BJP came to power in Delhi for the first time under Atal Behari Vajpayee,it had a real chance to break its ties with the RSS and build itself into a modern political party with ideas on governance that differed from the Congress Party's stale traditions of dynastic democracy and Nehruvian socialism that kept India in desperate poverty for decades.
It could have emphasised the things that successive Congress governments have failed to deliver since 1947. These failures have been mostly in the areas of education and healthcare and in providing the infrastructure without which a basic standard of living continues to be denied to the vast majority of India's population. But,to bring real change you need a real leader. Not chariots and saffron flags.
For all the latest Opinion News, download Indian Express App
More From Tavleen Singh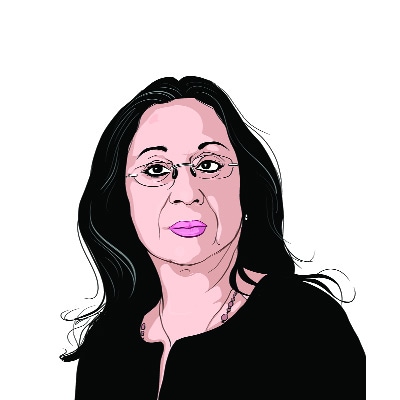 Fifth column: Back to vote banks

The most powerful vote bank has always been the Muslims and this does not belong to the BJP, so in the past four years they…

Towards a Hindu Pakistan?

If the BJP does manage to win a second term, the Prime Minister would do well to ask himself why we have violent Hindutva instead…

Back to old times?

For those Indians who gave Modi a full majority it was because the words 'parivartan' and 'vikas' came as music to their ears...