Written by
Meghnad Desai
|
Published: September 29, 2013 3:49:08 am
Politics does sometimes change abruptly,hitting a cusp when suddenly new possibilities open up which were not there the day before.
British Prime Minister Jim Callaghan in 1979,on the eve of the election which brought in Mrs Thatcher and sent the Labour Party into exile for eighteen years,said,"There are times when you can see the tide shifting and there is nothing you can do to reverse it."
Till two days ago,Congress/UPA was faced with such a tide. The election was running away from it. It was a tired old government of old Cabinet members incapable of doing much. We were all waiting impatiently for the game to be over and for an early election to be called.
Now it is all changed. Politics does sometimes change abruptly,hitting a cusp when suddenly new possibilities open up which were not there the day before. Within minutes of Ajay Maken defending the 'Ordinance to Protect Criminals',Rahul Gandhi came and made an intervention which has forever changed the game. Rahul Gandhi has been an unknown,almost unknowable,quantity. We did not know what the point of Rahul Gandhi was. He was a reluctant heir apparent who was too coy,not to say disdainful,about the prospect of power being thrust upon him. He had not succeeded in making waves in UP,Bihar or anywhere else. Faced with a vigorous politician who is also a masterly public speaker,Congress could only be dismissive of the invitation to declare its own Prime Ministerial candidate.
With his dramatic intervention on Friday,Rahul Gandhi has opened up a possibility which has not been there since the days when Jawaharlal Nehru somewhat feebly tried to reform Congress by supporting the Kamraj Plan. It was a piece of Congress hypocrisy to get rid of Morarji Desai. Since then,Indian political culture has thrived on hypocrisy,with code words and signals used to hide embarrassing truths. The Ordinance is a classic,indeed somewhat shameful classic,of its kind. Criminals in politics had to be saved from the long arms of justice. Shameful political practice had to be salvaged with all party connivance. The Cosy Club had to protect its criminal members.
Rahul Gandhi has now abruptly,even somewhat brusquely,smashed this arrangement. Usually when he speaks he is difficult to fathom. This time he was direct,and,just for effect,repeated himself. The Ordinance was no good. It had to be torn up. The corrupt culture of Indian parliamentary politics had now reached its dead end. There could be no decent reason to say otherwise. The startled look on Ajay Maken's face said it all.
There is a crucial moment in Shakespeare's Henry IV,Part II,when the hitherto rowdy and rabble-rousing Prince Hal turns to his erstwhile companion Falstaff and says (words to the effect) "Old Man,I don't know you any longer." Falstaff is broken-hearted. Of course,the relevant Old Man was in Washington basking in his glory as the trusted friend of President Obama. He was reinforcing his stature as the Wise Man of the G20. Suddenly from far away the ground was cut from under his feet. Bad manners,no doubt,on part of the Congress Vice President. But how can one complain when the content of the message was undoubtedly on the side of clean politics and an end to Old Corruption?
Congress has the chance of a lifetime to seize the opportunity Rahul Gandhi has thrown and clean up politics by abandoning any attempt at retaining criminals in politics. It should give effect to what the Supreme Court wants. This does put the Prime Minister in an uncomfortable position. But he has already acknowledged on his previous trip his willingness to serve under Rahul Gandhi. This may be the exact moment to cede the ground. Congress could change its fortunes if Rahul Gandhi was to be designated Prime Minister for the next six months with Manmohan Singh at his side as the Senior Adviser. That would give GenNext something to cheer about. If Congress were to seize the moment to take on clean politics as its message that could be the end of Kejriwal and the saving of Sheila Dikshit.
Will Congress take on the challenge or just fall back on its old tired ways with old tired leaders?
For all the latest Opinion News, download Indian Express App
More From Meghnad Desai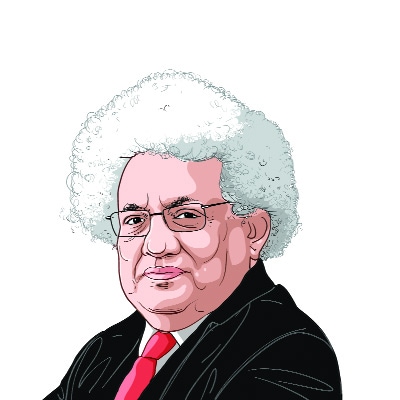 Avoid ideology

Narendra Modi devised an inclusive strategy in 2014. He reached out to the Dalit voters. He downplayed anti-Muslim sentiments. He modernised the BJP by remaking…

Chanakya 2018

Pranab Mukherjee rewrote history on Friday. He washed away all the sins of the RSS. From now on, no stigma attaches to the RSS even…

Out of my mind: About time

The elections last week make one thing clear. It is time the Election Commission rethought the way in which voters are treated...