Odd things happen at election time. Friends become foes, ideologies blur and bitter rivals can end up on the same side. Last week saw a reversal of roles so bizarre that as a responsible political columnist I consider it my duty to bring it to your attention. Sonia Gandhi met Ahmed Bukhari, the Imam of Delhi's Jama Masjid, and reportedly asked him to urge Muslims to vote en bloc for the Congress to defeat communalism. Meanwhile, Narendra Modi, the man she once called a 'maut ka saudagar (merchant of death)', gave us a lecture on the nuances of 'real' secularism. In long years of covering elections, I have never before seen such a reversal of roles.
What makes this reversal most interesting is that it finally forced Modi to fall into the Congress trap and talk about secularism. Congress campaign managers had carefully planned a strategy that was centered around frightening voters (especially Muslim voters) to shun Modi on Hindutva grounds. But ever since he became the BJP's prime ministerial candidate, he has stayed far away from any mention of Hindutva. And he seems to have consciously avoided getting into the fetid debate over secularism and communalism that has so often distracted India away from much more important things such as the war against poverty.
At public rallies across the country, Modi has emphasised that his priorities, if he becomes prime minister, will be to give India better governance so that ordinary Indians can finally dream a dream of prosperity. So cleverly has he dictated the agenda of the campaign that Rahul Gandhi has been forced to respond with his own economic ideas. These are simple and simply explained even if they are not true. Only the Congress cares about poor people, Rahul says at his public rallies and to the televised gatherings of coolies, rickshaw-wallahs, fishermen, tribal folk and assorted other disadvantaged groups whom he has sought out.
It is because the Congress cares so much about the poor, he tells them, that it has spent the past decade giving ordinary Indians the right to information, education, tribal land and cheap food grain. And, if the gods are kind and allow a UPA-III to come to be, then there will be more rights available like a right to free medicines and healthcare. He emphasises that these things have happened because the Congress cares for the poor while the BJP cares only for the rich.
Not true for obvious reasons. No political party can hope to win even a municipal election in India by relying on the votes of rich Indians. Us political pundits have, nevertheless, been so delighted that economic issues have dominated the campaign that reams of column inches have celebrated this. So why did Sonia Gandhi suddenly feel the need to seek out an Islamic cleric with dubious influence?
Could it be because recent polls have indicated that, on account of Modi, the National Democratic Alliance (NDA) looks certain to cross the 230 mark? Could it be that these same polls have hinted at the Congress facing its worst defeat ever? Or could it just be last-minute panic caused by the thinness of crowds at Congress rallies and the public reluctance of major Congress leaders to contest elections this time? Whatever the reason, it was not a good political move and is unlikely to change anything.
This is because in this election, an estimated 98 million new voters have been added to the 717 million registered to vote in 2009 and most of these new voters are uninterested in temples and mosques and take Indian secularism for granted. These first-time voters, whether Hindu or Muslim, want less talk of religion and more talk of how the next prime minister will create the 12 million new jobs that India needs to create every year. Very few young Hindus attend RSS shakhas or dream of building a 'grand temple' to Ram. And very few young Muslims feel deeply enough about the demolition of the Babri Masjid to want to join a movement to rebuild it. Even Muslims who despise Modi for what happened in Gujarat in 2002 are inclined these days to see those riots with some perspective.
So Yahya Bukhari, the brother of the Imam who has announced his support for the Congress, said two days after Sonia's visit that the Congress had been more responsible for massacring Muslims than any other political party. Sadly for Sonia, what she ended up achieving by her new strategy was to open the door for another attack by Modi. Relishing the chance to stick the secular dagger in, he expounded at some length on his own definition of secularism, which he said meant treating all Indians equally, not following the Congress example of using secularism as an excuse for its economic and political failures. So, advantage Modi.
Follow Tavleen Singh on Twitter @ tavleen_singh
For all the latest Opinion News, download Indian Express App
More From Tavleen Singh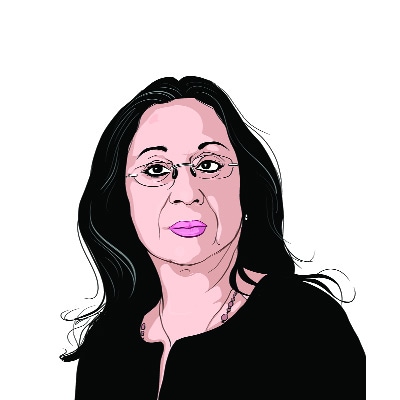 Confusion and horror in Kashmir

The United Nations released its first ever report on human rights violations in the Kashmir Valley. It recommends a commission of inquiry into the 'excessive…

Fifth column: Lies that help Modi

Modi has made mistakes in the past four years. He has failed to take India in a new economic direction. He wasted time on demonetisation…

Fifth Column: Bad news for the BJP

If Narendra Modi does not start paying attention to the message that voters in Uttar Pradesh have been trying to send him for months, he…