A most strange and peculiar change has occurred since Narendra Modi became India's Prime Minister. Political pundits who till yesterday were warning of doomsday and the end of the ancient tradition of pluralism in our ancient land now appear to believe that Mr Modi has magical powers to transform India. As if the economy will suddenly start booming, foreign investors will come flooding back and roads, ports and other infrastructure will come up overnight.
So utterly forgotten are the doomsday predictions that many of these pundits have now started to behave as if they were members of the new PM's team. With the confidence that comes from long years of punditry, they produce wish lists daily in the newspapers and pop up on our TV screens to proffer advice on how the economy can be revived and how the PM can prove that his vision for India is inclusive by speaking up for Muslims every chance he gets.
Tch, tch, tch, they said often last week, he should have spoken up when the young Muslim computer engineer was killed in that random attack by Hindu thugs in Pune.
This would have shown that he cared about Muslims as much as he does for Hindus. If the PM believes he needs to win his secular spurs, I am sure he will find a way to win them, but since gratuitous advice from political pundits seems to be in fashion, why should I be left behind? So for my part I think he could have demanded from Maharashtra's Congress Chief Minister an explanation for why said Hindu thugs were allowed to wander about Pune in mobs bearing hockey sticks and screaming for Muslim blood. Where were the guardians of law and order?
If the PM chose not to ask questions, it was perhaps because he knows how the police works, or does not work, or perhaps because he thinks it is pointless for him to start his term in office by bullying opposition governments. He needs the chief ministers to work with him to bring about the change and development he has promised and probably does not want to antagonise them by interfering every time some horrible crime is committed. There have been so many horrible crimes in the past few days that he would be able to do nothing else.
Besides, he has been very, very busy ever since he came to Delhi. So far, he has spent time getting his team together and impressing upon them how serious he is about trying to improve standards of governance. He has met senior bureaucrats separately and assured them that if they did the right thing he would always be on their side.
He has ordered his ministers to come up with a programme of action for their first hundred days in office and turned his attention to the repeal of ancient, stupidly obstructive laws. That is good going for a prime minister who has been in office for just two weeks.
He does not appear to be in need of advice, but since every other political pundit is coming forward with some, why should I not present my own little wish list? Please Prime Minister can we have drastic changes in policies related to education, healthcare and sanitation? The mess left behind by Sonia Gandhi's vaunted 'rights-based approach' to these vital public services is beyond belief. In education the 'right' to it gave officials the chance to impose an even stricter licence quota raj than there was before.
Officials concentrated their attentions on private schools, so instead of government schools improving, what they succeeded in doing was making life harder for private schools by insisting on quotas for children from 'economically weak' families. Higher education that comes directly under the Central government has shown no improvement either. The result is an educational crisis so grim that in annual PISA (Programme of International Students Assessment) tests, Indian children have regularly come second last.
Healthcare is technically a subject for state governments, but what is to stop the Central government from launching a massive television campaign on public hygiene?
More than 80 per cent of diseases in India come from dirty water and dirty living conditions, so why should this not be something that the Central government tries to improve at the highest levels? After the horror of what happened in Badaun we need no further proof that a massive sanitation drive in rural India is needed most urgently. Toilets before temples in the Prime Minister's own words.
If India is to truly see development and change, it has to begin with giving ordinary people half a chance to participate in both development and change. This can only happen if the human development index is given as much attention as GDP growth. Right, Prime Minister?
Follow Tavleen Singh on Twitter @ tavleens
For all the latest Opinion News, download Indian Express App
More From Tavleen Singh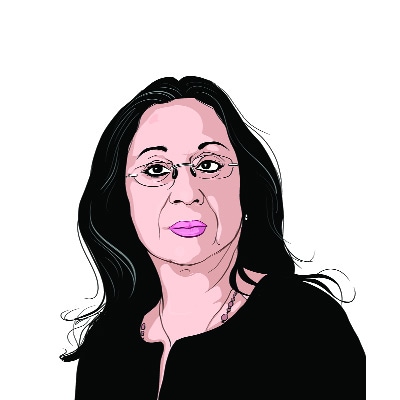 Can the RSS change?

The ugly truth is that the colonisation of India has continued with greater success after the British left, mostly because they left behind a colonised…

Fifth column: In defence of Mallya

Instead of competing to distance themselves from big business our political leaders should explain to the people of India why a company that produced 40…

The first lynching

Three years after the murder of Mohammad Akhlaq, there is no remorse in his village. There is a sense of menace...