In Maharashtra,the drought is so bad that desperate people are fleeing to Mumbai in search of water. They live under flyovers and have barely enough to eat but at least they do not have to wait 24 hours to get two pots of water. In Punjab,vast quantities of food grain rots in the open because for mysterious reasons our government can build missiles but not warehouses. The rupee is sliding so badly that the Reserve Bank ordered exporters last week to help out by selling dollars. Air India continues to consume vast amounts of taxpayers' money uselessly. Foreign investors are fleeing because of persecution from the Finance Minister and Indian investors are in the doldrums for similar reasons. If you have not already got the point,let me spell it out. Our biggest political problem today is the economy.
Things are so bad that memories of those boom years have long faded. It is hard to believe that in 2009 when the Sonia-Manmohan government began its second term in office,India was so much the flavor of international investors that nearly every major leader came visiting. Barack Obama,Nicolas Sarkozy,David Cameron and Dmitry Medvedev to mention only a few. What happy times they were. And,it looked for a moment as if India had finally broken its ancient tradition of making an unholy mess of the best opportunities. How wrong optimists like me were. And,how right the gloomy ones who predicted that India would just stumble along as it always has taking one step forward and five steps backwards.
Since the election in 2009,nearly every economic step has been backwards. This is partly because Sonia Gandhi and her socialist advisors in the National Advisory Council have spent recklessly on welfare programmes without noticing that wealth must be created before it can be spent. It is mostly because the Finance Minister has come up with retrograde,myopic taxes and policies but there are other people that must share the blame and it is time to name them.
At the top of my list is the Comptroller & Auditor General of India (CAG) who does not hesitate these days to interfere in policy. Ever since his moment in the sun came with revelations of the alleged Rs 176,000 crore telecom scam,not a week has gone by without this supposedly faceless bureaucrat going public with more allegations and advice. Since he is not meant to make policy,his advice is often mystifying like when he attacked the Civil Aviation Minister for not doing enough to save our national carrier one year and then attacked him for buying too many new aeroplanes.
Last week,a new CAG report offered advice on how government should be running public sector companies. Is this his job? And,if it is,should he not be offering his advice to the government and not to the general public? Perhaps it is just the seduction of those television cameras that gave him so many hours of prime time when A Raja was our favorite villain. Whatever the reasons,it is time that CAG went back to being a faceless bureaucrat.
Sadly Sonia-Manmohan (2) has been such a weak government that everyone from Supreme Court judges to semi-literate yoga teachers think they have a right to interfere in policy matters. NGOs,dodgy crusaders,social activists and retired police officers made such a clamour about corruption last year that it seemed sometimes as if corruption was a uniquely Indian phenomenon. The din and the flag-waving frightened our already stagnant bureaucracy into a state of deeper stagnation. Ask anyone who deals with the Government of India these days and they will tell you three words 'nothing is happening'.
The question is will something begin to happen before the 2014 general election or will the Indian economy continue sliding deeper and deeper into debt and despair? Maligned though I often am for being needlessly opinionated,I admit humbly to not being an economist so instead of attempting to answer the question myself,I put it to people who understand economic matters better than I do. I talked to economists,businessmen and economic analysts and can truthfully report that there was a gloomy unanimity in their answers. They said that they saw no signs of hope. They predicted that the rupee could become so weak that it should not surprise us if it goes up to seventy to the dollar and it should not surprise us either if the growth rate slides to 5 per cent. This is very bad news and if it happens,5 per cent may come to be known as the new Hindu rate of growth.
Do we see signs that anyone in Delhi notices how bad things are? No. Not if we go by the issues that cause those tedious uproars in Parliament.
Follow Tavleen Singh on Twitter @ Tavleen_Singh
For all the latest Opinion News, download Indian Express App
More From Tavleen Singh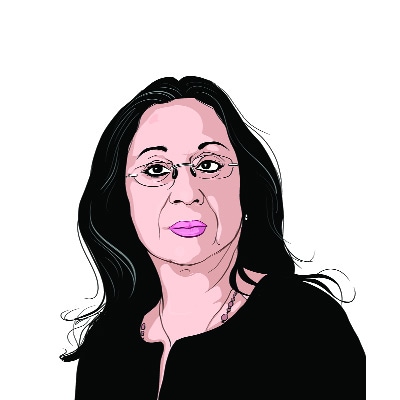 Fifth column: Back to vote banks

The most powerful vote bank has always been the Muslims and this does not belong to the BJP, so in the past four years they…

Towards a Hindu Pakistan?

If the BJP does manage to win a second term, the Prime Minister would do well to ask himself why we have violent Hindutva instead…

Back to old times?

For those Indians who gave Modi a full majority it was because the words 'parivartan' and 'vikas' came as music to their ears...