Written by
Meghnad Desai
|
Published: December 31, 2017 1:22:52 am
When 2017 began, the air was thick with worries. America had been shocked by the success of Donald Trump, and many were in denial. They demonstrated against him at his inauguration, marched in many cities complaining about his misogyny, his habit of tweeting and abusing his detractors. Even before he had assumed office, there were talks of impeaching him. Worse was to come when he got into a provocative tweet contest with Kim Jong-un. He withdrew America from the Paris treaty on climate change and told his NATO allies that they better pay their dues. When he railed against free trade, the allies of America, especially in Europe, were in despair.
It looked like the global liberal order would be redrawn with Xi Jinping pitching for free trade. Angela Merkel was seen as the best new leader for the Western alliance.
Twelve months on, there has been no nuclear war between the US and North Korea. Trump has survived much better than people expected. He has his tax cut, which is a monumental achievement given that the US Congress had not passed a single Bill since 2010. The liberal media are still hoping for an impeachment but that is a pipe dream. Merkel has in the meanwhile been grounded due to the difficulty of putting together a winning coalition. Europe has its own resurgence of right-wing nationalism in Germany, Austria, Poland and Hungary. Trump was just the harbinger of things to come.
At home, it has been a world of small surprises not major earthquakes. India and China had a standstill in Doklam but did not go to war. Neither demonetisation nor the GST did much damage to the BJP as was predicted. The BJP won UP massively. In Gujarat, there was a reality check and the Modi magic was needed not for total triumph but for decent survival. The GDP growth numbers have lost their shine and inflation persists.
A remarkable change has come in Rahul Gandhi's performance. If it were to persist (and RaGa is notorious for losing enthusiasm for his causes), it will be a test for the BJP. When Nitish Kumar broke the Mahagathbandhan, it seemed like 2019 was in the bag for the BJP. Even now, the BJP/ NDA looks like it will repeat its victory. The crucial question will be whether the BJP will win a single-party majority. Modi will have to work his magic through 2018 and then till general election in 2019 to secure a second majority term. Gujarat shows that in elections, nothing can be taken for granted and the Past is no guide to the Present.
Curiously it still remains the case that people think of the government as a one-man band. This is not just in a general election but every state election as well. The issue every time and everywhere is Modi.
BJP president Amit Shah apart, there seems to be no one else in the party who can share Modi's burden. Every gau raksha vigilante attack, every love jihad episode, every attack on Dalits by caste Hindus is laid at Modi's door. Indian politics has never been so centralised since Indira Gandhi's days. In 1971, the cry was Indira Hatao. In 2019, it will be Modi Hatao. Not much progress in that respect. Happy New Year.
For all the latest Opinion News, download Indian Express App
More From Meghnad Desai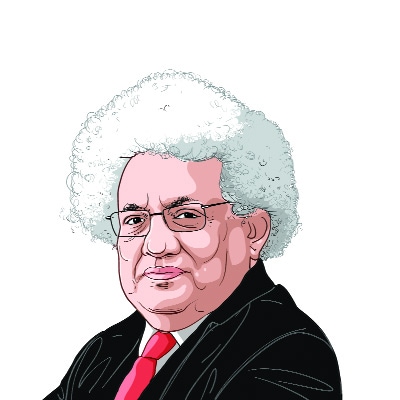 Chanakya 2018

Pranab Mukherjee rewrote history on Friday. He washed away all the sins of the RSS. From now on, no stigma attaches to the RSS even…

Out of my mind: About time

The elections last week make one thing clear. It is time the Election Commission rethought the way in which voters are treated...

Out Of My Mind: Restore The Constitution

The secular nature of the Indian polity is written into the Constitution. But the idea that India is socialist is a mockery of the idea…