Written by
Ashok Gulati
|
Updated: August 31, 2015 12:09:36 am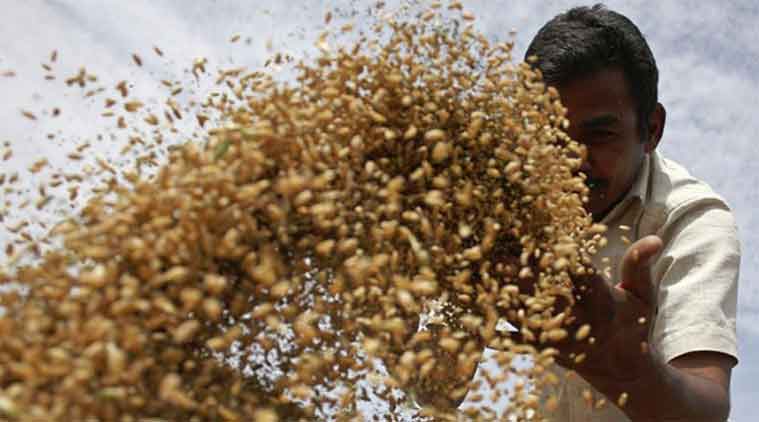 The cumulative rain deficit in the current monsoon season stood at (-)12 per cent of the long period average (LPA) as on August 27. If the deficit continues at this level till the end of September, the IMD's forecast would be coming true. Technically, like last year, this would also be a drought year. It would be the fourth back-to-back drought in the last 115 years. This should wake up policymakers and bureaucrats, who seem to have become complacent after good rains in June. Farmers are not only distressed but dismayed, as they had great hopes from the new government, including the promise of 50 per cent profit over costs. The facts speak on their own: For the last three years, the average agri-GDP growth rate is just 1.7 per cent, and if this year goes the same, it would be the worst performance for agriculture in the four years of the 12th Plan, which targets 4 per cent growth in agriculture. It's not just the weather that farmers are suffering from, it's the great fall in commodity prices as well, from cotton to corn, soya bean to wheat, sugar to potatoes, resulting in a wipeout of farmer's profits across the board. And where they could make some money through exports, as in onions and pulses, the government comes down heavily with export restrictions and controls.
The government machinery is hyperactive in taming onion prices, but might one ask where it was when potatoes were being sold at less than Rs 2 per kg by farmers in UP and West Bengal? This smells of typical urban consumer bias. These are defunct policy tools of the mid-1960s, which the government is trying to use to manage today's market economy. They will not work. On the contrary, the government risks being painted as anti-farmer.
No one knows this risk better than the prime minister himself. He always took pride, and rightly so, in showcasing his Gujarat agriculture model, where agri-GDP grew, on average, at 9.7 per cent during 2001-02 to 2013-14. That was a miracle, which other states wanted to emulate, and Madhya Pradesh did. For agrarian miracles, three things are critical — seeds, water and markets. Gujarat's agrarian miracle was led by Bt cotton, supported by increased irrigation cover and access to Chinese markets. The seeds came from Mahyco-Monsanto Biotech Ltd, and through their 45 or so licensees. If there were export controls on cotton, or the new Bt seeds were missing, would king cotton have blossomed in India? No. The new Bt technology was a catalyst of change, and so was access to foreign markets, which made cotton a remunerative crop. The production jumped from 16 million bales in 2002-03 to 38 million bales expected this year, making India the second-largest exporter.
What is happening now in cotton policy is interesting. One fine morning, a chief minister wakes up and orders that seed prices of Bt cotton be reduced in farmers' interest. It has an infectious impact on other states, who issue similar orders. Then it catches on to licensees, who refuse to honour their contracts with the parent seed company. It becomes a legal mess. PM Narendra Modi invites global companies to come and "Make in India". But if their contracts can't be honoured, who will bring new technologies to India? And from where will the new revolution come without frontline technologies?
The message is clear: If we want to do our agriculture good and see our farmers prosper, we have to invest heavily in modern technologies — not only biotech but also precision agriculture — and in irrigation and water management. We have to provide unhindered access to markets, both domestic and foreign, by abolishing all controls on exports and movements across India. That's the Centre's job. It can't be left to states alone.
Generating the best technologies (seeds) at home or accessing them from outside is the Centre's duty. It has to lead and guide states. The Indian Council of Agricultural Research (Icar) is the apex agency to ensure generation of best technologies, and they have done wonders with Pusa basmati. But cotton wonder seeds (Bt) came from Mahyco-Monsanto. Icar's annual budget is less than a billion dollars for the whole country for all research, while Monsanto alone spent $1.7 billion on research last year. Thus, future technologies in agriculture will come more and more from multinational companies.
Any country that has to access such frontline technology must come up with a credible legal institutional framework and work with mega investors and innovators to buy/ co-generate these technologies. It can't be left to the discretion (or rent-seeking) of a CM, or to licensees who refuse to honour contracts. If the Centre keeps sleeping on this, we may go back to the shortages of the mid-1960s. Since we don't want that, could Icar and the agriculture ministry, or Niti Aayog, or the PMO show some courage? It would be most unfortunate if farmers have to come out on the street for their right to access the best technologies and markets.
The writer is Infosys chair professor for agriculture at Icrier.
The Indian Express website has been rated GREEN for its credibility and trustworthiness by Newsguard, a global service that rates news sources for their journalistic standards.