Written by
Coomi Kapoor
|
Published: April 7, 2013 12:53:40 am
Different perspectives
At the Congress headquarters in Delhi,the appointment of Ashok Choudhary,a Mahadalit,as the Bihar PCC head is being hailed as Rahul Gandhi's clever move. He is being described as a man who represents the young and modern face of the party. However,in Bihar,his bodyguards allegedly beat up state Congress functionaries some years ago. Also,Choudhary had been named in the murder of Rajo Singh,a popular Bhumihar leader from the Congress. Choudhary's name was removed from the FIR in 2006,before the chargesheet was filed. The CBI,meanwhile,is investigating a case against Choudhary's wife's firm for obtaining a bank loan by allegedly furnishing fake documents.
Another kind of dynasty
The Indian media team that had accompanied the PM to Durban to cover the BRICS Summit barely took note of an unassuming man in the media room who helped out with the computers. He is Kidar Mawala Ramgobin and he had been hired by the Indian Embassy to supply computers and ensure the IT network ran smoothly. The man was so low key that only very few discovered the computer supplier's identity. He is Mahatma Gandhi's great grandson. His grandfather Manilal Gandhi had remained in South Africa when the rest of the Gandhi clan returned to India.
***
The Indian media party was taken aback to find a young man approaching them for advice on how South Africa can get investments from India. The man soliciting business was one of the grandsons of South African President Jacob Juma.
Injudicious move
A senior judge recently moved into a large bungalow in Lutyens Delhi and renovated the interiors at considerable cost to the CPWD. But now the judge wants to shift and is reportedly looking for a new accommodation. The judge's wife believes that the house number of her present residence is inauspicious.
Empire strikes back
The resignation within less than two months of Ajai Shukla as the main English anchor for the NewsNight programme between 8 pm and 10 pm on Doordarshan is indicative of the problems faced by an outsider trying to function in the well-entrenched hierarchy of DD. The real troublemakers were not politicians protesting against the objective coverage of NewsNight but DD employees,furious at being sidelined during prime time by non-staff members. It did not help that NewsNight's English news programme under the new team registered the highest viewership rating on Budget day. Some press information officers were reportedly roped in to monitor the programme and watch for issues to complain about. Minister for Information and Broadcasting Manish Tewari,who in the first place had encouraged the experiment of inducting outside talent,was caught in the middle. Another way of squeezing out the interlopers was to cut the budget and offer scant staff support. It remains to be seen how long Sanjeev Srivastava,who was once with with BBC,will continue as consulting editor,DD.
Starry-eyed spokesman
Sudhanshu Trivedi is BJP president Rajnath Singh's personal choice as party spokesperson. The former lecturer has been a close associate of Singh,so much so that during his last term as president,there were complaints that Trivedi never left his master's side and made any confidential discussion difficult. Now that Singh has returned to the centre stage,Trivedi is less visible but he continues to be Singh's speech writer. He offers words of wisdom on metaphysics,astronomy and foreign policy which are out of sync with Singh's down-to-earth pronouncements on farmers and agriculture. Trivedi is also an astrologer and reportedly predicted that Singh would return as party president. He has made it clear that he sees an even brighter future in store for the BJP president.
Disempowered
Congress party president Sonia and her political secretary Ahmed Patel attended a meeting in which rivals Kumari Selja,the Minister for Social Justice and Empowerment,and Haryana Chief Minister Bhupinder Hooda were present. Sonia and Patel tried to effect a patch up between the two. Selja has complained that the state government ignores work in her constituency which has been sanctioned under the MPLAD scheme. Other Haryana MPs have similar grievances. In Rohtak constituency,however,the state government bends over backward to complete projects in double quick time. Rohtak happens to be the constituency of Hooda's son Deepender.
For all the latest Opinion News, download Indian Express App
More From Coomi Kapoor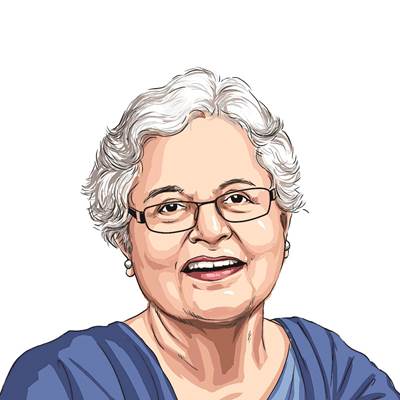 Will Prashant Kishore run Modi's 2019 campaign too?

Kishor took credit for Narendra Modi's success in the 2014 general election and Nitish Kumar's victory in Bihar in 2015. However, he had to eat humble…

Inside Track: Line of division

Clearly, Sushma Swaraj is not on the same side as the majority in the party, who feel she tweets for personal PR and not for…

Inside Track: Not so tweet

Sushma Swaraj was crudely and unfairly trolled by the Hindutva brigade because a Lucknow passport officer was summarily transferred on the basis of a tweet…