Written by
Coomi Kapoor
|
Published: December 11, 2016 12:15:35 am
Cooperative effort
Cooperative banks across the country, most of which are run by powerful politicians cutting across party lines, pressured the government that they be allowed to change outdated notes as part of the demonetisation drive. But the Reserve Bank flatly declined, conscious that these banks lack the requisite infrastructure and expertise. Besides, there was a possibility of those in charge misusing the facility. But a bank in Himachal Pradesh changed currency notes for a few days. The bank even exchanged a reported Rs 550 crore in outdated currency notes.
Chinamma's shadow
O Paneerselvam may have been made Chief Minister of Tamil Nadu but Jayalalithaa's companion Sasikala is waiting in the wings. Even before Jayalalithaa was officially declared dead, Sasikala's people had swung into action, collecting signatures of AIADMK MLAs on a blank sheet of paper. The intention was to submit these signatures to the governor, proposing Sasikala as chief minister. But the coup got derailed when several MLAs protested. As a compromise, Paneerselvam, who is from the Thevar community like Sasikala, was named CM. Paneerselvam is, however, likely to remain a stop-gap CM. Sasikala plans to contest from Jayalalithaa's Assembly constituency R K Nagar to gradually strengthen her claim on succeeding Jayalalithaa. Sasikala's husband N Natrajan, dubbed the Amar Singh of Tamil Nadu, who is said to have links with the DMK, Congress and even the BJP, had been banished by Jayalalithaa. But he suddenly re-emerged at the late CM's deathbed. Despite Amma's aversion to the Natrajan family, whom Sasikala disowned during Jayalalithaa's lifetime, 18 of Sasikala's relatives surrounded the casket. Natrajan was even introduced to Prime Minister Modi while the body lay in Rajaji Hall.
True friendship
After her tragic death, many politicians from other parties claimed that they had a long-standing friendship with Jayalalithaa. A chief minister who kept a dignified, low profile, even though he, in fact, shared a particularly warm rapport with Jayalalithaa, is Orissa Chief Minister Naveen Patnaik. Patnaik's late father Biju Patnaik had called Jayalalithaa his adopted daughter and the Orissa CM continued the close friendship. The two chief ministers had similar westernised tastes in books and entertainment. Jayalalithaa was fond of English novels and British serials. Patnaik sometimes procured for her advance copies of one of her favourite serials, Downton Abbey.
In the fray?
Asked by Rashid Kidwai on ABP TV whether he would contest the Assembly elections in Punjab, Congress leader Manish Tewari replied that he would abide by his party's decision. This has created a flutter in the state Congress. Tewari perhaps agreed to return to state-level politics, after having been a union minister, because he was sensitive of the flak he received for not standing for the Ludhiana parliamentary seat in 2014. (He claimed ill health but his detractors put out the story that he was scared.) Tewari's presence in the fray would undoubtedly help woo Hindu voters who have often supported the BJP in the past. Tewari's father, V N Tewari, a scholar and author, was shot by militants in 1984. Tewari would also act as a counter to state chief Captain Amarinder Singh, who tends to act unilaterally without consulting the high command.
Smelling a rat
The Finance Ministry smelt a rat while rejecting the claims of a Mumbai family of modest means that wanted to declare Rs 2 lakh crore under IDS, the Income Declaration Scheme that provided amnesty to tax evaders and which closed on September 30. The story put out was that the money came from donations to the dargah at Ajmer. But dargah authorities denied any such bounty and explained that 80 per cent of their donations, in fact, goes in maintaining their establishment, including feeding the poor. The false declaration appears to be someone's attempt to play mischief, the sum itself being so unbelievably large. But in the case of Ahmedabad-based Mahesh Shah, who wanted to deposit Rs 13,680 crore, there seems to be more than meets the eye. While Shah claims he was acting on behalf of some influential people and has a diary to substantiate it, others suggest that he had been advertising in the market that he was willing to act as a front for people interested in turning their black money into white for a high commission.
For all the latest Opinion News, download Indian Express App
More From Coomi Kapoor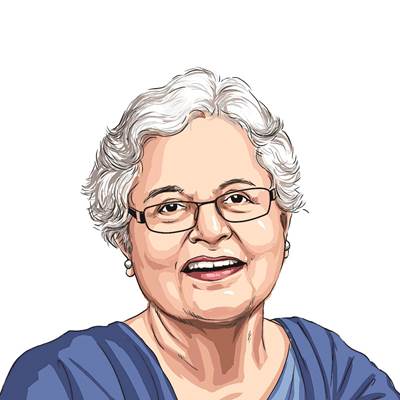 Inside Track: One for All

The Congress war room is working on a strategy that an anti-BJP alliance should field joint candidates for 403 seats in 15 states in the…

Inside Track: Age-old problem

Both Shatrughan Sinha and Yashwant Sinha have for all practical purposes left the party. If the elderly are back in the BJP, it may face…

Inside Track: Not overshadowed

During the recent inauguration of Phase 1 of the Delhi-Meerut Expressway (DME) and Eastern Peripheral Expressway (EPE), Gadkari was in an open car alongside the…