Eight weeks after a no-holds-barred battle between the old corporate patriarch and his chosen young one, the youth seems to have lost. Cyrus Mistry has resigned from all his board positions of the Tata Group's listed companies. In his words, "to be more effective, serve the objective of governance reform, and to regain lost ethical ground" he has "decided to shift from the forum of the EGMs to a larger platform and also one where the rule of law and equity is upheld."
Clearly, Mistry and his team will use the press, the company law tribunal and other judicial procedures to make his case. Much depends upon how incontrovertible is the evidence that Mistry can unleash to prove two things: First, that the major Tata trusts led by Ratan Tata used their dominant shareholding to influence, even "force", decisions upon Tata Sons which were inimical to corporate governance and performance; and second, that the trusts used their influence to prevent Mistry from reversing some deleterious actions that were earlier taken by some of the companies, to the detriment of corporate value.
The stories put out by the Tata trusts, Tata Sons, Ratan Tata, Cyrus Mistry and the Tata Group company remind me of Akira Kurosawa's Rashomon — where the tales vary diametrically depending upon who tells them. When you look closely at these, none has solid data-backed proof of wrongdoing by either the patriarch or his successor. There have been leads, hints, innuendos and emotions: By the camp supporting Mistry claiming that his predecessor prevented him from doing what was needed for the good of the Tata Group companies; and by those supporting Ratan Tata who claim that Mistry's attitude and the direction in which he was going went against that thing called "over a century of Tata values".
I have no idea how this will eventually play out. But being reasonably closely associated with Bombay House, several ex-CEOs and many independent directors of the Tata Group companies, I wish to make a set of comments that needs to be taken seriously in the interest of long-term corporate governance.
First, it is no surprise that in its 148-year history, Tata Sons, originally a managing agency formed by Jamshedji Nusserwanji Tata, has been only led twice by a non-Tata. The first was Sir Nowroji Saklatwala who was an insider both as a longstanding employee and director of Tata companies and as the son of Jamshedji's sister, Virbaiji. Saklatwala served as the chairman for under six years after the death of Sir Dorabji Tata in 1932, until his fatal heart attack in 1938 — to be succeeded by J.R.D. Tata. The second is Cyrus Mistry.
Why isn't it a surprise? For that, one needs to understand Bombay House. Everything in this edifice is about history: The architecture, the gentle almost interminable pace at which the wood panelled lifts move up and down, the imposing staircase, the old mahogany and teak furniture and the body language of those who work there. It is about history and tradition. I remember a decade and a half earlier telling some old hands at Tata Chemicals about why the return on capital must exceed weighted average costs of capital, and getting a totally honest but absolutely astounding answer, "Why sir? We produce soda ash for the nation". To some extent, the milieu has changed; but not enough to be comfortable about a non-Tata man leading Tata Sons.
Mistry was under the microscope. In the first couple of years, things were reasonably acceptable. After all, Mistry was chosen by Ratan Tata; he was introduced to the world by Tata as the successor; he regularly conferred with his predecessor; and was seen to be doing things the "Tata way".
Once Cyrus and his team started questioning some of the calls taken under Ratan Tata, things started going wrong. In Bombay House, here was a non-Tata with aggressive outsiders who knew nothing of the Tatas, and were asking questions about earlier business decisions. When these involved major moves taken under Ratan Tata's stewardship — such as selling Tata Steel Europe, getting rid of some international properties purchased by Indian Hotels and taking a large impairment on a large plot of rubble that was to be the new Sea Rock in Bandra, not acquiescing to paying DoCoMo and critiquing some Air Asia decisions — the old hands at Bombay House and the Tata trusts had had enough. Ratan Tata felt the same and wielded the axe.
My second comment is about how directors evaluate their chairmen. In every Tata listed company, Mistry received excellent reviews of his fiduciary stewardship. These are "discoverable" documents. If Mistry was universally acclaimed to be an excellent chairman and if it was recognised that in companies such as Tata Motors he did a yeoman's job after the suicide of the managing director Karl Slym, why then have so many directors now felt that he was sufficiently unconcerned about shareholder value to be removed from the boards of these companies? Were they collectively incorrect in evaluating their chairman's performance for 2015-16? Or were they malleable enough to change their stance when the chairman of the Tata trusts upped the ante?
My third comment is about the role of the trusts. The Tata trusts, the family and some group companies together own 81.5 per cent of Tata Sons, which in turn own substantial shares of all Tata Group companies, from a high of almost 74 per cent in TCS to nothing less than 25 per cent in others. My question relates to governance: Should unlisted, usually opaque charitable trusts play key roles in the decision-making of listed corporations through the holding company, including summarily dismissing the chairman of the group? If this ugly imbroglio prompts sensible change of the remit of charitable trusts, it will be a move for the better.
Unless Cyrus bursts some megatons, he will fade from public memory. All eyes will now be on who takes the helm at Tata Sons. If the selectors understand history, they will do well to appoint a Tata lifer. I don't mean Noel Tata. I mean the managing director of the most successful company of the group.
The writer is the founder and chairperson of CERG Advisory Private Limited, and is author of 'Corporate bankruptcy in India: a comparative perspective'.
For all the latest Opinion News, download Indian Express App
More From Omkar Goswami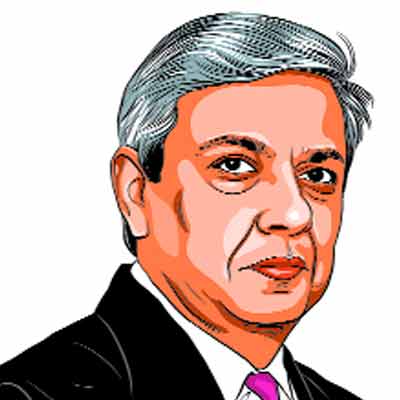 So, how did they ponzi it?

How did Nirav Modi, Mehul Choksi and some rogue bankers take PNB for the mother of all rides?..

The Big Bong Theory

An effective, humourous account of the history and idiosyncrasies of the Bengali community — from one of their own...

First, fix the banks

Finance minister must recapitalise better public sector banks. This will strengthen distressed balance sheets ..