Written by
Coomi Kapoor
|
Updated: October 16, 2016 12:24:22 am
After its bitter experience with Prashant Kishor, who took a lot of credit for the Narendra Modi-led BJP's performance in the 2014 Lok Sabha elections, the party has learnt a lesson. It does not want any single individual in its back-room team to claim credit for a victory. Sunil Kanugolu, a former consultant with McKinsey, who worked with Kishor's Citizens for Accountable Governance in Gandhinagar, has been given the task of setting up a similar organisation for the BJP's Uttar Pradesh campaign. The new body with a rather pretentious name, Association of Brilliant Minds (ABMs), is based in Lucknow and will undertake work similar to what the CAG did in 2014, including conducting surveys, voter profiling of constituencies and strategising the campaign accordingly. But ABM's members are avoiding the media. They have been asked to keep a low profile.
Ignoring Tiwari
It was to lure the Brahmin vote back to the Congress that Sheila Dikshit was selected as the party's Uttar Pradesh chief ministerial candidate. The party has not been in power in the state for 27 years. Its last chief minister was N D Tiwari, also a Brahmin and far better known in the state than Dikshit, who is basically from Delhi. On October 18, Tiwari will celebrate his 91st birthday and his son, Rohit Shekhar Sharma, who fought a protracted legal battle to get his father to acknowledge his paternity, wants to organise a grand party to celebrate the occasion. Sharma has written several letters to Rahul Gandhi and the party's campaign in-charge Prashant Kishor, inviting the Congress vice-president to attend. But he has received no acknowledgement, even though a celebration to honour Tiwari, the Congress's best known Brahmin face in UP, would be the ideal opportunity to advertise the party's Brahmanical connection.
Patel versus Patel
Many were puzzled when Gujarat Chief Minister Vijay Rupani did not appoint Saurabh Patel to his Cabinet. Patel, a relative by marriage of the powerful Ambani family, was a great favourite of Narendra Modi, when the latter was the chief minister, and as minister of state, reported directly to him. But Modi's successor in Gujarat, Anandiben Patel, did not repose the same confidence in Patel, even though he was her finance minister. There is speculation that Saurabh Patel, as finance minister, had in a note on a file questioned the generous incentives given to the Tata Nano project in Gujarat, when Modi was the chief minister.
Breaking tradition
Traditionally, every Dussehra, the president, vice-president, prime minister and the leader of opposition share the stage at the Red Fort Ramlila. A group photo of the VIPs on the dais had become an annual ritual. But this year, Prime Minister Narendra Modi opted to attend a Ramlila function in Lucknow while BJP president Amit Shah, who was in Delhi, stayed away, choosing to preside over a party meeting instead. The BJP's explanation for their leaders' absence was that there is a world beyond Delhi and that they cannot be confined to the same Ramlila every year. Perhaps in the absence of Modi, Shah wanted to avoid a group photo with Congress president Sonia Gandhi.
Whose heritage?
Pakistan has woken up after 70 years and has recently begun efforts to reclaim the 2,500 BC statuette of the Dancing Girl found at Mohenjo-daro in Sindh, which is on display at the National Museum, Delhi. The statuette was discovered in 1926 and brought to Delhi for an exhibition in 1946. After Partition, India gifted Pakistan a statuette of a king priest from Mohenjo-daro to make out a case for equitable distribution. As someone who visited Mohenjo-daro two decades ago, I can vouch for the fact that the Pakistanis did not then consider the Indus Valley civilisation as part of their heritage. Even officials at the Pakistan High Commission assumed it was some sort of a Hindu pilgrimage site. Pakistani text books begin the history of Sindh with Muhammad Bin Qasim's conquest. Indian visitors fortunate enough to get visas to Mohenjo-daro invariably find there are no Pakistanis at the excavations, just the odd Japanese or European tourist. UNESCO foots most of the bill for the site's upkeep and it was UNESCO alone which some decades ago saved the excavations from flooding. The local administration had then remained unconcerned.
For all the latest Opinion News, download Indian Express App
More From Coomi Kapoor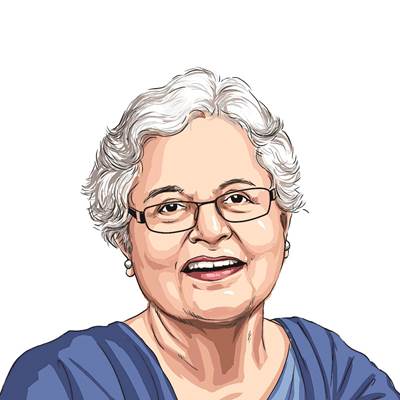 Inside Track: One for All

The Congress war room is working on a strategy that an anti-BJP alliance should field joint candidates for 403 seats in 15 states in the…

Inside Track: Age-old problem

Both Shatrughan Sinha and Yashwant Sinha have for all practical purposes left the party. If the elderly are back in the BJP, it may face…

Inside Track: Not overshadowed

During the recent inauguration of Phase 1 of the Delhi-Meerut Expressway (DME) and Eastern Peripheral Expressway (EPE), Gadkari was in an open car alongside the…