Bhag, mummy, bhag
Congress members complain that Rahul Gandhi is so distracted during his campaigning that he does not have even the inclination or time to connect with the party's parliamentary candidates, let alone workers. At Devgadh Baria in the Bhil tribal constituency of Dahod in Gujarat, Dr Prabha Taviad was prevented from sitting on the dais by the SPG while Rahul addressed a rally, even though she tried to explain that she was the Congress candidate on whose behalf he was speaking.
Immediately after the rally, Rahul shook a few hands and headed for the helicopter. Dr Taviad's son and several members of the audience urged her to run and meet Rahul. "Bhag, mummy, bhag," they all screamed helpfully in Gujarati. Taviad sprinted to catch up with Rahul so that she could thank him and exchange a few words, but the Congress vice-president had already pushed off for his next destination.
Snooze, you lose
There are red faces in the Information & Broadcasting Ministry that Narendra Modi's hour-long interview appeared on Doordarshan before the crucial seventh phase of polling on April 30, whereas there was no corresponding interview with Rahul Gandhi on the channel, which is much watched in rural India. Actually, DD had sent out a formal request to both Rahul and Modi for an interview. Nobody responded from Rahul's side whereas Modi not only replied immediately but made himself available within three days.
In fact, Modi was happy to give the channel even more time than it asked for. Which could be one defence for editing the interview. DD was understandably reluctant to telecast Modi's interaction without first telecasting a similar face-to-face with Rahul, who was still to respond. But the news of the pending interview was put out on Twitter. Soon the story went viral on Internet, with indignant queries raised as to why the interview was being "suppressed".
Prasar Bharati CEO Jawhar Sircar took the professional decision to air the programme in the light of the controversy. The infuriated Congress camp, which regards DD as its domain, has now belatedly granted time for a Rahul interview.
Cover story
The cover of the BJP manifesto, which was released belatedly, has some interesting pointers. For instance, the background of the cover is entirely saffron whereas earlier documents used to be coloured part saffron and part green, the colours of the BJP flag.
The placement of senior leaders on the cover page is also intriguing. Atal Bihari Vajpayee, L K Advani, Murli Manohar Joshi and Rajnath Singh have all been positioned in a vertical line on the left-hand side, while Modi, surrounded by pictures of Arun Jaitley, Sushma Swaraj and all BJP chief ministers, is in a horizontal line at the bottom of the page.
The placements suggest that the figures to the left are the party's emeritus, distinguished party members who are no longer in active service. The intriguing question is why Rajnath Singh, who at 62 is one year younger than Modi, has been lumped with three octogenarians who, one assumes, will be semi-retired if Modi comes to power.
The suggestion emanating from Modi's camp is that, in a new dispensation, Rajnath should continue as party president and not serve in a ministry. That way Rajnath will technically be No. 2 in the party, but not part of the decision-making process in government. But Rajnath's camp is surely interested in a ministerial portfolio?
Amateur input
Last year, before the Assembly elections in Madhya Pradesh, Rajasthan and Chhattisgarh, the Congress set up a special election campaign committee headed by Digvijaya Singh. The members of the committee included Ambika Soni, Jyotiraditya Scindia, Janardan Dwivedi, Manish Tewari, Salman Khurshid, Rajeev Shukla and Deepender Hooda. However, the committee was stillborn and held only one meeting.
The Congress's strategy for the 2014 elections was instead put largely in the hands of three individuals — Jairam Ramesh, Suman Dubey and Deep Kaul. The last two are not in politics but close friends of the Gandhi family. The politicians now blame the party's unimaginative media campaign on this group of  amateurs.
Working holiday
Now that the Tamil Nadu campaign is over, M K Stalin has left with his family on a trip to Hong Kong. His bother Alagiri is in Madurai but planning to leave for the US to meet his daughter. J Jayalalithaa has left for her hill station resort of Kodanadu near Ooty, as she often does. But she has made it clear that it is not vacation but work. She has taken her files and her officers with her to Kodanadu.
For all the latest Opinion News, download Indian Express App
More From Coomi Kapoor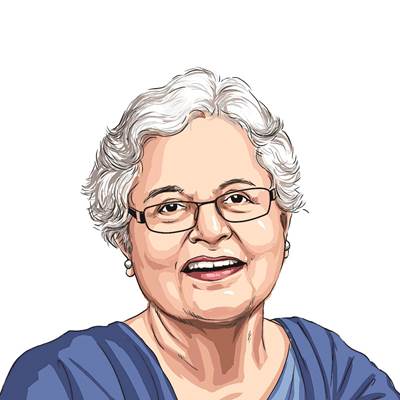 Inside Track: Party before govt?

There are enough straws in the wind to indicate that former BJP president and Union minister Nitin Gadkari is feeling the chill even though, officially,…

Inside Track: Vanishing line

The BJP high command and the PMO have been pressing the chief ministers of BJP- ruled states to furnish statistics of the beneficiaries of different…

Inside track: The 'outsider'

Manipur's Governor Najma Heptulla, who is unlikely to clear the Bill in a hurry, rushed to Delhi last week to apprise Prime Minister Narendra Modi of…