Written by
Khaled Ahmed
|
Updated: February 25, 2017 12:00:22 am
First, two Pakistani players fixed a cricket match in the Pakistan Super League being played in the United Arab Emirates. The Pakistani media reaction was: India did it, through its bookies. Second, a teenage suicide bomber blew up a protest in the heart of Lahore, killing 13, injuring 80. Since terrorist Jamaat-ul-Ahrar, who owned up to the attack, is based in Afghanistan, and since Afghanistan is "eating out of the hands of India", this too was done by India. For good measure, since America is getting chummy with India to Pakistan's cost, a finger was also pointed generally in that direction.
The Pakistani mind is Islamic — but it can't avoid the South Asian touch. Deep down, Kautilya guides the mind through his doctrine of rajamandala (circle of states) in the Arthashastra: "Hostile states are those that border the ruler's state, forming a circle around it. In turn, states that surround this set of hostile states form another circle around the circle of hostile states. This second circle of states can be considered the natural allies of the ruler's state against the hostile states that lie between them."
So, India has invested in Afghanistan and advises a much-threatened-by-Pakistan Kabul closely — the sort of thing Pakistan would do with Bangladesh when ruled by the Bangladesh Nationalist Party (BNP) under Khaleda Zia. You can dismiss Kautilya today as too Machiavellian, but both India and Pakistan are following the "rings" theory of rajamandala. Deeply embedded in this theory are the causes of war that some of humanity has learned to reject.
The first cause of war is the nation-state which validates nationalism binding domestic identities by positing threats from an external enemy. Europe in the 20th century suffered the fallout of nationalism and was disenchanted enough to get rid of the nation-state. With the European Union, states took to trading and investing; borders became irrelevant. Since most states are artificial constructs, their borders are disputed — that is the most salient cause of war, which Pakistan calls the "unfinished business of Partition". If borders are disputed, rivers are even more so. Hence, Pakistan, India and Bangladesh can't get along peacefully. India's rajamandala threatens its inner ring of smaller states and the region is still too primitive to go the way of Europe through a dreamlike SAARC that will cause "connectivity" of trade and investment and make war irrelevant.
Now that the "empire" is folding up, and superpower America is "going home" from its 38 named military bases after fighting wars in Afghanistan and Iraq, apparently at $6 trillion, the world must look out for itself: This means an interregnum of utter disorder till another superpower takes over. This means living without Pax Americana.
When states feel threatened, they re-arm; that becomes a cause of war. States think of securing themselves through deterrent weapons. But deterrence creates the problem of "equivalence": The state against which you want to be safe starts re-arming too. What ensues is an "arms race". India may keep saying its nuclearisation is against China, but Pakistan will feel threatened by it. Which means high-growth India can spend low-growth Pakistan under the table.
But regions must evolve in the direction of trading confederations like the EU — if this evolution is interrupted, war will ensue, even when the warring states are unevenly matched. Pakistan ended up being one of the first states to use non-state actors to "equalise" itself with India. This triggers erosion of sovereignty, now shared with proxy warriors. For Muslims, democracy means gradual disintegration because their central tenet is sharia with jihad as its dynamic principle. Today, global relief comes from Muslim dictators, not from democracies arisen from the ashes of despotism.
States with little internal cohesion used to disappear in old times, but today, the world order is opposed to their disappearance. Imploding societies produce warriors who fight, not for national causes, but for ideas. More and more states can't keep together but go on existing on the map, their populations fleeing violence produced by implosion — and becoming refugees.
The writer is consulting editor, 'Newsweek Pakistan'
For all the latest Opinion News, download Indian Express App
More From Khaled Ahmed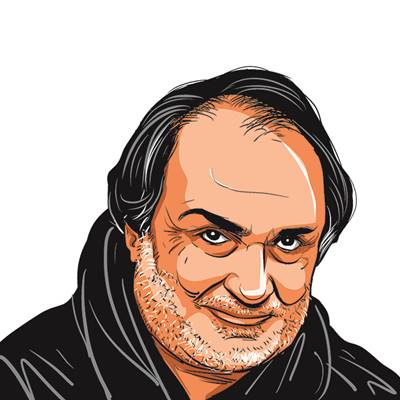 The Ungoverned Land

Islamabad's writ has disappeared from 60 per cent of Pakistan's territory...

Clashing With Kabul

Pakistan is finding it difficult to engage with Afghanistan on the lines it is familiar with..

Chanakya In Our Times

India's use of his concepts of isolationism and involvement confounds Pakistan. ..