Written by
P Chidambaram
|
Updated: November 22, 2015 12:09:35 am
Parliament has been summoned to meet on November 26, 2015. The state of the economy requires more than a summons to the Members of Parliament. Contrary to what the Government's ministers may say in public — and more in line with what some ministers, many officials and practically all businesspersons and bankers say in private — the economy is in poor shape. The tell-tale sign is the flat growth rate: 7.3 per cent in 2014-15, 7.0 per cent in Q1 of 2015-16, and the forecast of 7.3 per cent for the whole of 2015-16.
Disappointing Indicators
Let's look at the usual indicators:
Q2 (June to September) 2015 was the third successive quarter in which net sales of all firms shrunk by 5.3 per cent over Q2 of 2014-15. The manufacturing sector did worse, with net sales shrinking by 12 per cent. For one-fourth of all non-financial firms, operating profits in Q2 were less than interest expenses. Businesses are in the doldrums.
With poor earnings, businesses are not investing. Total proposed investments in private sector projects in the first 8 months of 2015-16 were about 30 per cent less than in the corresponding period of last year. Firms do not seem eager to borrow to invest. Non-food credit in the current financial year is growing at 8.6 per cent, the slowest rate in nearly 20 years. Credit to industry is growing at an even slower rate at 4.9 per cent (which, net of inflation, is the equivalent of zero growth). Credit to medium enterprises actually declined by 6.7 per cent during this period.
In the first half (April to September) of the current financial year, the index of industrial production grew at 3.94 per cent. If we look at manufacturing alone, it was worse, growing at 2.64 per cent. Core sector industries grew at 2.33 per cent in the first half compared to 5.07 per cent in the first half of last year.
The worst performer is exports. At end-September 2015, merchandise exports had declined by 17.7 per cent over last year. October 2015 marked 11 consecutive months of negative growth. Except readymade garments (2.26 per cent), every other group of manufactured goods witnessed a decline in exports. Receipts from export of services declined by 1.4 per cent in the first half compared to the first half of last year. The global slowdown is indeed a major cause, but the rate of decline is worrying because it has happened even as the value of the rupee has depreciated by 6.6 per cent against the dollar.
How True Are the Claims?
At the Delhi Economic Conclave, the Prime Minister made four claims:
1. GDP growth is up and inflation is down.
There is no evidence yet of the former. About the latter, while WPI inflation is down, CPI inflation has inched up since July (3.69 per cent) until October (5.0 per cent). Moreover, food inflation has increased from 2.15 per cent at the end of July 2015 to 5.25 per cent at the end of October 2015, and is expected to rise further. Ask a homemaker about the price of pulses or the cost of healthcare, education or travel and you will get a taste of her anger!
2. Foreign investment is up and the current account deficit is down.
The Government is celebrating the increase in FDI from $36 billion in 2013-14 to $44 billion in 2015-16 as well as the 18 per cent increase in the current year. Between 2005 and 2007, FDI had quadrupled from $9 billion to $37 billion. In 2011-12 it was $46.5 billion. FDI inflows have remained range bound at $36 to $46 billion and there is no perceptible bounce. The current account deficit is low because prices of crude oil and gold are at a historic low.
3. Revenues are up and interest rates are down.
The Government's tax revenues, overall, are expected to fall short of the budget estimates. The 36 per cent increase in indirect tax collections is due to the hike in excise and customs duties. Net of the additional taxes, the increase in collections is only 11.6 per cent, which is normal. Regarding interest rates, RBI itself has expressed disappointment that the cuts are not being passed on to borrowers. If interest rates are really down to attractive levels, why is credit growth low?
4. The fiscal deficit is down and the rupee is stable.
If the Government is confident of containing the fiscal deficit, it should restore the target date of 2016-17 to achieve a deficit of 3 per cent. The rupee is not exactly "stable" — it has depreciated against the dollar but has appreciated against the euro and the yen. Besides, there is no particular virtue in a "stable" rupee, what is needed is an appropriate exchange rate.
Need Vision and Humility
Unless there is an international crisis, India's new "normal" for GDP growth seems to be 7 per cent, and the Government is struggling to achieve that. A sedate growth rate will not put more money in people's pockets, it will not create additional jobs (over and above replacements), and it will not throw up additional resources to tackle the age-old problems that plague infrastructure, delivery of education and healthcare, and providing drinking water, sanitation and housing.
In order to break away from the new "normal", the Government must summon the vision and courage to do bold structural reforms (a la 1991-92) as well as the grace and humility to engage the Opposition and accommodate their views.
Website: pchidambaram.in
@Pchidambaram_IN
For all the latest Opinion News, download Indian Express App
More From P Chidambaram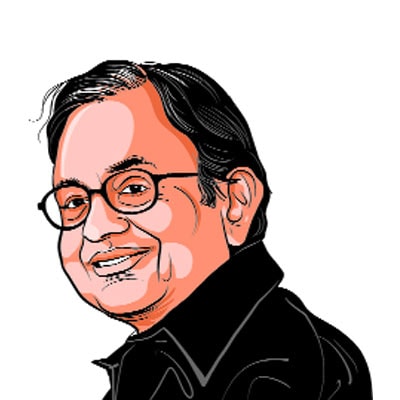 Five steps to Nirvana

External events are impacting the Indian economy. The government is unwilling to alter or calibrate its positions on the projected growth rate, government expenditure, NPA…

A big ask in election year

The consequence is that the government revenue has become oil-dependent, government is loath to give up easy revenues, and there is mounting anger among the…

Across the Aisle: Black to white magic

RBI had done no study or preparatory work; yet the Central Board of RBI hurriedly met on November 8, without an agenda and without a…