I was in Pakistan over the weekend on the invitation of my Cambridge college mate, former Pakistan foreign affairs minister Khurshid Mehmood Kasuri (2002-07), who has started the Regional Peace Institute in Islamabad, under whose aegis he has commenced a series of three "Pakistan-India bilaterals", with part-funding from the Hanns Seidel Foundation of Bavaria. Our team was made up of academics, economists, social sector experts and media personalities rather than the usual suspects — politicians of the "has-been" or "never-will-be" hue, the sole exception (apart from me) being our former Congress foreign minister (2012-14), Salman Khurshid. Like Salman himself, most members were first-time visitors to Pakistan or new to track two exercises. They therefore brought fresh perspectives to bear on well-worn themes. The Pakistani team was, to some extent, similarly constituted, but significantly included two former directors-general of the notorious ISI, Generals Asad Durrani and Ehsan ul-Haq, two former ministers, a phalanx of former Pakistan envoys to India, leading media personalities and a few academics. Besides our exhausting day-long deliberations, opportunities were provided by our hosts and High Commissioner T.C.A. Raghavan for interaction with a broad spectrum of former top armed services personnel, distinguished Pakistani diplomats, ministers and politicians, both defeated and in office (including Sartaj Aziz), and other well-wishers. Since the whole visit lasted under 36 hours, here are a few fleeting impressions.
The attitude to the incoming Modi government may be summarised as a perplexed welcome. The Pakistanis are always better disposed to a non-Congress government for a number of complex reasons. First, the Muslim League-Congress rivalry in the run-up to Partition has left a deep and abiding anti-Congress streak in the Pakistani mindset. Second, while the BJP/Sangh Parivar's Hindutva agenda sparks a certain element of concern and apprehension in Pakistan, subconsciously, the emergence of a Hindu India would finally validate the case for a Muslim Pakistan. The insistence on a secular state on our side of the border has left the Pakistan project incomplete and with little rationale. Third, the Morarji Desai government, in which Atal Bihari Vajpayee was the foreign minister, continues to be seen as the only Indian government that treated Pakistanis as equals and did not involve itself in Pakistan's internal affairs, even as General Zia ul-Haq hanged Zulfikar Ali Bhutto. The legacy of the Vajpayee government, in particular the great "emotional breakthrough" of his visiting the Shaheed Minar to signal his party's definitive acceptance of Pakistan, quite overwhelms any recall of Vajpayee's mobilising a million jawans along the Pakistan border for a whole year or the collapse of the Agra talks. As for Modi, he is seen as a "strong" leader who, unlike Congress prime ministers, is not beholden to even party opinion, leave alone public opinion. Such authoritarianism reverberates well in the Pakistani mind.
At the same time, never before in my 35 years of frequent interaction with Pakistanis, and in the 35 visits (at least) that I have made to Pakistan since I returned from my diplomatic posting in Karachi 32 years ago, have I encountered such a broad spectrum of pessimism about Pakistan's future. This perhaps has much to do with ordinary Pakistani citizens' fury and helplessness at the Tehreek-e-Taliban Pakistan's terrorist attack on the Karachi airport on the eve of our visit, but it has much more to do with the widespread belief that the Nawaz Sharif government just does not have the will or ability to deal firmly with the Islamist menace to the internal security of their Islamic state. One participant frankly stated that the Nawaz government's political base in the critical province of Punjab is founded on its links to Hafiz Saeed's Jamaat ud-Dawah and, therefore, far from being able to tackle the terrorists, Nawaz depends on them for political survival. This is a view frequently heard in India but, to my ears, it was the first time I had heard it in Pakistani mainstream circles. Another friend, just about as mainline as you can get, warned that Pakistan was on the brink of an "implosion".
I personally find such pessimism exaggerated, but in the face of this build-up of internal security and domestic political pressure, it is unsurprising that many segments of Pakistani opinion, military or civil, political or non-political, media-based or outside the media, are persuaded that a via media with India must be found in Pakistan's own interest — even if there is far from unanimity on how this is to be found. Where there is a kind of subterranean unity is in the view that the ball lies in India's court and it is for India under the new government to make the first move, the key being the dropping of "preconditions" to dialogue, particularly those relating to terror, and the assurance of peace being delivered with "honour". There is little acknowledgement of how unrealistic this is in the face of the BJP's stated position, but the "window of opportunity" was projected as "six months", after which, it was held, any dramatic breakthrough could be ruled out.
Expectations of a breakthrough are, however, hedged in by what is seen as a bad beginning — not the invitation to the swearing-in, which is appreciated, but the briefing on the Modi-Nawaz talks by our foreign secretary, which the Pakistani media have portrayed as Sujata Singh indicating that Nawaz was given a wigging by Modi, to which he failed to adequately respond, and that Nawaz steering away from Kashmir and the Hurriyat amounted to what the BJP used to call "tushtikaran (appeasement)". The morning after my return, I saw headlines about Defence Minister Arun Jaitley having stated in Srinagar that any violation of the Line of Control would jeopardise all progress in Indo-Pak relations. That is going to add fuel to the Pakistani suspicion that the Modi government may be interested in imposing a peace without honour on the northwest corner of our subcontinent but is not in a mood to initiate talks among sovereign equals. The silver lining hoped for is that since Modi's core constituency comprises Gujarati businessmen (including Khojas, Bohras, Ismailis and Memons, the key Muslim business communities), the renamed version of the most favoured nation treatment treaty with Pakistan might furnish him with the excuse for the first bilateral prime ministerial visit by an Indian PM to Pakistan since Rajiv Gandhi went there in July 1989 and Vajpayee a decade later.
But even if such a visit were to take place, it would not succeed unless Modi and Nawaz cease being in denial over the enormous progress made on the back-channel under Pervez Musharraf and Manmohan Singh, which, for the first time, has been made public by special envoy Satinder Lambah in a speech in Srinagar in May 2014, on the eve of his laying down office. Khurshid Kasuri and Natwar Singh's forthcoming books, slated for publication around the same time in the next few weeks, will significantly augment public knowledge of the back-channel talks. That initiative sputtered over Musharraf's troubles with his judiciary in 2007. But so long as Modi and Nawaz, the latter obsessed with preparing the gallows for Musharraf, engage in a conspiracy of denial over progress in 2004-07, further progress, if any, will be at snail's pace.
The writer is a Rajya Sabha MP from the Congress
express@expressindia.com
For all the latest Opinion News, download Indian Express App
More From Mani Shankar Aiyar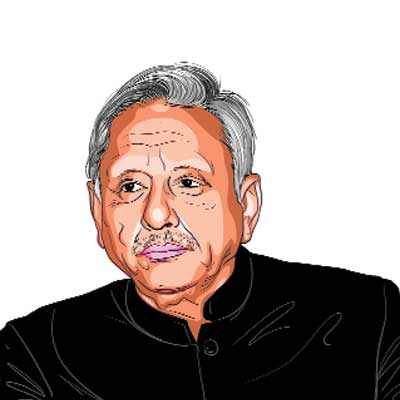 Mixed Doubles

An exhaustive account of PN Haksar, who helped steer Indian diplomacy with then PM Indira Gandhi..

The four year toll

BJP-led government might be good at coining acronyms but the people know that it has only marginally built on the legacy of Congress-led governments...

Panchayati raj at 25

Every state is progressing, some at snail's pace, others leapfrogging. Much remains to be done...