Written by
Tavleen Singh
|
Published: September 8, 2013 3:02:53 am
Let me begin by recounting a conversation I had with a political princeling. I do this in the hope that it will persuade you that democracy is weakened when parliamentary constituencies become fiefdoms. And,that it will remind you that we cannot hope for corruption to end and governance to improve as long as long as we continue to turn a blind eye to the feudalism that has crept so insidiously into the structure of Indian democracy and enfeebled it.
The princeling I had the conversation with was in his late thirties at the time and had failed to hold down a job in the real world despite his parents having paid for him to have an expensive education in the United States. So like a spoilt child demanding a new toy he was haranguing his political parent to help him become an MP. I happened to overhear the conversation and asked the said princeling why he wanted to be in politics. His answer came in one word,'Money'.
I was reminded of this conversation on the morning I sat down to write this column because of a story that appeared in The Mint newspaper based on statistics from Patrick French's book India: A Portrait. The book came out some years ago but the statistics remain frighteningly relevant. Of these the most frightening is that 86 per cent of MPs under the age of 40 in this Lok Sabha are from political families. Punjab,Delhi and Haryana have more than 70 per cent hereditary MPs,and Uttar Pradesh and Andhra Pradesh come next at close to 40 per cent. It is smaller regional parties that have most eagerly embraced hereditary democracy,but of the national parties,the Congress comes first with 78 of its 208 MPs counting as hereditary.
The Congress is proud of this record. Its most garrulous spokesperson,Renuka Chowdhury,once said on national television that the best kind of political leader India could hope for was the hereditary kind because "we have spent years training our children". If I had not been on the same show I would have found it hard to believe that anyone could have said such a thing.
The truth is that the worst kind of political leader is the kind who inherits a constituency. If we want parliamentary democracy to put down stronger roots,if we want our abysmal standards of governance to improve,we must start electing MPs who are genuinely interested in public service. Not those who are motivated by money,power and the allure of a house in Lutyens Delhi. Those in favour of hereditary democracy argue that it will survive as long as people vote for political princes and princesses,the argument being that political parties give tickets to those who are 'electable'. And there is a kernel of truth in this but only a kernel.
Having travelled at election time in the constituencies of political heirs,believe me when I tell you that it is quite easy to guarantee victory for those who inherit their seats from a powerful political leader. And,if as happened with Mulayam Singh Yadav's daughter-in-law,the heir or heiress fails to win,then other ways can be found. When this lady's husband became chief minister of Uttar Pradesh he ensured that his wife went to the Lok Sabha from his own constituency unopposed. She joined other daughters-in-law and daughters,none of whom has shown political acumen or public concern. It is not as if their brothers have done much better,and this becomes painfully evident when they become ministers and chief ministers and fail to bring about urgently needed changes in governance and public standards.
What they do achieve almost instantaneously is to bring about a huge improvement in their own standards of living. Suddenly appear signs of unexplained wealth in the form of new homes and cars and in the new accoutrements and jewels that appear on the persons of their progeny. In your newspapers recently,if you had paid attention,you would have seen the picture of a famous political leader and his family on a pilgrimage. If you looked carefully,you would have noticed that the ladies carried Chanel handbags that cost a minimum of Rs 2 lakh. And,how do our 'socialist' leaders get so rich so suddenly? Well,what can I tell you that you do not know except to say that the ways to make money out of even a short career in Indian politics are limitless.
As for the princeling who wanted a career in politics because he wanted to make money,he succeeded. He sits in the Lok Sabha to this day,drives a fancy car and holidays in foreign lands with his wife and children. It is when you bring up a political issue that you realise he should never have been in politics.
Follow Tavleen Singh on Twitter @ tavleen_singh
For all the latest Opinion News, download Indian Express App
More From Tavleen Singh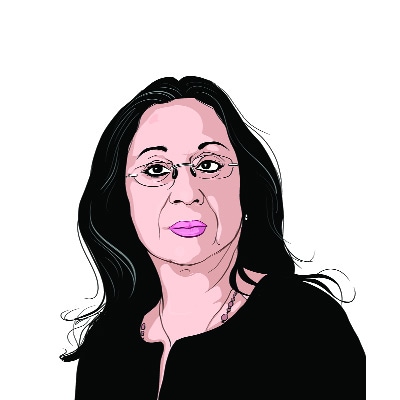 Towards a Hindu Pakistan?

If the BJP does manage to win a second term, the Prime Minister would do well to ask himself why we have violent Hindutva instead…

Back to old times?

For those Indians who gave Modi a full majority it was because the words 'parivartan' and 'vikas' came as music to their ears...

Fifth Column: What can Modi do now?

So can Modi do anything in the next few months that would restore the lustre that once made him seem undefeatable? There are those who…