Written by
Debraj Deb
| Agartala |
Updated: August 10, 2018 10:16:23 am
Nearly two thousand Left farmer trade union supporters Thursday courted arrest in Tripura after a 'civil disobedience' agitation held in eleven places against central government's alleged attack on peasants and workers. Seven trade unions organised the stir as a part of a nationwide protest by different peasant bodies.
The movement was organised by the Kishan Mazdoor Joint Forum in 450 districts of the country today.
Speaking with indianexpress.com, Assistant Inspector General Smriti Ranjan Das said 1,950 persons courted arrest from different districts till latest reports came in. The agitation started at 10 am today and is slated to continue till 4 pm in different places.
"We have deployed proper security arrangements in all major locations where the protests were organised. There is no report of clash with police or any other political party. We are still receiving reports from different districts. The figure of arrested agitators may rise," the official said.
He added that tear gas shells and water cannons were used to disperse a protest gathering at Agartala.
However, the All India Krishak Sabha (AIKS) state secretary Narayan Kar alleged largescale violence by BJP supporters on picketers.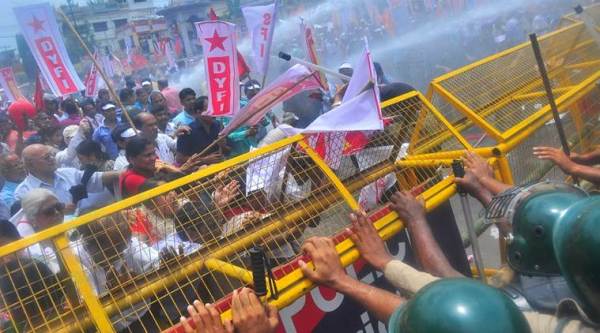 "BJP-supported hooligans led charge on farmers at Gandacherra in Dhalai district, Panisagar in North Tripura and Amarpur in Gomati district on their way to protest rallies," he said.
Kar also claimed police fired tear gas shells and trained water cannons on agitators, including former chief minister Manik Sarkar, who gathered at Paradise Chowmuhani in Agartala to join the protest.
Former Deputy Speaker of Tripura Assembly Pabitra Kar, who was drenched after the protest at Paradise Chowmuhani, said Agartala city was barricaded in a war-like situation to prevent the rally. He added BJP workers tried to prevent left supporters from joining the movement.
BJP spokesperson Mrinal Kanti Deb, however, rubbished the allegations and said left parties were trying to sensationalise the situation for political benefits.
"The very fact that they are able to hold rallies right after new government's formation is proof that there is no political victimisation. Our supporters attacked nobody. They are trying to make baseless claims to get public attention," Deb said.
Two policemen were injured in Agartala during a scuffle with picketers as the latter tried to break through police barricades. Constables Harilal Debnath, 40, and S Sarbanand, 30, were injured and taken to Indira Gandhi Memorial (IGM) Hospital for treatment.
All India Krishak Sabha, All India Khet Majdoor Union, Tripura Upajati Gana Mukti Parishad, Kisan Sabha (Ajay Bhavan), Sanjukta Kisan Sabha, Agragami Kisan Sabha and All India Kisan Mahasabha organised the protest in Tripura.
All left parties, including Communist Party of India (Marxist), Communist Party of India, Revolutionary Socialist Party, All India Forward Bloc, Communist Party of India (Marxist Leninist) have joined the agitation.
The picketers hoped to submit a deputation to District Magistrates in all eight districts as part of the movement. However, the rallies were halted midway by police barricades.
This agitation was one of CPIM and allied left parties' first major political protest since the poll debacle in Tripura in February this year.
CPIM-led Left Front, which ruled Tripura for the last 25 years since 1993, was reduced from 51 seats in the state Assembly to 16 seats in the February 18 assembly election results. BJP, which had no representative in the Assembly, shot to power with Indigenous Peoples Front of Tripura (IPFT) as an ally and emerged victorious in 44 seats together.
The Indian Express website has been rated GREEN for its credibility and trustworthiness by Newsguard, a global service that rates news sources for their journalistic standards.