Tensions brewed up in the Mizoram Pradesh Congress Committee as Home Minister R Lalzirliana tendered his resignation on Friday, leaving the Congress government led by Lal Thanhawla in disarray. In his letter, Lalzirliana said his resignation was in protest against the unfulfilled promised to recognise Saitual areas as a district in the state.
Mizoram Congress Party leaders, including Rahul Gandhi and Chief Minister Lal Thanhawla, had promised a district status at Saitual, which falls within Lalzirliana's constituency where he has been elected for four consecutive terms since 1998.
However, the reasons cited by the home minister does not go down well with many members of the state Congress party as Lalzirliana was earlier show caused by its disciplinary committee, to which he said the incident has "pained me".
The disciplinary committee, in its letter, cited that Lalzirliana has failed to give a speech of his loyalty towards the Congress party amid reports of him joining the Mizo National Front, where he was listed among the official candidates for the upcoming state election by the Mizo National Front Nominee Committee.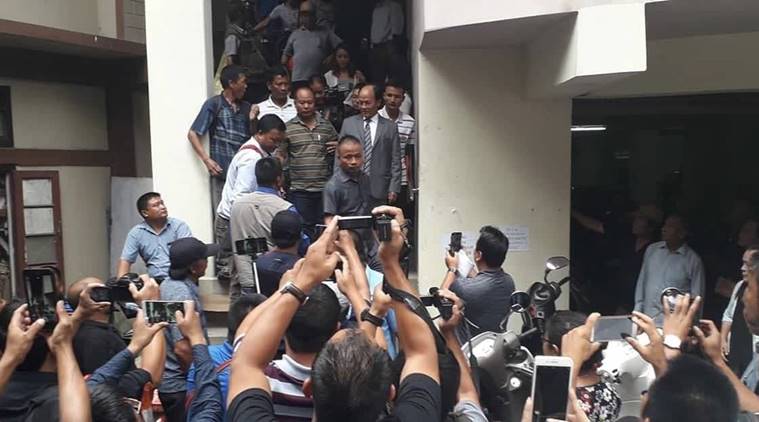 On Wednesday, the disciplinary committee asked its vice president to pledge his loyalty and explain as to why disciplinary action should not be taken against him before 3 pm on September 14.
But, the home minister today refused to meet the disciplinary committee and said, "I have no reasons to meet the disciplinary committee as I'll no longer hold the position of home minister."
In the letter addressed to the Chief Minister, Lalzirliana said: "Considering the state budget, I have strong belief that it is an easy task to function the already promise district status to Saitual area.
However, despite several demonstrations of Saitual people demanding to run the district headquarters, our government is doing nothing to fulfill your promise. Hence, feeling helpless and awkward in the position of the state cabinet, I would like to hand over my resignation."
The Indian Express website has been rated GREEN for its credibility and trustworthiness by Newsguard, a global service that rates news sources for their journalistic standards.