A 150-odd km drive from Aizawl, in a small town called Hnahthial, stands a double-storeyed, red building. In one of its rooms stands a shiny cabinet that reads 'Jeje Lalpekhlua'. Filled with hundreds of gongs, cups, golden boots, medals, signed balls, and jerseys addressed to the same name, the trophy cabinet charts the compelling journey of Jeje Lalpekhlua, India's second-highest-paid footballer. Lalpekhlua, whose paycheque amounts to Rs 1.3 crores per year, started his footballing journey in his small town as a defender but still won a top scorer trophy in a district level tournament. That was when his uncle, Lianhminga, also a Mizoram striker in his day, decided to deploy Jeje as a striker. A worthy decision. 'The Mizo Sniper', as he is fondly called by his fans, hit the limelight after a spectacular performance at the Wai Wai Cup held in Mizoram and subsequently made it to Mizoram and India Under-19 team.
"His only dream was to become a professional footballer," says F. Liankima, Jeje's father, a state government officer and a part-time footballer.
Jeje went on to sign for Pune FC, the then 2nd division club and captain India Under 19-in the South Asian Games. But, it was the establishment of Indian Arrows, an All India Football Federation developmental side in 2011, that marked a change in the fortunes for Jeje.
He made his name as a nippy young striker in the country's highest league and plundered 13 goals from 15 matches for the Indian Arrows. In 2011, he was called up to the national squad for the first time and made his debut against Chinese Taipei in the 2012 AFC Challenge Cup qualification and scored on his debut.
"If I had told people I'll score a goal in my first match for India, I'd be called a fool. No words can describe what it means to represent your country and score a goal on your debut," says Jeje.
Today, Jeje has played 51 matches for India and scored 22 goals with 15 assists. The figures make him arguably one of the best strikers in the country. "When he was young, he struggled a lot in his studies and would spend the whole night studying sometimes. He is that kind of person," says Jeje's father.
Although his finishing ability and intelligent positioning have sometimes led to comparisons with Bhaichung Bhutia, Jeje has tried to play down comparisons.
"Bhaichung is a legend and my idol, but I do not want to be the new Bhaichung. I want to make a name for myself ," he says.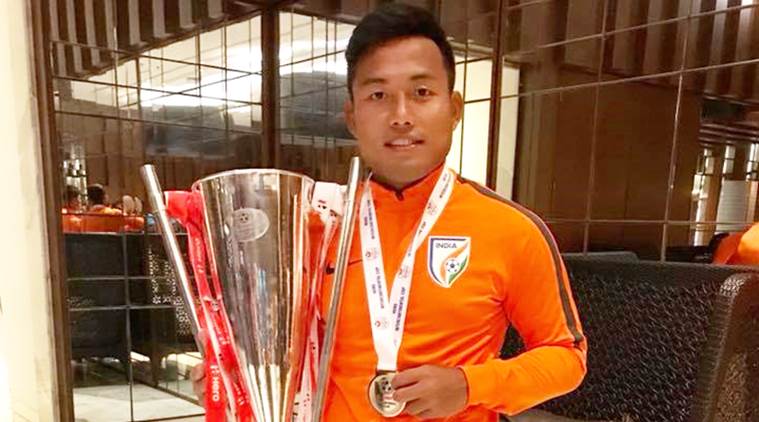 A hard-working player, Jeje knows that the world of football is not a forgiving place. "You need to be consistent, follow an incredible work ethic and set goals every day," says Jeje. "If not, the game will pass you by with no remorse."
Jeje's understanding with fellow striker Sunil Chhetri in the Indian National team forms an emphatically lethal striking partnership. "I always stand by the words, 'Hard work beats talent' which makes me believe that art of goalscoring can be mastered through practice," says Jeje, as he used to take 'finishing practice' from Elano, the Brazilian midfielder with whom he shared the dressing room in Chennaiyin FC.
Indian football team, only for the fourth time in its history will play Asian Cup 2019 in Dubai and Jeje already has his eyes and mind set on the biggest football tournament in the continent.
"This is our chance, and I hope we can make you all proud," he says as India has been drawn into Group A along with hosts United Arab Emirates, Thailand and Bahrain.
Jeje, who was the AIFF and FPAI Indian Player of the Year in 2016, also scores off the field — albeit in a different way! The striker is known to actively promote and play regular charity matches in Mizoram. "It's a small gesture. I just want to give back to the people who have given me so much," he says.
The Indian Express website has been rated GREEN for its credibility and trustworthiness by Newsguard, a global service that rates news sources for their journalistic standards.