As early as 1935, Jyotiprasad Agarwala, an iconic playwright in Assam, produced the first film in North East India. Joymoti, released in 1935, marked the birth of film industry in Assam and the North East. But since then, movie-making has not really created any significant stir in the region, except for two states – Assam and Manipur, both of which have a regular filmmaking tradition. Filmmakers from the other northeastern states have also bagged international film awards, mostly for documentaries.

The disconnect of North East with the rest of India can also be attributed to the absence of stories about the culture and society in the region on the silver screen. Bollywood, even when it comes to the Northeast, does so only to use its natural beauty as a backdrop. It hardly ever seeks to showcase the culture or people of the place.
Of late though, overcoming the many constraints, young filmmakers are weaving celluloid dreams to tell stories relevant to the region. Naga film director Tiakumzuk Aier, who bagged an international award for his maiden venture, stands testimony to the emergence of a new breed of filmmakers in the region.
Have a look at five films made in North East India which have garnered international and national attention in 2017.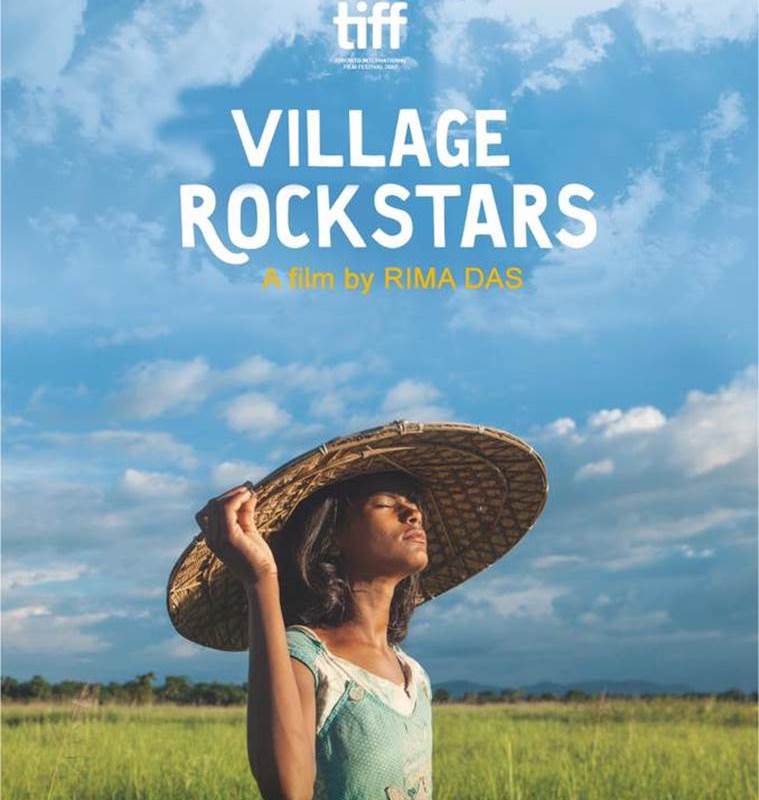 1. Village Rockstars
Village Rockstars is an 80-minute Assamese drama directed by Rima Das. Das, a self-taught filmmaker, shot the film almost single-handedly on a minuscule budget. She did everything but star in the film – writing, directing, filming, editing and producing it. After the film's premiere at the Toronto International Film Festival in September 2017, Village Rockstars won best Indian film and two other prizes at the Mumbai Film Festival. It was screened at many national and international film festivals. It won the coveted Golden Elephant for Best Director (Feature Film) Competition Asian Panorama by Adult Jury at the 20th International Children's Film Festival. The lead actor, Bhanita Das, bagged the Special Jury award for the Best Child Performer.

Village Rockstars tells the story of a girl, Dhunu, who has grown up in deprivation. While her mother struggles to make ends meet, Dhunnu dreams of owning an electric guitar and forming a rock band in a flood-ravaged village in Assam.  Acclaimed Hong Kong-based film critic Maggie Lee describes Village Rockstars  as "Pluckily optimistic and unsentimental to a fault, writer-director Rima Das' second film is a tonic to third world poverty porn."
IMDb Rating – 6.4/10
2. III Smoking Barrels 
Sanjib Dey with his debut film, III Smoking Barrels, an anthology of three stories from Northeast India, depicts the socio-political scenario of the region. III Smoking Barrels was the official selection in the International Competition section at the 66th International Film Festival Mannheim-Heidelberg, the second oldest film festival in Germany after Berlin.
The multilingual film, inspired by true events, after a successful World Premiere at the 38th Durban International Festival, made its India premiere at the International Film Festival of Kerala (IFFK). The film is a seamless blend of 6 languages — English, Hindi, Bengali, Assamese, Nagamese, and Manipuri. It was filmed over a period of two years set in various politically sensitive locations in North East India with technicians from Mizoram, Manipur and Nagaland, and other parts of the country. Produced by Amit Malpani, the film stars seasoned actors Indraneil Sengupta, Subrat Dutta, Nalneesh Neel, and Amrita Chattopadhyay.
 IMdB Rating- 7.9/10
3. Nana – A Tale of us 
The Church-funded production, Nana – A Tale of Us, is a Nagamese-language drama film directed by Dreamz Unlimited founder Tiakumzuk Aier. 2017 was a big year for the fledgeling film industry in Nagaland which saw the emergence of a new directorial voice. Set at the backdrop of corruption-ridden society and the need for Clean Election in Nagaland, this 1-hour 40-minute film became the most expensive Naga film to be produced with a budget of Rs 25 lakh. Upon its release on July 18, 2017, the film achieved critical and commercial success in the state. It made a grand international debut at the 2nd Edinburgh Festival of Indian Films and Documentaries (EDIFD), Scotland's biggest showcase of the best in new and classic Indian Cinema. Director Taikumzuk Aier won the prestigious Golden Calton award for Best Director. According to film critic Dr Piyush, Nana is one of the finest films to come out of India in 2017.
The film stars Zhokhoi Chuzho, Mengu Suokhrie, Watipongla Kichu, Ariensa Longchar and Bokavi Swu.
4. Pahuna – The Little Visitors
Produced by Priyanka Chopra's home productions Purple Pebble Pictures, Pahuna – The Little Visitors became the first Sikkimese feature film for the Indian market, completely shot in Sikkim with a local cast of unknown actors, written and performed entirely in Nepali. Directed by first-time filmmaker Paakhi A Tyrewala, the children's film received a standing ovation at Toronto International Film Festival 2017.
Pahuna is a film about three Nepalese children who get separated from their parents while entering the Indian state of Sikkim from Nepal. After getting separated they follow the crowd and find themselves in Sikkim. The film follows their journey in the new land, surviving only on the kindness of the hill people and their resolve to protect each other.
IMbD Rating – 8.8/10
5. Mission China
Mission China is an Assamese language action drama film directed by Zubeen Garg and produced by Garima Saikia Garg under the banner of 'I Creation Productions'. Mission China is being considered as a milestone in the history of Assamese cinema in terms of budget and box-office collection. Despite a weak plot, Mission China registered sales as high as Rs 39.97 lakh on the very first day of release. Mission China is the first Assamese film to give Bollywood films a run for their money in the last two decades.
The Indian Express website has been rated GREEN for its credibility and trustworthiness by Newsguard, a global service that rates news sources for their journalistic standards.