Written by
Surabhi
| New Delhi |
Published: December 30, 2013 12:57:17 am
2014 will see new entrants in the banking sector and the RBI is also pushing for alternative banking channels,such as white label ATMs,to bring unbanked areas under its fold
With more than half the country still unbanked or financially under-served,RBI governor Raghuram Rajan had urged banks to think out of the box when it comes to financial inclusion and not just limit themselves to opening bank accounts.
"Innovation in reaching out to the under-served customer,rather than simply posting higher numbers in branches or bank accounts opened,has to be part of our efforts," he had said on November 15.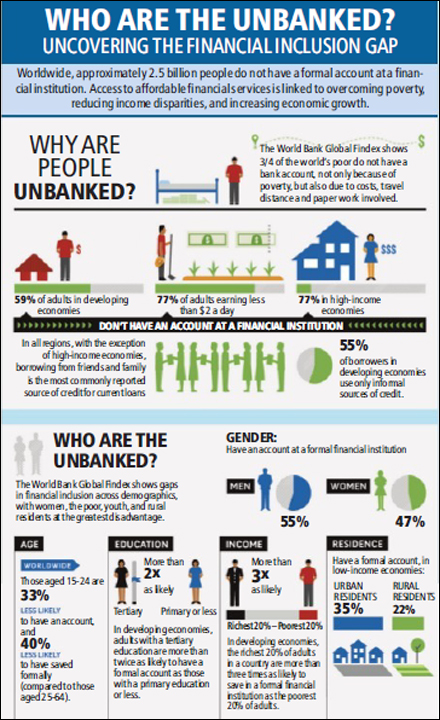 Innovation will certainly be the name of the game in 2014 that will see new entrants in the banking sector as well as the possible rise of a host of alternative banking channels to make formal credit mechanisms more accessible.
White Label ATMs,innovative techniques for doorstep banking and pre-paid cards for making purchases,money transfers and even saving for pensions are on their way to make formal banking more accessible for a country where just 35 per cent of adults have access to a formal bank account and eight per cent borrowed formally in the last 12 months.
The findings,which are a part of the World Bank Findex Survey 2012 also reveal that only two per cent adults use a bank account to receive money from a family member and only four per cent use an account for payments from the government.
In 2014,White Label ATMs could possibly be a game changer in the area of financial inclusion. Of the 13 companies licensed by the RBI for WLAs,Tata Communications Payments Solutions has already begun operations while Muthoot Finance is set to launch early next year.
"We have applied to the RBI for final approval,which is likely by the first week of January. So,we shall start rolling out ATMs 30 to 45 days after that," said KR Bijimon,chief general manager,Muthoot Group,which plans to set up 9,000 such ATMs within three years of operations.
Meanwhile,Tata Communications Payment Solutions,which launched WLAs under the brand Indicash in June 2013 plans to deploy 5,000 such devices by June 2014.
"We have already set up 600 WLAs in Tier III cities and below in states including Maharashtra,Kerala,Karnataka,Delhi,West Bengal. Most WLAs are witnessing reasonable number of transactions," Sanjeev Patel,CEO,Tata Communications Payment Solutions Limited had said.
White Label ATMs are typically unbranded automated teller machines that do not belong to any particular bank. Proposed by the RBI in June 2012,they provide banking services to domestic customers of all banks through debit,credit or pre-paid cards for cash withdrawal,balance inquiry or mini-statements.
The central bank's intention is to improve penetration of ATMs in the country,which are close to 1 lakh in number but are predominantly deployed in Tier I and II cities. Industry estimates reveal that India is lagging behind and has just 98 ATMs per million of population compared to 211 ATMs in China for every one million people. Accordingly,RBI has directed that a majority of WLAs must be deployed in Tier III and lower cities.
"We have a good presence across the country and will use it to expand the scope of WLAs. Even if we do not earn much profit from it,we will consider it as a part of out financial inclusion efforts," said Bijimon.
Muthoot,which has partnered with FIS and Federal Bank,estimates that to break even,every WLA must have 80 to 100 customers every day. The transactions will not be charged to customers but to banks.
Even Patel agreed that transactions at WLAs may not be sufficient for most operators to break even and put the onus on banks to open more bank accounts. "We can keep putting such ATMs but banks also need to do their job and open more bank accounts as well as hand out cards to customers," he said.
In the interim,Tata Communications Payment Solutions is also looking to tie up with companies to provide value added services such as bill payments,advertising,sales of other products and remittances at these ATMs.
Innovation,will certainly be a game changer as financial institutions and NBFCs also explore other avenues such as pre-paid cards to channelise savings of the poor and those living in remote areas.
For instance,Invest India Micro Pension Services has tied up with Visa to provide pre-paid card based micro payment solutions to take deposits for pensions. "It's as simple and reliable as a mobile phone recharge," said Gautam Bhardwaj,co-founder and managing director,IIMPS,which started out providing pension solutions to the remote Paniyan tribe in the Nilgiris in Tamil Nadu and now boasts of over 7 lakh customers across 14 states.
Using mobile technology,these subscribers can transfer their pension contributions to an escrow account from where it is invested in approved products. In return,the subscriber gets a text message,confirming that his or her money has been safely deposited.
Muthoot,too is foraying in a larger role in the pre-paid card segment with a money transfer facility that is aimed at migrant labour.
"We are already providing pre-paid cards to over 20,000 customers who can use it at specified stores where Muthoot has tie-ups. We are now repositioning it as a money transfer card," said Bijimon. The NBFC,which is already engaged in transfer of foreign remittances,will position the new facility at migrant labour across the country.
📣 The Indian Express is now on Telegram. Click here to join our channel (@indianexpress) and stay updated with the latest headlines
For all the latest News Archive News, download Indian Express App.