Written by
Mihir Mishra
| New Delhi |
Published: January 2, 2014 11:02:45 am
Automobiles companies with heavy line up of diesel vehicles have started to face the heat as buyers shift their preference back to petrol cars over diesel-powered vehicles,but Maruti Suzuki India,Hyundai Motor ahead of pack.
The fall in sale of diesel vehicles is primarily due to the government's decision to increase diesel prices gradually and decontrol the fuel eventually.
According to industry estimates,share of diesel vehicle sales in the overall passenger vehicle sales has come down to 54 per cent between April and November this financial year from 58 per cent in the corresponding period of the previous year.
* Buying a new car? Check price
The sluggish demand for diesel vehicles impacted sharply sales of companies like Mahindra & Mahindra Ltd and Toyota.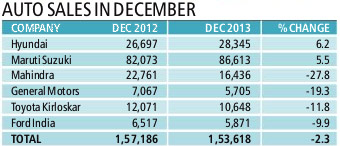 The two companies saw sales during December declining by 27.8 and 11.8 per cent respectively. All vehicles in M&M's portfolio are diesel and a large part of Toyota's sale come from the diesel-powered Innova.
The clear winner from this shift to petrol from diesel are Maruti Suzuki India and Korean carmaker Hyundai Motors,which have registered a 5.5 and 6.2 per cent increase in their sales during the month,respectively.
Sales at Maruti Suzuki India were largely driven by demand for entry-level models like petrol-powered Alto,WagonR and A-Star,grew by 16.7 per cent to 38,286 units and entry-level sedan Swift DZire that registered a 18 per cent increase to 15,427 units in December.
At Hyundai too,demand for new entrant Grand i10 boosted domestic sales numbers during the month.
The growth in sales by country's two large automobile companies,however,could not arrest the fall in automobile sales in December and six of the country's automobile manufacturers posted a decline of 2.3 per cent during the month
Automobile companies believe that the worst for auto sector is over with 2013 and they expect the volumes to pick up after general elections get over.
"While the immediate turnaround in the auto Industry is not expected without certain policy corrections and support,the worst seems to be over. At Mahindra we hope that the new year will bring in the much needed cheer for the Auto Sector," Pravin Shah,chief executive officer,Automotive Division,Mahindra & Mahindra Ltd was quoted in their release.
"The market sentiments do not seem to be improving. In the last few months,we have made our best efforts to control inventory both at TKM and at our dealers end," Toyota Kirloskar Motor (TKM) deputy managing director and chief operating officer,marketing and commercial,Sandeep Singh said.
📣 The Indian Express is now on Telegram. Click here to join our channel (@indianexpress) and stay updated with the latest headlines
For all the latest News Archive News, download Indian Express App.