For the past few months,a pink,blue and green structure resembling a metallic caterpillar has been zipping overhead of narrow roads,decaying slums and mangroves in Wadala and Chembur. Cars have been halting to take a picture,people in high-rises staring at it from their balconies,and children in slums underneath egging it on it with cries and outstretched arms.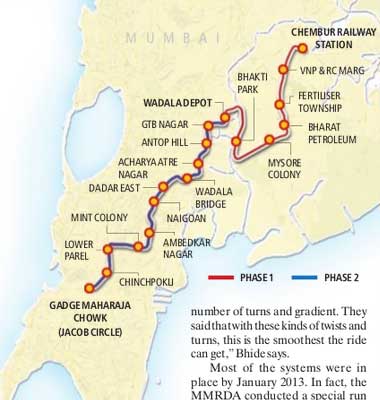 The monorail,a mass transit system few countries have,is coming to India for the first time,though two years late.
Five years after construction started,Mumbai's development authority MMRDA is set to open the first phase to the public in January. Of the 19.5-km corridor from Chembur to Jacob Circle in Byculla,the first phase will run 8.8 kilometres until Wadala. The completed route will be the world's second longest,after the one in Japan's Osaka.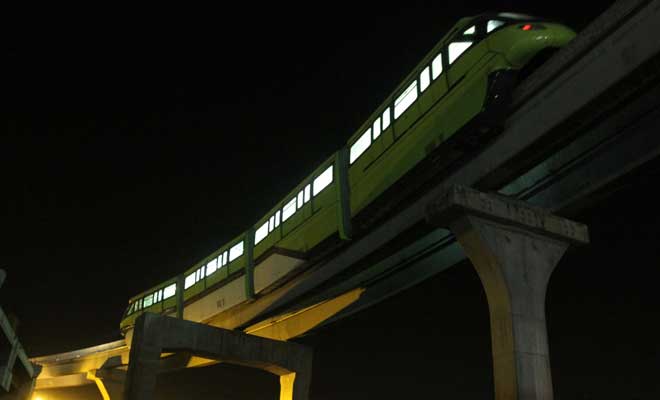 "We have achieved more than 90 per cent reliability," says Ashwini Bhide,additional metropolitan commissioner with the MMRDA. "However,before the monorail is ready for commissioning,we need to reach a reliability level close to 100 per cent for 15 continuous days. We have been able to do that for about 10 days now."
A few others steps remain. Documentation is involved in the handover from the project team to operations and maintenance,something Bhide hopes to complete over the next few days. The project also needs final safety clearance from a former commissioner of railways; a senior official says it won't get that until the opening rules are published. "The draft rules are published but the final rules have to be notified. The file is with the chief minister's office," the official says. The commercial rules are currently in the public domain for suggestions and objections,but their publication is not mandatory for final safety clearance.
Pluses and minuses
The monorail,which runs on a single rail (guideway beam) that grips the wheels laterally from either side,is preferred when densely populated areas are to be connected with not much free space available. The beam is just about a metre wide,the size of a divider or a small footpath,and rests on single pillars about 6.5 metres hig1h. Besides,monorail systems can negotiate steep gradients and a turning radius as low as 50 metres,making them suitable for crowded areas such as Chembur,Antop Hill and Parel. The rubber tyres on concrete beams make very little noise. It is also possible to have an open station inside a residential building with the train running through the building.
Many believe the monorail,however,is more useful as a feeder service to Metro and suburban railway stations rather than as a mass transit system. This is because its carrying capacity is low. Each air-conditioned rake will be able to carry 568 passengers — 852 if the MMRDA decides to increase the cars from four per rake to six — while a Metro rake can carry three times as many though it requires a wider right of way.
The monorail is often criticised for being costly too. The Mumbai monorail is being built at Rs 2,700 crore,which is said to have increased due to the delay.
"Certainly there are cheaper options available," says Ashok Datar,a Mumbai-based transportation expert. "A bus rapid transit system is at ground level,which is more sensible than commuters having to climb 50 steps to travel a couple of kilometres. But government authorities think it will take away space meant for cars… However,if there is a structurally lighter version and a cheaper way of constructing the monorail than the way it was built in Mumbai,even the monorail can be a good option."
The MMRDA believes the line will help reduce 28,000 taxi and autorickshaw trips daily and do away with the need for 25,000 cars. As per initial projections,the completed line is expected to have 1.25 lakh people a day by 2016,and 3 lakh a day by 2031.
Problems and solutions
A consortium of Larsen & Toubro and Malaysia's Scomi Engineering is building the monorail. Construction started in November 2008 and the line was originally expected to be ready by 2011. Hurdles came in the form of unmapped utility lines and delays in clearance from various agencies. Having to take the monorail over the putrid Mahul creek too caused delays as the MMRDA had to secure environmental clearance.
Compared with other mega infrastructure projects,the monorail had it slightly easier with land acquisition on the Chembur-Wadala corridor. Even then,the acquisition process was completed only in March 2012,more than three years after actual construction had started.
The fact that the system was unfamiliar added to the delay. "Larsen & Toubro was casting such beams for the first time. It took time to get a mould that was just right," Bhide says. Casting of various curves was also a challenge.
Though the monorail is known for its manoeuvrability,most existing lines across the world are fairly linear with just a few gradients and curves,Bhide says,while the Chembur-Wadala line is full of steep gradients and sharp curves due to the narrow right of way available.
When a rake travelled for the first time along the Chembur-Wadala corridor,the ride was far from smooth. Not only was it bumpy with some jerks but the train too tilted whenever it crossed a curve. The project team allowed the drivers time to adjust to the alignment and vary their speeds on various stretches.
"We initially felt there was a problem with the comfort level,but executives from SMRT Corp,Singapore's mass transit operator,praised us for the accuracy and comfort we have been able to achieve given the high number of turns and gradient. They said that with these kinds of twists and turns,this is the smoothest the ride can get," Bhide says.
Most of the systems were in place by January 2013. In fact,the MMRDA conducted a special run for mediapersons with key officials and the chief secretary on board and was confident that the monorail would be open by August or September at the latest. The trial runs,however,threw up several glitches,says an official,citing the examples of air-conditioners switching off in the middle of test runs,power fluctuations,and problems with opening and closing the doors.
The process of recruiting staff for operations and maintenance and training the employees also took time. To deal with unfamiliarity,MMRDA officials asked the consortium to get personnel from Kuala Lumpur,following which Scomi Engineering deployed about 20 persons at the engineering and managerial levels.
A major accident on a project site in July 2011 killed two labourers and injured three others,setting the project back by three to four months. A beam weighing 60 tonnes had collapsed when labourers were trying to launch it on RCF Road in Chembur. Work on launching the beams went on hold for a while until the authorities reviewed and revised the procedures.
What might have been
When the monorail was conceived,there was a master plan for a 185-km network in two phases,121.44 km with six routes and then 63.22 km with three. The master plan was later put on hold.
Some officials say the government decided to see how the initial corridor works first. Bhide,however,says the reason was that the master plan had been drafted keeping in mind the Metro network's future growth so that the monorail could act as a feeder. "It was found that it was not financially viable to take up the construction of all Metro corridors at once and hence many Metro corridors were put on hold. So there was no point going ahead with the monorail master plan," Bhide says.
Also planning
NEW DELHI: Monorail expected by 2017. The government plans an 11-km corridor from Shastri Park Metro station to Trilokpuri,cost Rs 2,235 crore.
KERALA CITIES: Planned in Thiruvananthapuram and Kozhikode,a network of 36.4 km,cost Rs 5,581 crore.
Bangalore: Karnataka planning monorail since 2005 after a RITES study suggested a 60-km system. Scomi and domestic firm Geodesic submitted a detailed project report on a 58-km network of four corridors in 2010.
Chennai: Planned in 2006,blueprint drawn for 300 km network and 18 elevated corridors,then put in cold storage after a litigation alleged irregularities in bids. Revived by current government in 2011. First phase of three corridors (23 km,16 km,18 km) to cost Rs 8,500 crore.
THE PROJECT
Project cost: Rs 2,700 crore
Total length: 19.5 km
Phase 1: 8.8 km,Chembur to Wadala,next month
Phase 2: Wadala to Jacob Circle,
Byculla
Fare: Rs 5 for first 3 km,Rs 19 for more than 20 km
Frequency: Every 3 minutes — eight hours a day now,between 5 am and midnight later
Capacity: 568 for four-car rake (now),852 for 6 cars (later)