His alleged links with bookies have dragged Asad Rauf into the IPL spot-fixing scandal. However,in cricket circles,the experienced Pakistani umpire is known as an easy-going and free-spirited character,though at times a controversial one.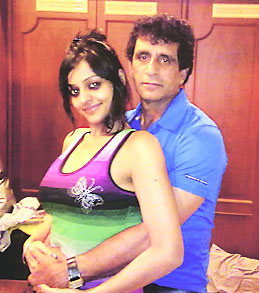 Last year,he was accused by a model,Leena Kapoor,of going back on his promise to marry her. Intimate pictures of the two had emerged in the interim. Though he did admit to knowing Kapoor,Rauf insisted that she was nothing more than an acquaintance he had met during his many tours to India.
Be that as it may,Rauf is known for his affable nature on the field. He's ever-ready to strike up a conversation with anyone,especially over a smoke — never mind the two open heart surgeries that he has undergone.
Unlike most other ICC Elite Panel officials,the 57-year-old Rauf has always been easily accessible,and on tours prefers to lounge around in the hotel foyer or lobby. He's also very popular among Indian journalists,especially during international tours and anecdotes about their time with Rauf abound. A bunch of them are even believed to have spent a whole night with him on occasion,singing Bollywood songs as he regaled them with his tales. Rauf has never been one to remain confined in his hotel room,and when not relaxing on the beach,can be spotted looking for roti and dal in a food-court somewhere.
His candid nature though,has meant that information about Rauf,both professional and personal,are easily available on the circuit.
Rauf has earned a reputation for being a hard taskmaster in the middle. By his own confession,he's always tried to stamp his authority in matches involving Australia and England,claiming that these teams in particular appeal a lot and try to put the umpire under pressure. More so after Ricky Ponting and Shane Warne had put him through a trial by fire when he officiated his first match in Australia,the Boxing Day Test against South Africa in 2005.
Having stood in his first ODI in 2000,Rauf rose through the ranks quite rapidly,and was drafted into ICC's Elite Panel of umpires in 2006. There he joined compatriot Aleem Dar. And in many ways,Rauf and Dar have changed the perception of umpires from Pakistan,who have historically been maligned for being biased and controversial. The fact that no Indian has made it to the Elite Panel in close to a decade is an indication of the progress that the two Pakistanis have made in their field. Unlike his countryman,Rauf is known to indulge in some banter with the players,especially those from the subcontinent,but could not be faulted much with his decision-making.
In fact,over the years,Rauf has been regarded as among the finest umpires. In 2011,he was named as a last-minute replacement for the deposed Daryl Harper for officiating in the historic 2000th Test match,the England vs India game at Lord's.
"The ICC has always banked on me in such situations," he's believed to have said then.
Rauf,a former first-class cricketer in Lahore,has officiated in 48 Tests,98 ODIs and 23 international T20s,apart from being a regular member of the IPL's umpire panel. But now he finds himself embroiled in a ignominious fiasco,being accused of having accepted presents from known bookies.